10 Questions Before You Sell Products Online
When you're ready to create and sell products online, you'll need to know how to market them.

You see, you can have the BEST product in the world but without answering certain questions, your customers might not feel secure about buying it.
A huge part of marketing a product is the sales letter.
I've put together the top 10 questions I've learned are the most important to answer for potential customers.
Grab a pen to take notes, open a Word Doc. on your computer, or print this article and grab your highlighter because we are going to cover some good stuff!
Here we go!
1. Who are you and what exactly are you going to show your customer?
Before you sell products online, people need to trust you. You'll do this by building rapport. Remember, people buying your product are doing business with a computer screen. You need to persuade them by providing a good idea of who you are and what you're going to show them. Give a little background on yourself, tell them your story, and provide details about your product. Explain why this product is specifically for them and their problem.

2. Have you tried other methods and failed?
OK, so you figured out a way to fix a problem. Great. But is it the only way? Is it the best way? Explain how you tried other methods and how this one worked best. You want your customers to feel like there are no reasons to look elsewhere for a better product.
3. How did you figure out what you were doing wrong and fix it?
Explain mistakes you made and what you did to correct them.
4. How did you turn your findings into a product? (eBook, podcast, video)
Give the story of how you took all the information and knowledge you acquired and turned it into a product. (Ex: "I started taking notes of what worked best and created an outline for this eBook")
5. Why did you decide to share this product with them? (Money shouldn't be your only motivation)
Explain how you want to help others avoid the frustration you experienced by sharing this product. People don't mind paying for a product that's going to save them money, energy, and/or frustration in the future. If your product can promise these things, it basically pays for itself. Right?
Think about that for a moment – it's VERY valuable.
6. What will this product do for them? (Benefits & problems it'll solve)
Explain the benefits and problems they'll solve by investing in your product.
7. What's included inside the product? (What kind of things will they learn)
What exactly is in your product? Is it step-by-step instructions? Is it a collection of video training's? Be specific. People like to know exactly what to expect and what they're going to get.
8. What is your guarantee? 
Guarantees make people feel safe about giving you their money. Depending on your product, the price, and how much information is inside; you can decide what guarantee to give.
NOTE: guarantees aren't necessary but they do boost sales. It's very hard to sell someone something without giving them peace of mind they can return it.
On the other hand, it's very easy for someone to give you money knowing they can have it back if they ask for it. This is why just about everyone selling online gives a 30, 60, or 90 day money back guarantee. IT WORKS!

And here's another marketing secret: Humans are lazy by nature and even if they want to return something, many won't go through the process of asking for a refund.
This is why Marketers don't worry about people buying their products and asking for their money back. Sure some people will steal from you by learning everything you teach and then asking for a refund.
However, the majority won't. Hell, some people will buy your product and never even use it! Don't worry about people who are going to steal from you. Just focus on your sales and the honest people who won't ask for a refund.
If your product delivers on its promises, you'll know you're making money by actually helping people and won't have any problems sleeping at night.
9. How much money would it cost if they spent time trying to figure it out themselves?
I've explained before that just about any answer to any question is available online. However, you might have to go through a LOT of sources and try many things before finding out what works and what doesn't. Explain how you've already done the hard work of going through many sources and how you're going to give them the exact information they need so they don't waste time and energy.
Two things people value: Money and Time

10. Why should they buy your product immediately instead of later?
Explain how waiting to buy your product will do more harm than good. Some people need a little push to buy. And as long as your product delivers on its promises, there's nothing wrong with persuading and motivating people to buy NOW!
Remember to be ethical with your marketing. If you lie with any of these questions, and your product sucks; you'll lose customers who already had your trust. Customers who buy and benefit from your products become loyal customers.
If you want to be successful online, your personal credit is something you have to treasure. Just do things right, give people products that work and you'll be successful for long, LONG time. 
Trust me.
In order to learn the proper ways to answer these 10 questions before you sell products online, I highly recommend the book Cashvertising.

I've read it easily 6 times.
I go back through it often to review the sections I highlighted.
However, by now I've highlighted so many sections that I just read the whole thing over and over.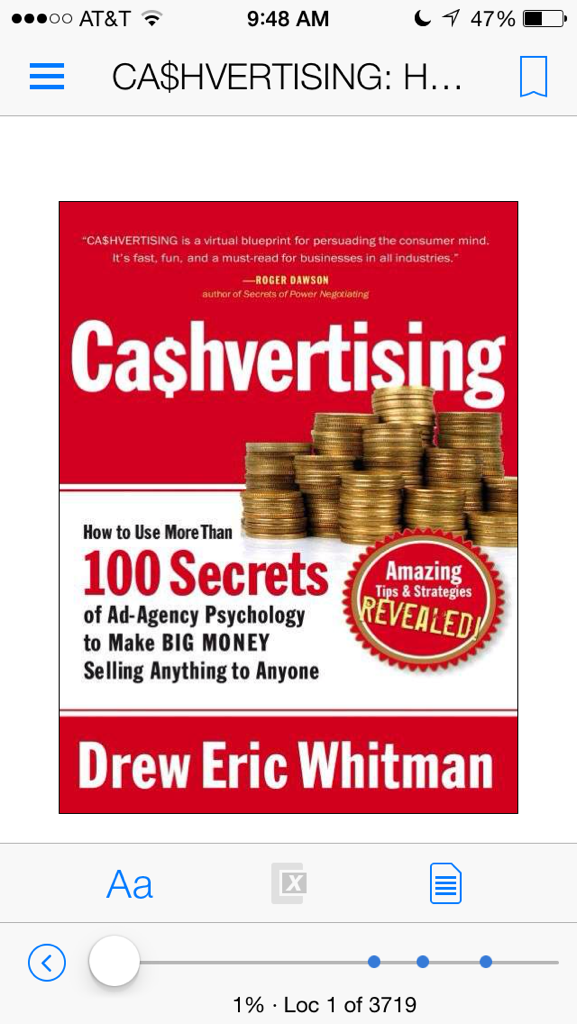 You heard me mention it in other articles.
This book is JAM-PACKED with information to guide you on how to properly market and sell a product.

Everything from choosing titles, to writing a sales letter, to pricing, to guarantees, to promotions, and so on…
Cashvertising delivers a MASSIVE amount of value which really helps you sell products online.
Let me share with you some of the great stuff I've learned.
In Chapter 1, the author (Drew Eric Whitman) wastes no time and dives directly into what people want.
He goes over the 8 desires people respond to the most.
Check out my highlighted sections in the pages below.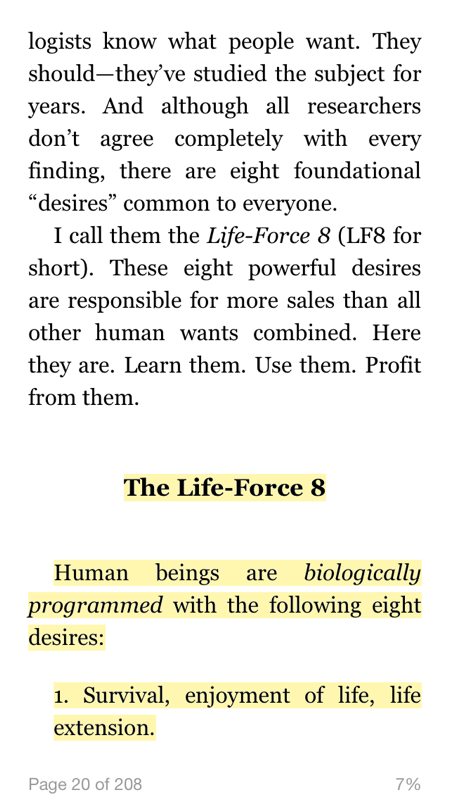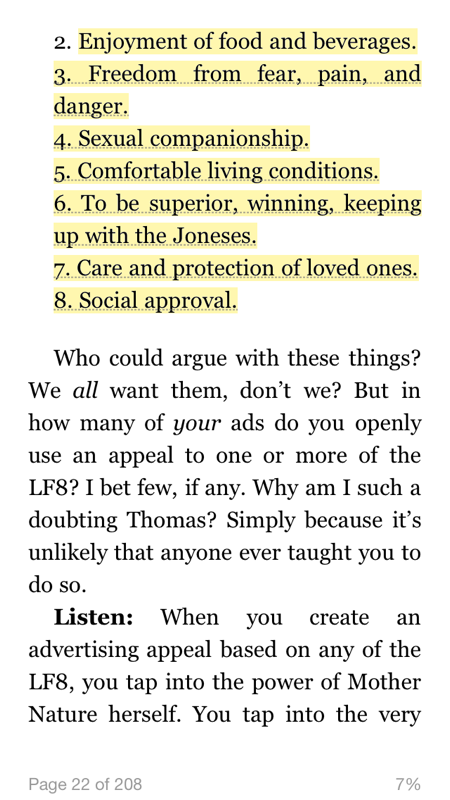 This chapter opened my eyes and shifted my thinking.
It's not to say that a product which doesn't cover one of these 8 desires won't be successful.
However, you increase your chances IMMENSELY if you do pick one of them.
You can't fool biology.
If you're programmed with these desires, you have them.
End of story.
Below are examples where Drew explains how you CAN'T escape these desires.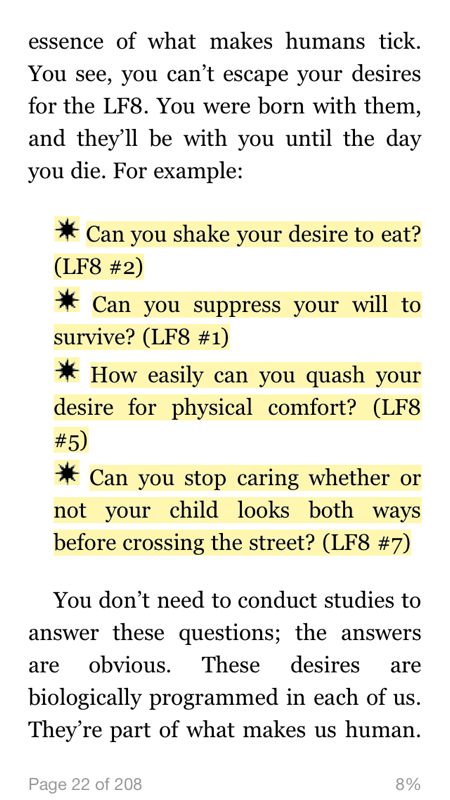 Why is this important?
Because these are the type of products you create ONCE and will continue to sell on their own.
None of these desires will ever become obsolete.
So all YOU have to do is create ONE really good product, market it correctly, and sit back to watch the money pour in.
Makes sense?
This is why I'm highly recommending this book.
Creating a product isn't really that hard.
Actually, it isn't hard at all; it's just time consuming.
…But if you do the work, the success will follow.
Another great section in Chapter 1 is the study of how changing a few words in a title can MASSIVELY boost sales.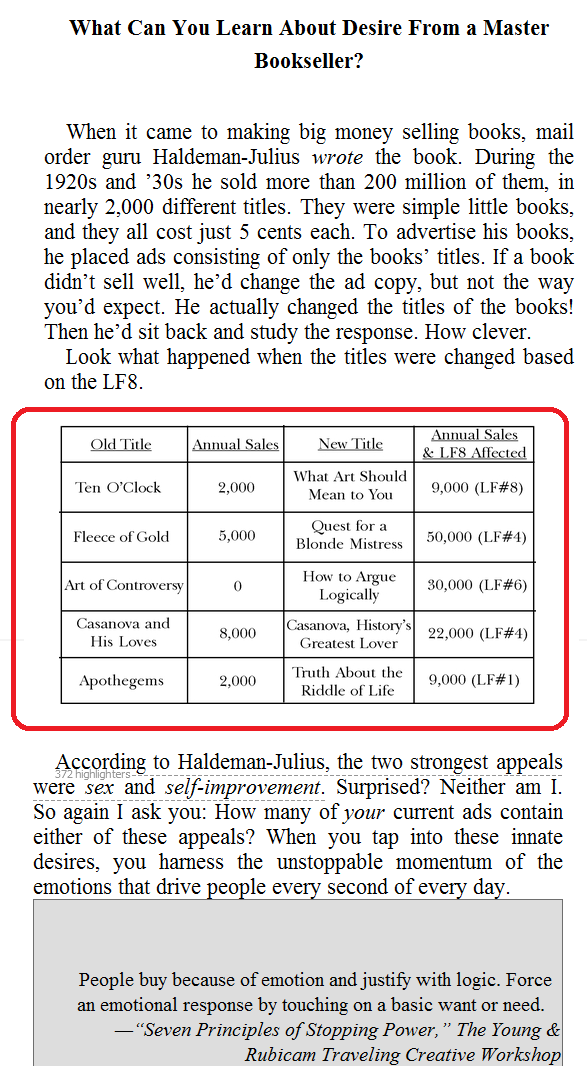 At this point, I was hooked on the book and did NOT put it down!
This not only works for products you sell, but also for titles of articles you write.
A good title can mean the difference between someone clicking on your article or ignoring it.
Who would've thought something so simple would massively increase clicks and sales?
Here a sections of Chapter 1 where Drew explains Secondary desires (learned wants).
He explains how these aren't as strong as the 8 primal desires, but are still great options.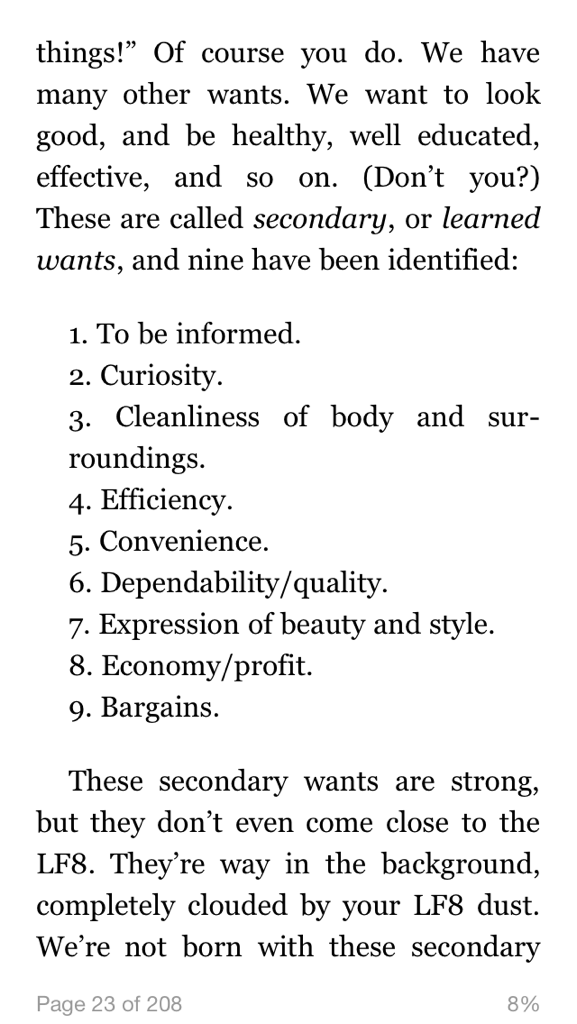 Chapter 2. How to get inside their head (The 17 Foundational principles)
This chapter begins with the concept of fear and how marketers use it to influence people.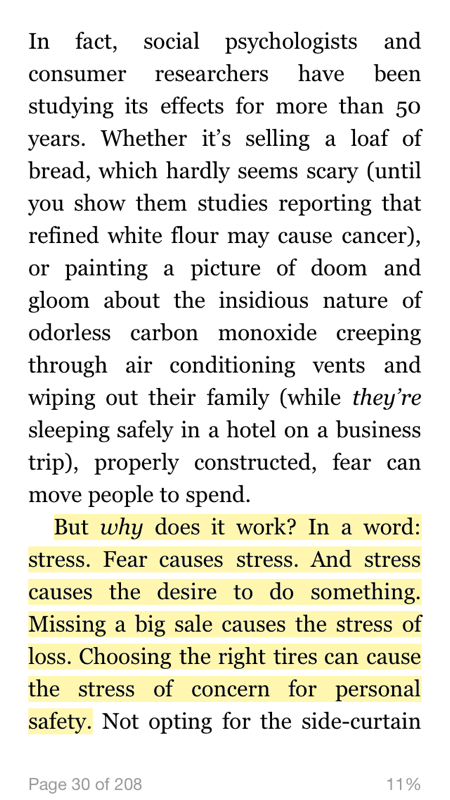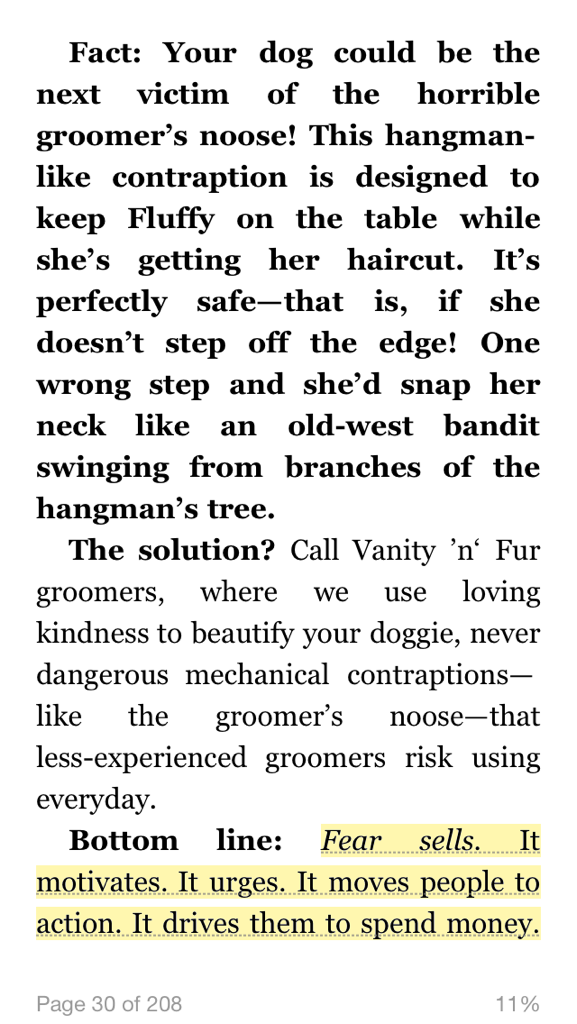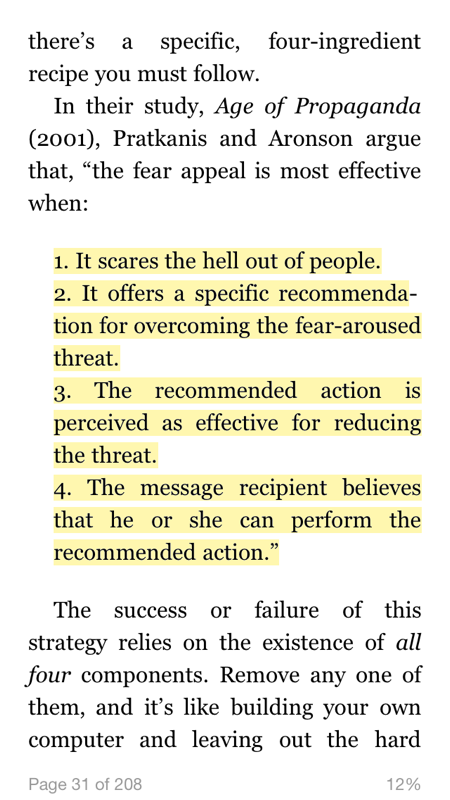 The fact that fear causes stress and that stress itself motivates people to take action is important to know. The rest of the chapter provides other principles which also work great.
Chapter 3. Ad agency secrets: 41 proven techniques for selling anything to anyone
Eric goes over 41 tested and proven techniques that really work. This entire chapter can be sold as separate book with all the information it has. It's VERY good!
Chapter 4: Hot lists: 101 easy ways to boost your ad response
The 101 ways are divided into the sections below.
22 response superchargers

9 ways to convey value

13 ways to make buying easy

11 ways to boost coupon returns

46-point "Killer Ad" Checklist
You know me, I love to give away as much FREE information as possible.

I would love to do a summary of the entire book but that would be injustice to this masterpiece Drew Eric Whitman created.
…Not to mention the possibility I could get sued (ha ha!).
Before you go and spend hundreds of dollars on a marketing course that probably isn't going to show you half of what you learn in Cashvertising; get this book!
Out of all the marketing books I've read, this is my #1 favorite.
You have my word on that!
Click here to get the Kindle or hard copy on Amazon.
They have it for $10 bucks which is a steal if you ask me.
I honestly believe the author should charge more.
I would have no problem paying $300 for this book and I'm not kidding.
It's truly the best place to start when you want to sell products online.
We'll talk again soon,
-Alex
PS – Download my NEWEST book "How To Make $100 Every Day On The Internet" because it's going to show you my ALL my proven ways to make money online.