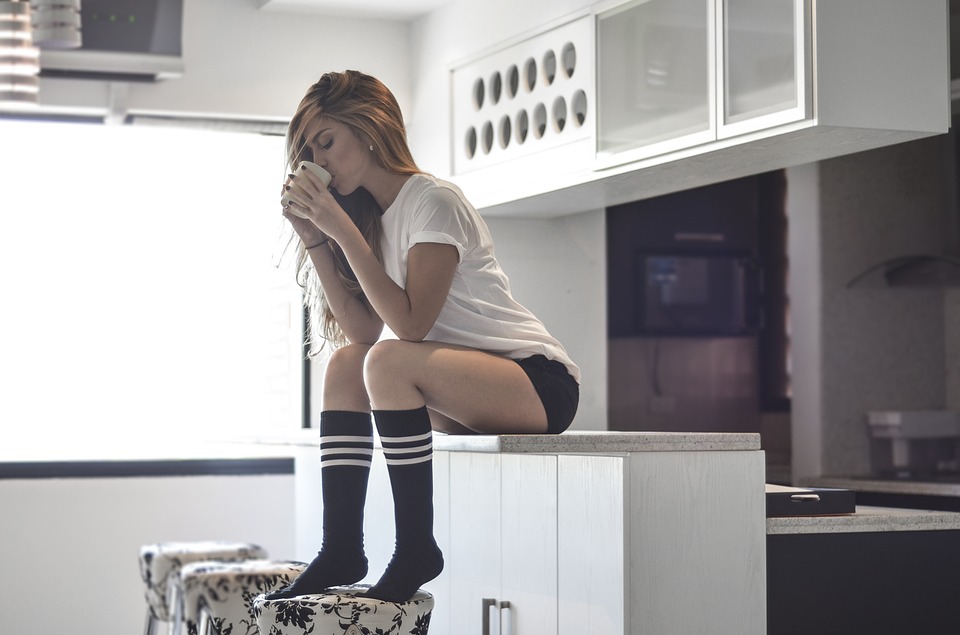 "I'm not sure what I want, I just need a little space right now."
Before we begin, if you want to share your exact situation with me so I can help you fix it, scroll to the end of this article for more details.
Let's continue…
I wonder how many men have heard their girlfriend ex-girlfriend say that.
The reality is that the "I need space" comment happens often all over the world.
And when I say often, I'm talking once every 5 minutes.
But why does it happen so often?
Are men just incapable of keeping a woman happy?
Are all women crazy and impossible to satisfy?
Perhaps relationships no longer work in this day and age?
Maybe, maybe not.
You want the honest truth?
I don't know the exact reason.
No matter who you are or what woman you're dating, every situation is different.
So, before I start playing the "guessing game" and try to tell you the exact reasons why your girlfriend wants space, let me give you the top 10 most common reasons.
Here we go.
1) You're clingy
Women need time alone.
Read that sentence again 10 times and repeat it daily until it sticks in your mind.
A woman needs time alone to think, shop, do her nails, cry, laugh, vent, relax, etc. etc. etc.!
Did I make my point clear there?
No matter who she is or where she's from, you need to allow her time to herself.
If you're constantly demanding her time and attention, or get mad when she wants to do things without you, you're slowly pushing her away by being so clingy.
And I get it, man, you love spending time with her.
I know that she makes you laugh, helps you forget about your bad day, and let's be honest, the sex is great.
But, guess what?
It doesn't matter.
Regardless of how great everything seems right now, she still needs her space.
You either give it to her, or she'll begin asking for it.
And believe me when I tell you that you don't want your girlfriend to reach that point. (More on this later)
Don't tell me that you and her have a special bond, a ton of inside jokes, and that your relationship is different than everyone else's.
Women, ALL WOMEN, need time away from their boyfriend's.
Period.
In my book, I explain why it's so important to give her the gift of missing you.
And no, her time at work or school doesn't count as time away from you.
It's OK to send her a text or give her a quick call to make plans for later.
However, it's not OK to contact her constantly when she's not around.
If you can't get on board with giving your girlfriend time to herself, stop reading right now.
Why?
Because the rest of this article isn't going to help you.
Trust me.
2) She's bored
If you and your girlfriend do that exact same thing every weekend, she's going to get bored.
This happens because your relationship becomes something very, VERY bad:
Predictable.
It might take a month, 6 months, or 2 years; but trust me, she will get bored.
The day will come when she says "I just need some space right now".
How long it takes all depends on her.
So, how do you prevent her from becoming bored?
Easy, you make a little effort to discover new and fun things to do.
You can take her to a new restaurant, a concert she's never been to before, kayaking, fishing, wine tasting, and so on.
There are countless new things for the two of you to experience together.
It's YOUR responsibility (not hers) to discover them.
To get ideas and good prices for fun things to do in your area, check out Groupon.
Always remember that women love and live for new experiences.
If you refuse to give them to her, she'll need space to get them herself.
I know that last sentence seems harsh, but it's the cold hard truth, my brother.
Don't worry, you don't need to give her a new experience every week.
Just try something or go somewhere new once or twice a month, and you should be fine.
3) You're not assertive
Example #1:
Her: "What do you want to eat?"
You: "I don't know, what do you want?"
Example #2:
Her: "I wonder what movie we should watch tonight at the theater."
You: "I don't know, is there anything you like?"
When your girlfriend asks you these kind of questions, she's not asking you to ask HER what she wants.
No, my friend, she's asking YOU to take the lead like a man and decide.
As her boyfriend, it's your responsibility to lead and guide her.
End of story.
For the first example, a good response would've been:
"I can go for that beef and broccoli that you made last time."
For the second example:
"Let's watch the new Tom Hanks movie, it looks great."
If she asks, you decide.
It's as easy and simple as that.
4) You allow bad behavior
A mistake many men make is letting their girlfriend get away with bad behavior.
Examples of bad behavior include:
She gives you unnecessary attitude

She complains non-stop

She cancels plans or always arrives late

She takes hours to respond to text messages

She throws a fit when she doesn't get her way
All of these examples are unacceptable.
If you allow them, overtime, she will lose respect for you.
Once respect is lost, space is requested.
Are you following me?
The more you allow her to treat you bad, the less she'll want to see you.
Men usually allow women to get away with bad behavior out of fear.
They think that she might get mad or break-up with him that if they put their foot down.
The reality?
The more that you allow her to disrespect you, the FASTER she'll ask for space and most probably break-up with you.
It's OK if she complains sometimes or gives you a little attitude when the two of you argue.
You can't expect her to be a robot with no emotion either.
However, what you DON'T want to allow is for her to abuse it and do it constantly, especially when it's totally uncalled for.
See the difference?
5) You complain
There are two kind of men in the world:
1) Those who complain 
2) Those who do something about whatever is bothering them
Can you guess which of the two examples above women prefer?
Easy answer.
If you are a constant complainer, you must stop immediately.
Complaining is for people who want to act helpless and get attention.
Do you think it's sexy for a man to act this way?
Of course not.
If you consider yourself a real man, you need to act like one.
If something is bothering you, take action and fix it.
Constant complaining annoys the hell out of women and forces them to spend less time with you.
How does she achieve this?
You guessed it, by asking for space.
Ask yourself what you'd do if she complained constantly and it began to drive you crazy.
The answer is obvious: You'd try to get away from her.
It's fine if you're going through something and explain how it's stressing you out.
Your girlfriend wants you to be open with her and support you.
However, she also wants you to do something about the situation, not just complain like a helpless little boy.
Makes sense?
There's a BIG difference between talking about your problems and complaining about them.
As men, we're always going to face problems in life.
Some of us will complain, other's will take action to fix them.
Some girlfriends will ask for space, other's will be just fine and remain where they are.
6) You call and text constantly
When you call and text often, not only is it annoying, but it makes you seem more like her dad instead of her boyfriend.
What you're basically doing is checking up on her to see what she's doing.
And unless your girlfriend is into that (I hope not), no woman wants to feel like she's dating her dad.
Remember what we spoke about in # 1?
Women need their alone time.
It's OK to call and text sometimes, but if you're constantly making contact, it's going to slowly push her away.
I 100% guarantee it.
7) You lack ambition
Are you constantly setting news goals?
If your answer is no, that's a BIG problem.
In order to keep your girlfriend motivated about your relationship, you must maintain a fire and drive inside to achieve more in life.
This doesn't mean you need to go and become a millionaire.
What it means is that you strive to better yourself in every aspect of life.
There are 3 things you can always improve:
1) Health
2) Finances
3) Knowledge
A man should set goals for these three things on the regular.
Don't set outrageous goals because that's just setting yourself up for failure.
If you make $10/hr. now, don't set the goal of earning $75/hr. by next week.
Aim for small goals like "I'm going to add 5 lbs. to my bench press every week" or "I'm going to learn how to make just $5 per day online".
Once you achieve small goals, make them a little bigger the next time.
Before you know it, you'll be achieving goals you didn't think you could.
Listen to me…
Nothing will give you more of a RUSH than achieving a goal you thought was impossible.
And that's what your girlfriend wants to be part of, the rush you experience.
Those moments of excitement are what life's all about, man.
A man with ambition stands out from the crowd.
He lights up a room when he walks in.
He has an energy that's contagious.
Guess what?
Your girlfriend wants that!
Don't get comfortable and lazy.
Set goals, achieve them, celebrate, and repeat.
8) You've let yourself go
Many men let themselves go when they get comfortable in a relationship.
This happens because the sex is easy, the motivation to go to the gym disappears, and eating ice cream with their girlfriend becomes a nightly event.
The result?
Slowly but surely, they start packing on the pounds.
Besides packing on the pounds, some men also get lazy with their grooming.
They don't get a haircut as often, they wear the same clothes for months/years, and they lose the lively attitude they once had.
Just because you succeeded at making her your girlfriend doesn't mean you should stop taking care of yourself.
In fact, you should be on top of these things MORE than you were before you met her.
The same applies to her.
Make it a priority to improve your physical health and be on top of your grooming.
No excuses!
9) You're insecure
I'm sure you've heard how women love a man with confidence.
Can you guess what they hate?
That's right, men who are insecure.
Insecurity screams weakness in men.
What are some of the things that makes you appear insecure?
Complaining when she goes out with friends

Talking bad about another guy you think she'd like

Constantly wishing you had more of something 

Going through her phone

Losing your cool when she gets dramatic
I'm going to give you the secret on how to never come across as insecure:
Always act as if you want her, but never as if you need her.
Take a couple of minutes to think about what that means.
Whenever you come from a place of neediness, it automatically makes you appear insecure.
This is when you start showing signs of fear of losing her.
You should always communicate that she's special to you and that you're happy she's in your life.
But!
She also needs to know that you'd be just fine if she ever decided to leave.
This is very important, my friend. 
10) You're different people
Sometimes the problem isn't just you, it's both of you.
Let me explain.
Sometimes, people grow apart.
You might have met her when she was a certain way, but as time went by, she changed.
Sometimes, it's you that changes.
Regardless of who changes, your girlfriend will notice that things just aren't the same anymore.
As a result, she'll ask for space so she can "figure things out".
In conclusion: What space really means
So, here's the reality, and I won't lie to you, it's not good.
When a woman reaches the point where she's asking for space, it typically means she's lost complete interest in the relationship.
There's a high chance she still cares about you, but as far as being in a relationship with you, there's usually no hope.
She might come back around and try things with you again, but it won't last.
The only reason she comes back is because she's used to being with you and misses what the two of you had.
However, as the days go by, she realizes she just doesn't feel the same anymore.
The key is to never get her to the point of wanting space.
I recommend you download my book so you can learn everything there is know about keeping a woman happy and interested in you.
Talk soon,
Alexander Writer
P.S. – Do you need my private dating advice? I provide a FREE email response to everyone who buys my dating book. Follow these steps:
Click the image below to buy the book now and send me an email to Inertiawillhurtya@gmail.com with your order number. In your email, tell me exactly what's going on with as many details as possible so I can tell you what needs to be done. You will receive a response from me within 24 hrs. (Offer good until January 31, 2018)