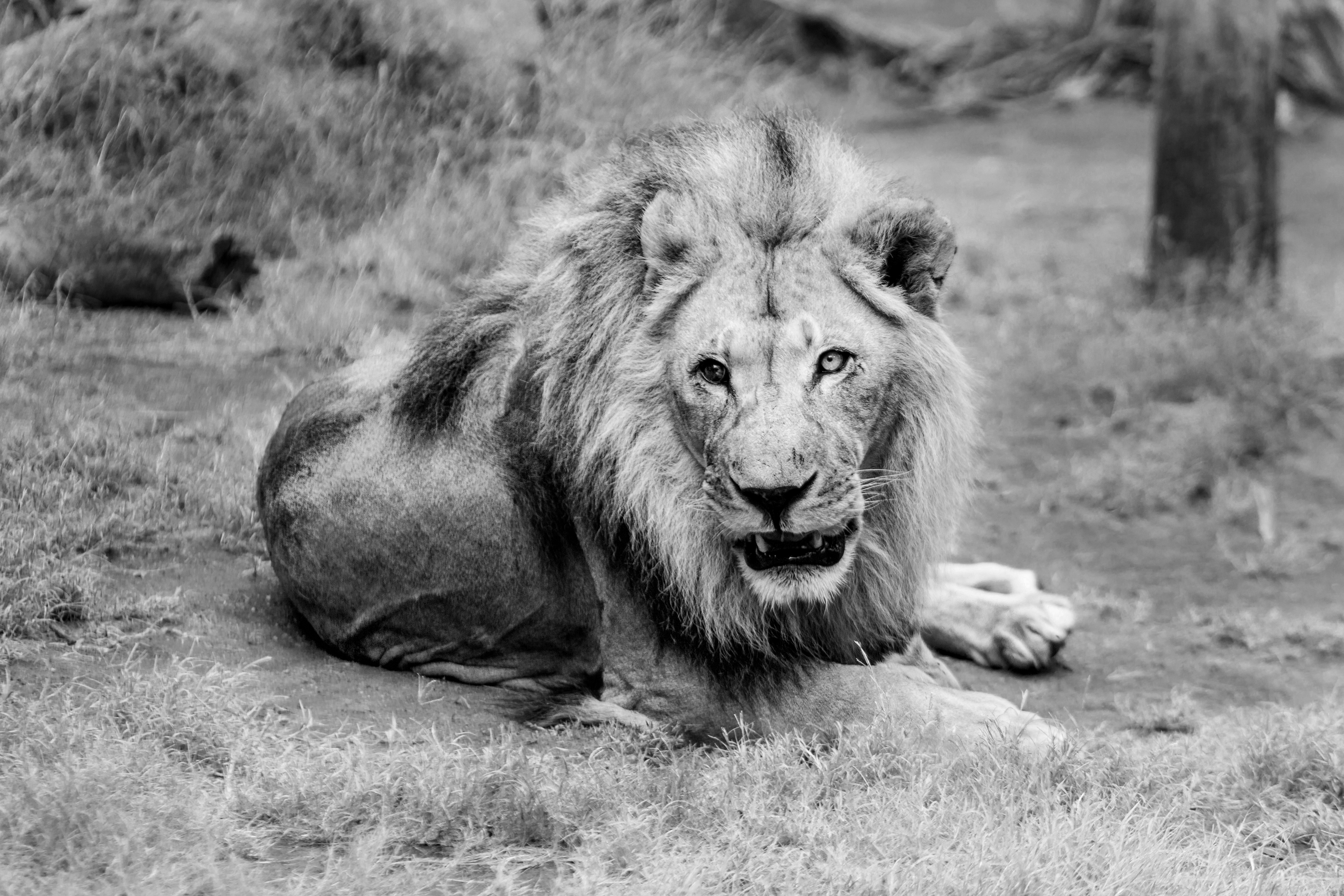 Habits control your life.
How you walk, think, talk and eat are examples of habits.
Most occur on an unconscious level because you've repeated them so many times that they automatically became habits.
In other words, you do them without even realizing it.
The good news?
You probably have good habits that are improving your life.
The bad news?
You probably have bad habits that are doing the complete opposite.
Don't worry, I'll share how to easily eliminate any bad ones you have.
But first, let's discuss the 10 habits that turn boys into men and why you should develop them.
1. Boost testosterone by eating healthy fats
Want a piece of advice to instantly improve your life?
Stay away from processed food, artificial sweeteners, soy products, and keep your carbohydrates intake low.
This will help minimize the production of fat and estrogen in your body.
Next, begin adding healthy fats to all your meals.
My favorite healthy fats are avocado, olive oil, eggs and almond butter.
Healthy fats are essential for testosterone production.
Men have been brainwashed to believe that low-fat diets are how you lose weight and keep it off.
This is HORRIBLE advice.
Low-fat diets are how you feel weak, hungry and moody all the time.
Need proof?
Go on a low-fat diet and you'll quickly see how bad you'll feel within a few days.
Low-fat, high carbohydrate and soy filled diets are turning men into little soft boys by preventing testosterone production.
Want to experience a dramatic increase in testosterone, energy and sex drive?
2. Keep your word no matter what
In the classic movie, Scarface, there's a scene where Tony (Al Pacino) is in the middle of a business meeting that's one wrong word away from bloody chaos.
The guy that Tony is negotiating with makes it clear that he doubts his trustworthiness.
Without fear or hesitation, Tony looks him dead in the eye and says:
"All I have in this world is my balls and my word and I don't break them for no one, you understand?".
While most men perceive this scene as "cool, tough guy behavior" from Tony…I perceived it as a HUGE life lesson.
Being someone who always keeps their word gives you power.
It allows others to depend and trust you.
If you give your word, make sure you keep it no matter what is cost you.
If you can't afford to give you your word, don't.
Period.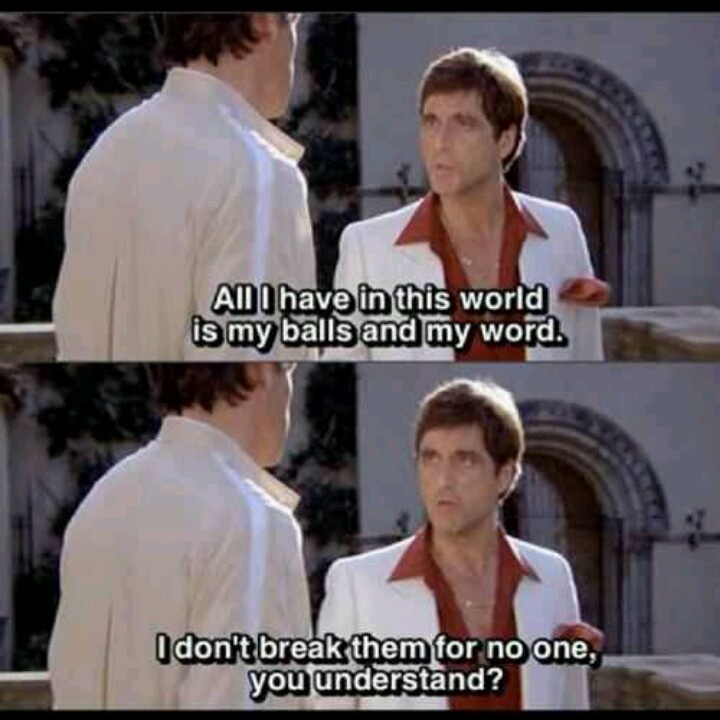 3. Always be honest
How many people do you 100% trust?
I can count in one hand the number of people I fully trust.
…And I don't even need all five fingers.
Honesty will get you places in life you'd never imagine so make sure you never lie to anyone about anything.
Sure, the truth can hurt sometimes, but what hurts more?
Someone who believes you and later finds out you lied to them.
I remember in the movie 'Two for the Money', there's a scene where a guy is asked if he trusts his business partner.
His response was short but powerful: "With my wife naked".
Though the response was vulgar, its message was strong and clear: I trust him 100%
Most men don't trust another man alone with their wife for 5 seconds…let alone, naked.
The ability to fully trust someone isn't easy.
Even if you've never lied to someone, it takes a lot to gain their trust.
If and when you gain it, don't lose it.
When you lie just once and get caught, your chances, if ever, of regaining someone's trust are close to impossible.
Why is honesty such a powerful personality trait among men?
Because it's something that money cannot buy.
If you offer someone $100 for their honesty and they accept it, they'll back-stab you as soon as someone offers them $200.
A real man is always honest and will never disappoint you.
Whether it's your naked wife or a million dollars, you can sleep peacefully at night knowing he'll walk away from any offer that will jeopardize your trust.
Like I said, it's a rare personality trait to find, and that's why it's priceless.
4. Face every fear you have
There's absolutely nothing wrong with being afraid.
What's wrong is when you don't face that which you fear.
Not facing a fear allows it to grow bigger and stronger.
I had a friend who was petrified of talking to women.
Petrified isn't an exaggeration, it's literally how he felt.
It didn't make sense since he had a lot going for himself: Good job, his own apartment, great social skills and a lean physique.
Meeting women should have been as easy as breathing for him.
But, it wasn't.
I told him to start off by making eye contact with women, smiling and saying "Hi".
He refused.
As time went by, things got worst.
He explained how making eye contact even with women he wasn't interested in was becoming difficult.
What was happening?
The fear was GROWING.
I told him to either face it, or to prepare to lose any chance of hope he had left.
Luckily, this time around, he listened.
After a few weeks, he went from avoiding women to going on one coffee date after another.
Go figure.
Fear isn't real, it's a BS lie your mind has accepted as true.
FACT: People are born with only two fears:
1) Fear of falling
2) Fear of loud noises
This means that every other fear is a learned fear that you either picked up through unfortunate brainwashing or negative experiences.
So, what do you do?
Face your fear by looking it dead in the eye and ignore that uncomfortable, anxious feeling you get in your stomach.
You can't live without encountering fear, but you can eliminate it whenever it makes its presence.
Trust me.
5. Develop and maintain a foundation of physical strength & stamina 
Whether you want to be buff and strong like a gorilla or slim like a marathon runner, that's your choice.
However, every man must develop and maintain a foundation of physical strength.
You develop this strength with 3 body-weight exercises: Push-ups, squats and sit-ups.
These exercises will help you develop and maintain full body strength.
Whoever can do 100 consecutive reps of these 3 exercises is in great physical shape.
This takes time to achieve, but once you do, you'll have far more strength than the average man.
Work at it 6 days a week until you reach 100 reps without rest.
Leave rest for Sundays.
You'll notice how each passing day, the exercises get easier and how you begin getting closer to 100 consecutive reps.
Next on the list is jumping rope.
Just 10 minutes of jumping rope is equivalent to 30 minutes of jogging.
I don't know about you my friend, but I personally hate jogging and find it incredibly boring.
Jump rope is fun, works out a lot more muscles than jogging, and burns the same amount of calories in 1/3 of the time.
Best of all, you can jump rope anywhere, unlike jogging where you're forced to look like a thieve running around your neighborhood.
If you're new to jumping rope, it might be difficult.
You might trip on the rope and get tired quickly.
Don't lose motivation, just keep it at daily until you're performing 10 minutes without rest.
The beauty of jumping rope is that it's one of those exercises that helps you build stamina quick so it definitely gets easier very quickly.
So there you have it, no gym or expensive exercise equipment…Just your body-weight and a $10 jump-rope.
6. Speak to everyone 
Thanks to the epidemic of the internet, texting and countless chat apps; people barely speak on the phone or in person anymore.
This is especially true with the younger generation.
Have you tried speaking to an 18 year old in person these days?
They can't carry a normal conversation.
It's sad.
The problem?
Well, there's many, but the main one I want to point out is the fear of talking to people.
The less you talk to people, the more you'll fear doing it.
This can hurt your success in all areas of life.
The good news is that there's an easy fix: Speak to everyone.
Am I'm telling you to start going up to everyone you see in public and start a conversation?
No.
What' I'm telling you is to make small talk whenever there's an opportunity.
For example, let's say you're buying shaving blades and notice a guy grab some you've never tried before.
Instead of staying quiet, ask him about it: "Hey, I've never tried those, are they any good?"
The purpose here isn't the conversation or to make a new friend…it's to eliminate your fear of talking to people.
Put your phone away and start talking to people before you become paralyzed to face-to-face conversation.
7. Maintain your hygiene 
Brush your teeth, floss and use a tongue scraper (relax, doesn't hurt) daily to remove gunk that sticks to the back of your tongue after meals.
You should perform all of the above a minimum of twice per day.
Caring for your mouth won't just keep your breath fresh, it will also save you thousands of dollars later.
I was a stubborn young man who neglected his oral care.
I'd brush twice a day but never flossed, had no idea what a tongue scraper was and skipped going to the dentist for years.
That decision cost me a lot of pain and money after two of my teeth went bad and I was forced to pay out of pocket for root canals.
It cost me a lovely $4,000!
Never again!
I learned my lesson the hard way and hopefully you wont need to after reading this.
Besides your teeth, stay on top of your grooming.
Shower twice per day and use exfoliating gloves to effectively wash away dead skin and dirt because the soap to skin method isn't as effective.
Keep your fingernails/toenails short and use Gold Bond powder on your feet and scrotum area to soak up sweat so you can smell clean and fresh all day.
Hairstyle and facial hair are personal preference.
However, make sure to keep all body hair trimmed and presentable.
8. Quit porn forever
Quit watching porn cold turkey and never look back.
If you knew the things that porn does to you psychologically, you'd NEVER type the letter "P" in your browser again.
There's nothing wrong with masturbating so long as you do it without watching porn.
With that said, there's one thing you should do.
Every time you masturbate, promise yourself that you'll talk to a woman within the next 24 hours.
I'm not telling you to ask her on a date or to have any other agenda when you approach her.
All I'm asking you to do is approach say 'Hello'.
You'll see how eventually, without much effort on your part, you'll have a…
9. Girlfriend or girlfriends, pick one
Whether you want to date 10 women at a time, or build something meaningful with one woman; the choice is yours.
Both options are perfectly fine, but there's a golden rule real men must follow.
If you're going to date multiple women at a time, you must be honest with ALL OF THEM.
You must make it clear from the beginning that you're just dating and not looking for anything serious.
Playing games with women's heart and emotions doesn't make you a man, it makes a scared little boy that has to lie to get what he wants.
On the other hand, if you make the commitment to get into a relationship, you must be 100% faithful the entire time.
If you're not able to stay faithful in a relationship it simply means that you haven't gotten the young boy "Sleep with countless women" desire out of your system.
This means you need to take a step back and date a lot before considering a relationship.
Now, don't get me wrong, you're always going to notice other women, regardless of how happy you are with your girlfriend.
However, you'll know you're ready for a relationship and that you're with the right woman when you no longer feel motivated to approach woman you find attractive.
I've been with my girlfriend close to 2 years and even though I'm extremely happy and satisfied, an attractive woman always catches my eye.
It's biology my friend, and it's 100% normal.
Girlfriend or girlfriends, pick one.
Period.
10. Develop one new habit every 30 days
Finally, if there's one habit that you should develop it's the habit of creating habits.
Every 30 days, there should be two things going on in your life:
1) Completing 30 days of a habit
2) Starting a new habit
Stop and think about it for a moment…
What if in a year from today you've developed 12 new strong habits that revolve around your physical, financial and psychological life.
How much better would the quality of your life be?
What would continuously developing postive habits do for you?
This is what becoming the STRONGEST version of yourself entails.
Bonus: Starving Bad Habits
Now that you know the 10 habits that turn boys into men, it's time to learn how to eliminate any bad habits you may have.
You do this is by doing what I call starving bad habits.
Every time that you repeat a habit, it grows stronger.
The stronger your habit, the longer it takes to starve it.
It's like a man who goes to the gym for 10 years and builds a ton of muscle.
If he were to stop going to the gym, it would take him longer to lose all the muscle he gained compared to someone who's only been in the gym a year.
Makes sense?
I use to have the bad habit of eating a huge bowl of cereal before bed. 
What did I do to starve the habit?
That's right, I simply stopped eating the bowl of cereal.
At the beginning it was tough because of how use I was to eating before bed.
However, as the days went by it got easier and easier, until one day I no longer thought about the bowl of cereal.
The moral of the story?
The way you eliminate bad habits is to NOT do them.
It isn't easy initially, but does get a little easier each day that passes.
Conclusion
So there you have it, the top 10 habits that turn boys into men.
There's no reason why any man should lack any of these in their lives unless due to a physical limitation.
When should you start these habits?
Yesterday is gone, and tomorrow is too late. 
Start now!
You can thank me later.
Talk soon,
-Alexander Writer