Look, man, I have to be honest with you…
I wasn't always a fan of Google Adsense.
I hated how I'd search the internet for an answer, find a website, and be bombarded with ads.
Sometimes, there were so many ads that I was FORCED to close the page and look elsewhere.
"Why do people do this?" I'd ask myself.
Obviously, I knew the MAIN reason was to make money.
…but what made them think I'd click their ads?
I mean, there was no incentive for doing so.
After all, I was on their website for information, not to click ads.
So, being the curious man that I am, I decided to seek answers.
Since countless websites used Adsense, the only thing that made sense was that it worked.
I did a TON of research and discovered that most blogs/websites with Adsense average about $1, $5, or $10 in daily earnings.
…That's $30, $150, or $300 per month.
Obviously, this is nowhere near $100 per day.
It's also nowhere near being considered a livable income.
But hey, for many people, it's enough to cover the cost of running a website ($10 per month), groceries, gas, and perhaps other bills.
Doesn't sound so bad now, huh?
And, if you apply what I teach you below, you'll make a LOT more than $1, $5, or $10 daily.
Simply do what I say and you'll make $100 per day with Google Adsense.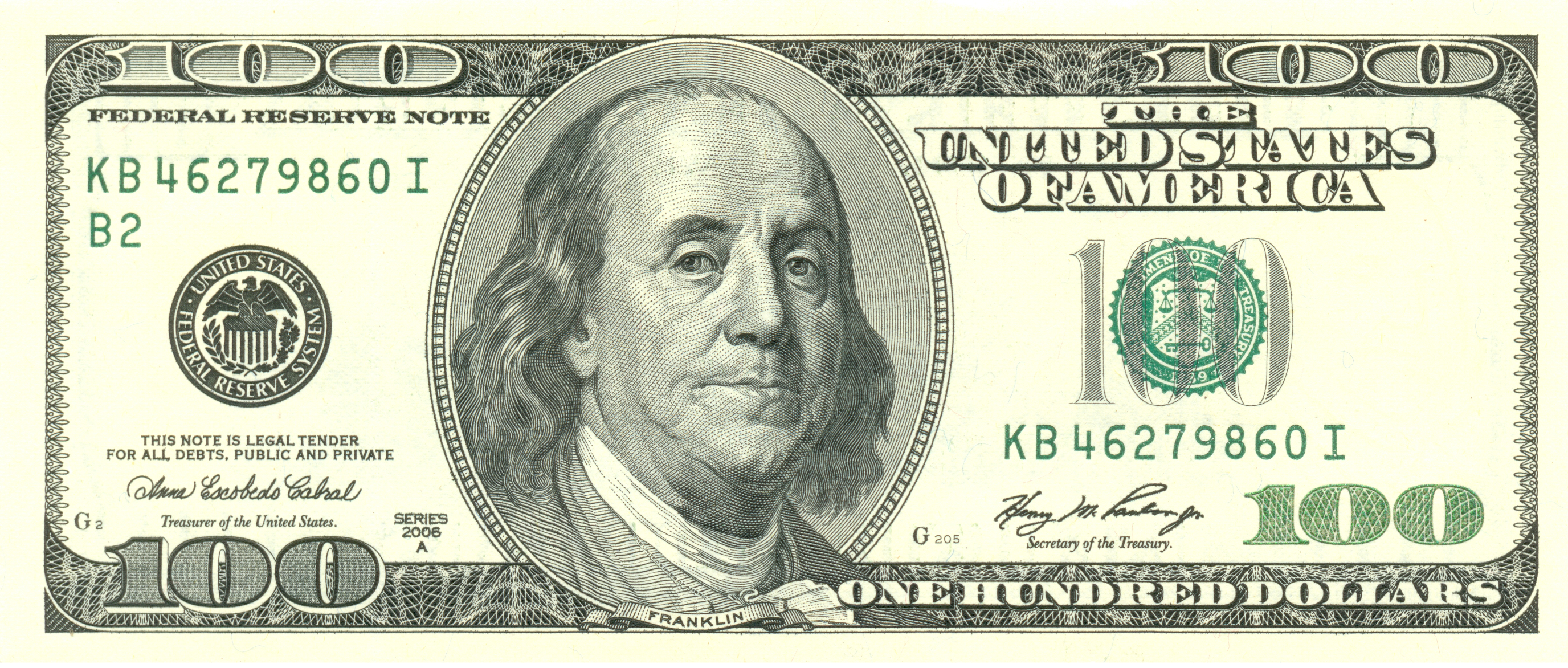 Before we get into how to achieve this goal, let me first share the story of when I began considering using Adsense a good idea.
My Adsense story
I used to perceive Adsense as a scam.
To me, its goal was to trick people into clicking ads in order to make money.
Then, the day came where I had a positive experience after clicking an Adsense ad.
You see, I was in the process of planning a trip to St. Kitts.
I was searching all the traveling websites in order to get the best deal.
After plenty of searching, I gave it a rest and moved on to do other work online.
I remember that while doing some research, I suddenly noticed an ad that was advertising a flight to St. Kitts.
The price being advertised was the CHEAPEST one I'd seen yet. (About $200 less)
Obviously, I proceeded to click the ad.
After confirming that the traveling website was a REAL and TRUSTED company, I immediately booked my flight.
Not only did I get a great deal, but I put money into the pocket of whoever ran the website with the Adsense ads.
Beautiful.
When I reflected on it, my mind immediately shifted from "Adsense is a scammy way to make money" to "I can actually make money by helping people".
Since I was so satisfied with booking my trip at a great rate, I knew that this was a legit way to make money.
I knew that people would eventually be on my website, see an Adsense ad with something they'd consider useful, and click it.
It was at that moment where I began using it on this and all my other websites.
Now, many people will argue that trying to earn $100 per day with Google Adsense isn't a good idea.
They'll tell you that using Adsense means that don't care about your readers, that you don't care about your website's image, and that all you care about is making money.
My opinion?
As long as you offer your readers quality content and don't place ads ALL OVER your website, you'll be fine.
You see, people aren't dumb.
They see an ad and either click it or don't.
Like I just said 5 seconds ago, if you offer GREAT content, your readers could care less whether you use Adsense or not.
Trust me.
I personally keep it simple. 
I place one ad at the beginning of every article…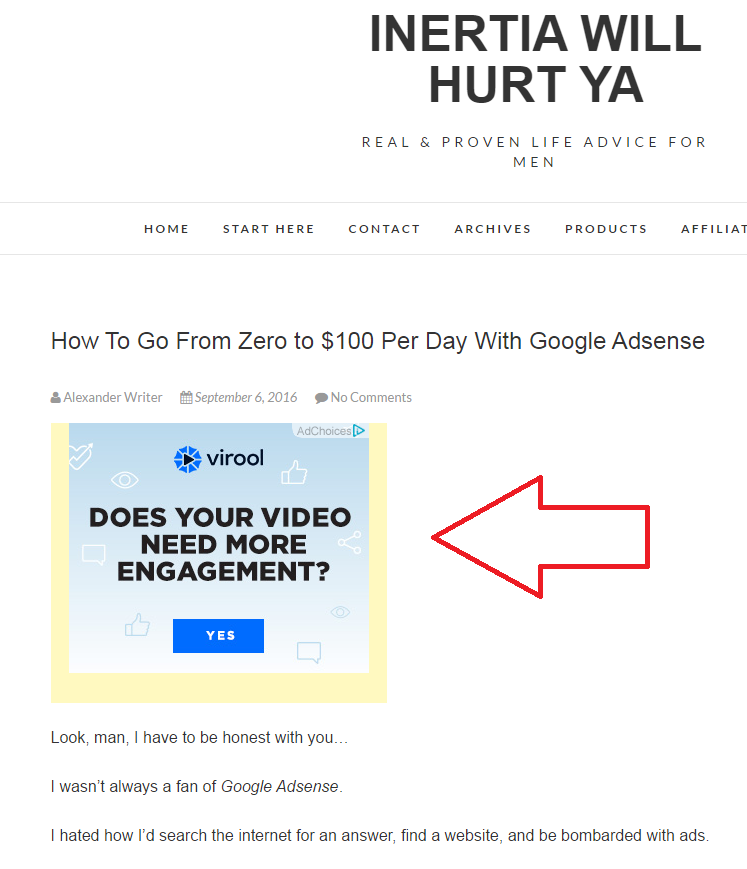 …And one at the end.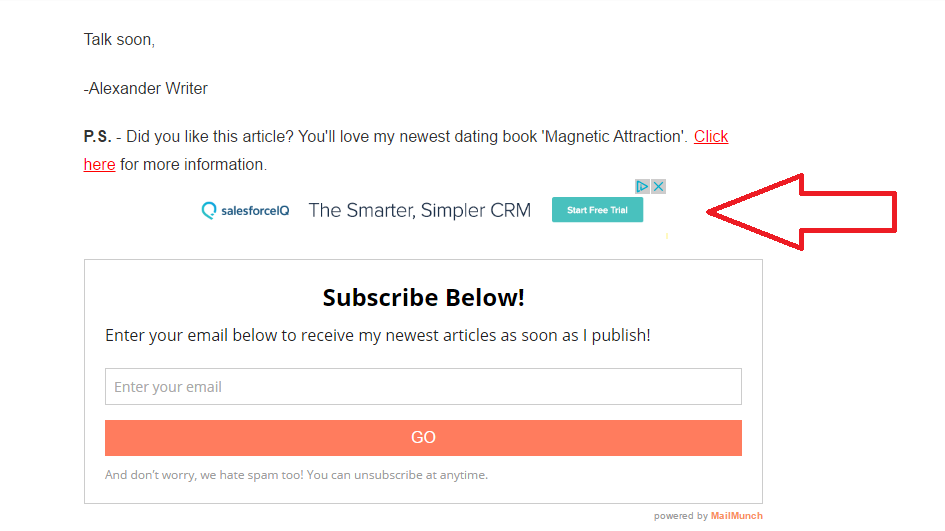 I also place one in my menu located to the far right.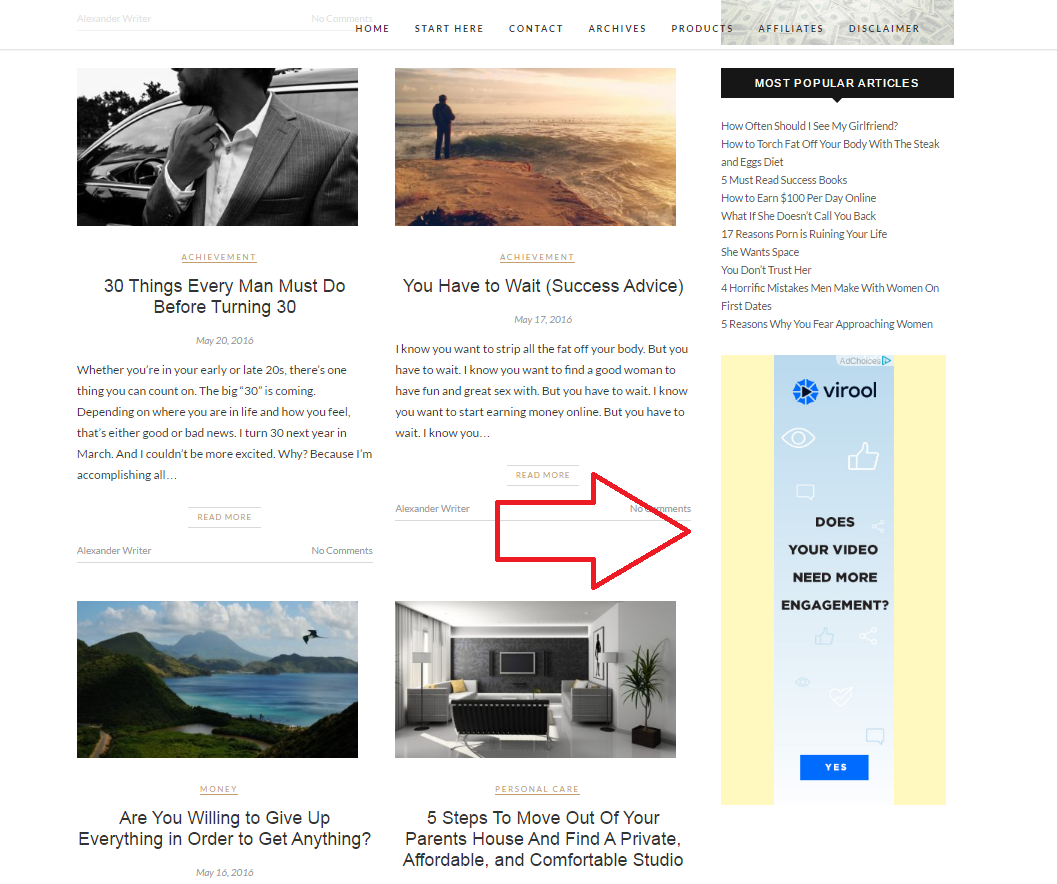 That's it!
This strategy has worked FANTASTIC for me.
It's the exact strategy I use for all my websites.
So, let's get into how and why it all works.
We'll go over:
How Google picks the best ads to display in order to increase the chances they get clicked

How to write content that makes you money

And everything else you'll need in order to start making $100 per day with Google Adsense
Let's begin!
Cookies
Whenever you visit a website, it records your browsing behavior using "cookies".
Cookies are basically files that your web server sends to your computer's internet browser when you visit websites.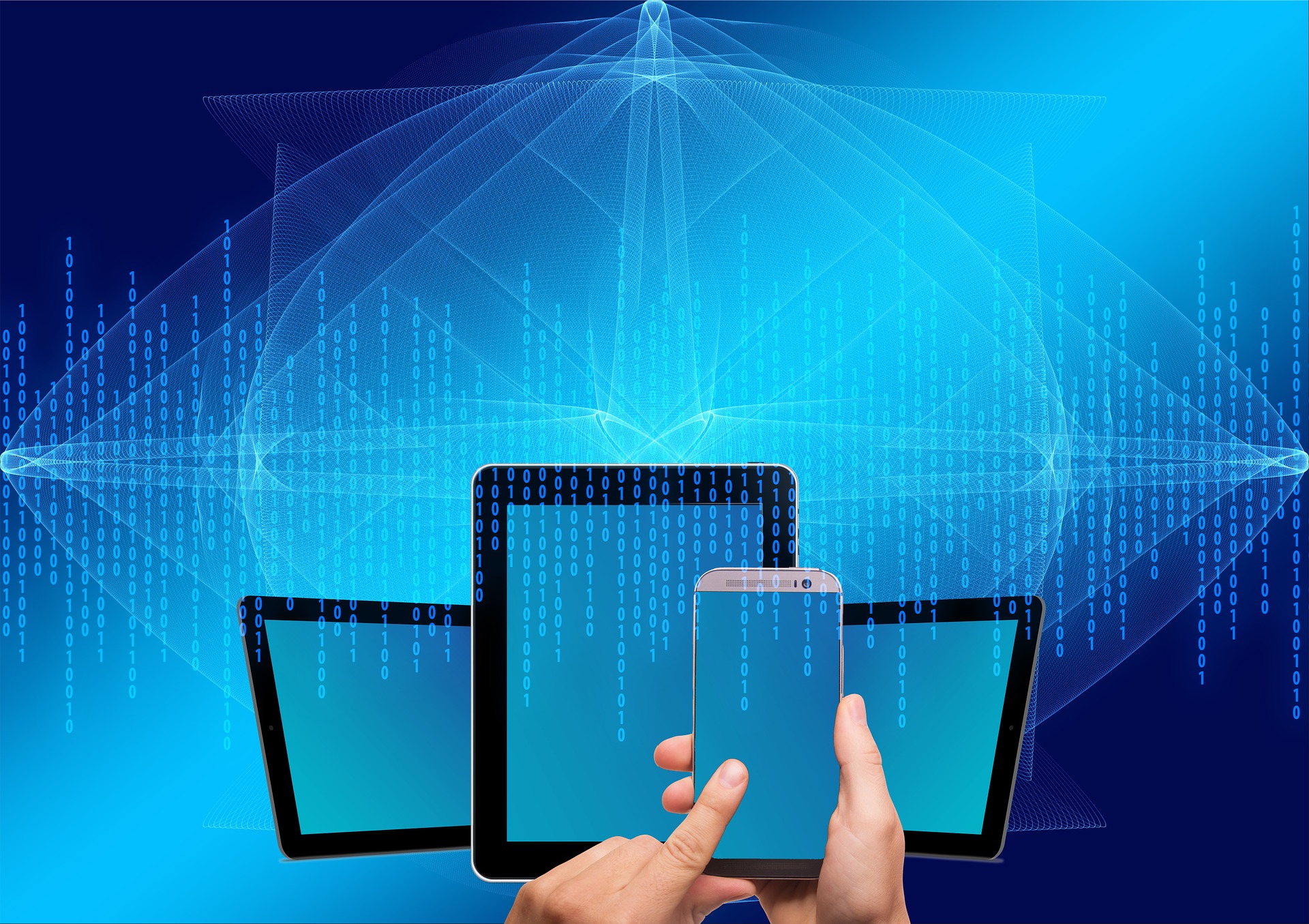 Google Adsense uses these cookies to display ads for things you might be interested in.
For example, let's say you were searching the internet for "dog trainers" earlier.
There's a good chance that you'll see an ad displayed on this website with information relevant to dog trainers.
If not, it'll display something similar to this article's topic. (Ex: making money online, Google Adsense, etc.)
Makes sense?
By displaying these kind of ads, Google increases the chances of people clicking them and providing them a solution to whatever they seek.
It's that simple. 
Yes, there will be time were ads are displayed that aren't relevant to things you're interested in or care about.
However, these are the moments where you and other people will simply ignore the ad.
If you're not comfortable with this idea, stop reading now.
If you are, let's continue!
Content
Now that you have a basic idea of how it all works, let's talk about how to maximize profits.
In other words, what it really takes to go from zero to $100 per day with Google Adsense.
While I consider this process to be EASY, I have to be honest and tell you that it takes time.
How much time? That all depends on YOU.
In order to reach $100 per day, you'll need a TON of content.
The more content you have, the more people will find your website when searching an answer in Google, and the more ad clicks you'll get.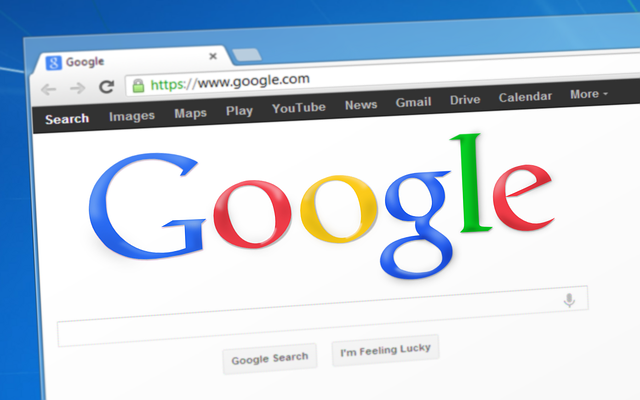 You follow me?
Of course, not every single person who comes to your website will click an ad.
However, you can rest assured that the more traffic you get, the MORE money you'll make.
Listen to me, if you're serious about this, REALLY SERIOUS, you can make it happen!
So how much is a ton of content exactly?
I wrote this article where I explain how and why creating 1000 articles is ideal.
I know, man, 1000 is a scary number.
I personally have just over 300 articles which means I'm only about 33% of the way there.
But…
And it's a HUGE BUT…
I only publish quality content.
Why?
Because "quality" is what Google wants to provide its readers.
And even though I'm only 33% of the way, I 100% guarantee that I make FAR more money than most people who've been blogging the same time as me.
Is it because I'm smarter, have a special skill, or know a secret that others don't?
No.
It's because I work a lot more than most people.
So what exactly makes a quality article?
The very first thing you'll need is to know what you're talking about.
Don't think that you can write a bunch of BS and succeed
You won't.
Every single article in this blog is written by me personally and it's something that I've had experience with.
In other words, nothing is made up, which is why my readers trust me.
"But Alex, what am I going to do if I don't know what to write about?"
Easy answer.
You do what I did – study, learn, apply, and write your experience.
This entire article is MY OWN EXPERIENCE from things I applied that got me results.
So, what you'd do now is study this article, succeed, and write your experience in your own words.
Then, you'd repeat that 999 times until you have your 1000 articles.
See how it works?
Basically, all you need to do is teach others what you know.
Next, you'll need to make your articles "meaty".
This means that they'll need to contain a lot of information.
Ideally, your article should be over 1000 words.
But, don't just pack your article with "filler" content.
Each and every sentence should serve a purpose.
If it doesn't, delete it during the editing process.
Last, make sure you use paragraph headings and proper spacing after sentences.
"Headings" allow the reader to skim your article for a section they want to read.
It also allows them to get an idea of what the article will teach them.
Also, make sure you use short sentences.
I like to use short sentences instead of paragraphs because it makes my articles "cleaner" and easier to read.
In the book Cashvertising, the author explains how and why short sentences keep readers on the page LONGER than huge paragraphs.
(Get it here: CA$HVERTISING: How to Use More than 100 Secrets of Ad-Agency Psychology to Make Big Money Selling Anything to Anyone
)
With that said, while "quality" is EXTREMELY important, the reality is that you'll never know for sure which articles you'll rank well for in Google.
This is why creating 1000 articles is ideal.
Articles that rank on the first page of Google will obviously get you more traffic and ad clicks.
Many of my articles rank on the first page, and many don't.
The same thing applies to every other blogger.
Want proof?
Go into any other successful blog and Google one of their article titles.
There's a 50/50 chance that it'll show up on the first, second, or third page of Google's search results.
Then again, there's a chance that it won't show up at all.
What's the moral of the story?
You MUST to deliver both: Extreme quantity and quality.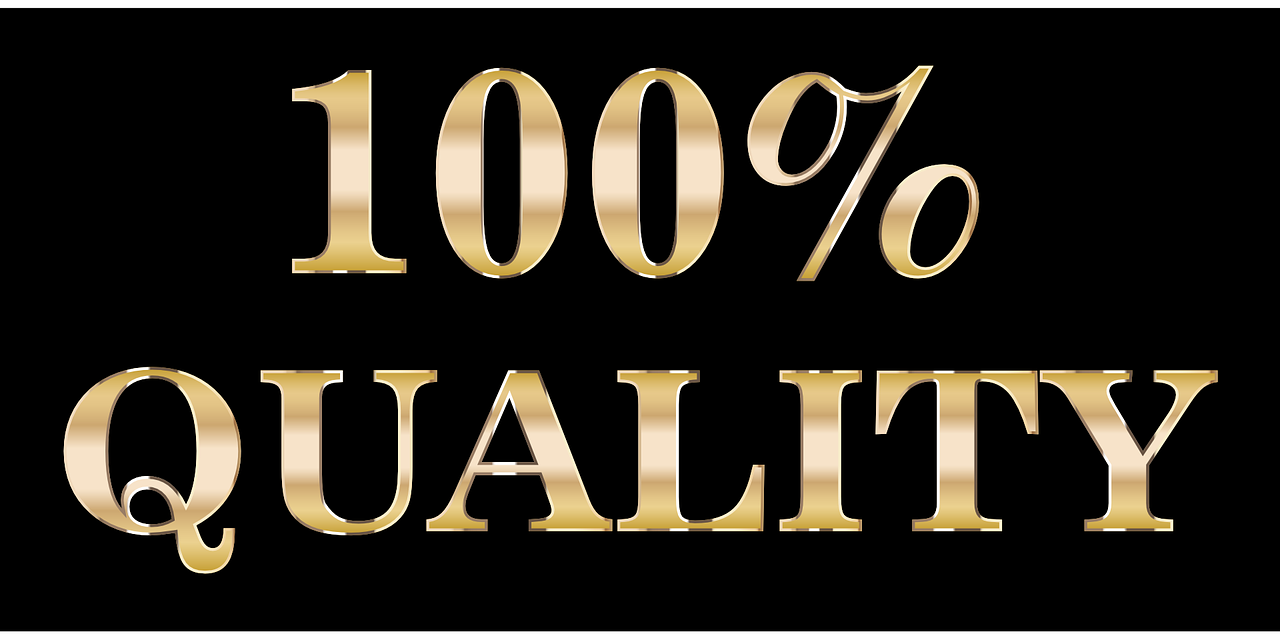 By having a website with a lot of quality content, not only do you tell Google that you have a TON of information to offer readers, but you also MAXIMIZE your profits by increasing the chances of many of your articles getting ranked well.
Are you seeing how it all works?
Like I said, I know 1000 articles is a lot of work.
But, imagine if out of 1000 articles, just 300 of them bring in 10 people to your website daily. (This is an incredibly easy, realistic, and measurable goal. Anyone with just the slightest blogging experience will agree with this.)
I have articles that bring in 100-150 people daily, so TRUST ME when I tell you that just 10 people is so easy that's it's a JOKE!
Let's do the math:
300 x 10 = 3,000 daily visitors
3,000 daily visitors x 30 days = 90,000 monthly visitors
If you think that you won't make money with Google Adsense and 90,000 monthly visitors, you're in for a BIG surprise, my friend.
If anyone dares to tell you different, simply ask them to show you their website.
I guarantee they either don't have one, or that they do, but are nowhere near 1000 quality articles.
Hell, they probably don't even have 50 articles.
Work ethic
Publish one article per month?
Forget it.
Publish one article per week?
Forget it.
Publish one article per day?
Okay, now you're getting somewhere.
But…
One article per day means 365 articles per year.
That's not too bad, but I'd recommend publishing 2-3 articles daily so you can reach 1000 within a year.
Trust me that the more you write, the easier it gets.
I wrote the entire draft for this article in less than 30 minutes.
The only reason why I haven't written 2-3 articles per day since I started blogging in 2014 is because I've been extremely focused on quality, creating my eBooks, and my niche websites.
Yes…I've been busy.
But, since YOUR only goal is to earn $100 per day with Google Adsense, there's no reason why you can't publish at least 2-3 articles per day.
That is of course if you're serious about this…
Pool of sharks
So now that you know what it takes to earn $100 per day with Google Adsense, how do you guarantee your success?
How do you make sure that you stick with this until you start earning $100 per day?
Obviously, this isn't going to happen overnight.
I once attended a seminar where the speaker used a metaphor of jumping into a pool full of sharks.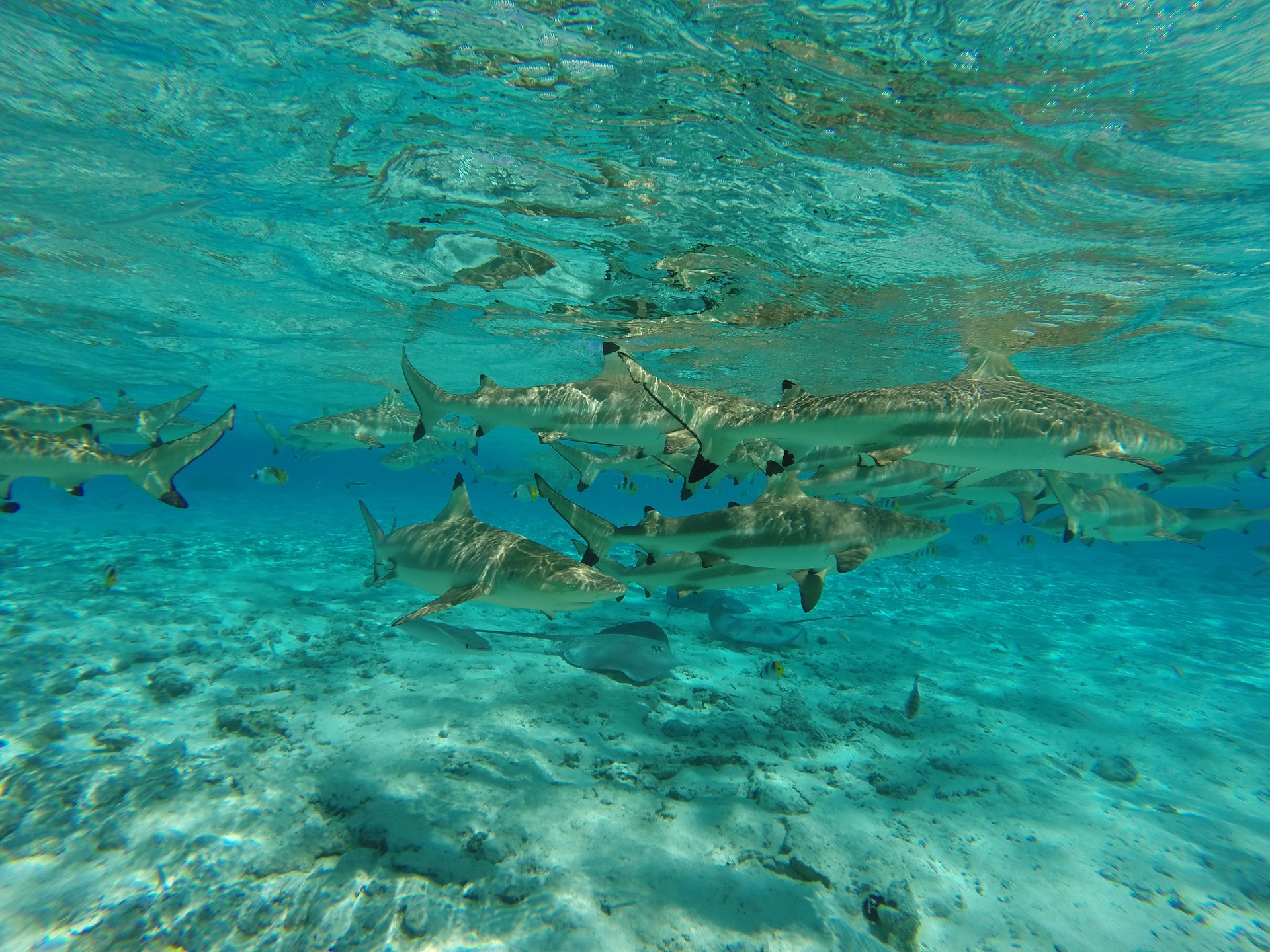 He explained how no one in the right mind would ever do this unless they had a STRONG motivation.
He then went on to give the example of having a loved one fall into the water and how you'd immediately jump in to help them.
Even though the fear is HUGE and the idea is CRAZY, the motivation to save your loved one is so strong that it overrides all common sense.
So, right here right now, ask yourself what your motivation is.
What can $100 per day do for you?
In case you haven't already done the math, that's $3,000 per month.
How can making that money daily on auto-pilot change your life?
Think about it…
Patience
Like I said, earning $100 per day with Google Adsense isn't going to happen quickly, especially if it's the only method you'll use to make money online.
However, that's not what's important.
What's important is that it WILL HAPPEN.
I like to compare making money with Adsense to bodybuilding.
Sure, it takes a lot of time, effort, and patience.
But, you know that if you continue to lift weights, your muscles will eventually grow.
In this scenario, each article your write is equivalent to a workout.
The more articles you write, the stronger your website becomes, and the quicker you begin making money.
Like I mentioned above, you need a strong motivation in order to stick with this.
If not, don't even bother starting because there's a good chance you'll quit.
A strong motivation helps you push through when feelings of doubt occur.
Feelings of doubt are one of the main reasons before quit 3 feet before gold.
Why do they quit?
Because the success they want doesn't happen FAST.
If you can learn to be patient, you'll literally get scared at the amount of success that'll flood into your life.
[bctt tweet="If you can learn to be patient, you'll literally get scared at the amount of success that'll flood into your life." username=""]
I promise.
Do it all over
So once you're earning $100 per day with Google Adsense, what should you do next?
Repeat all the steps in this article.
You should never stop working.
After writing all those articles, you'll find how fun and gratifying it is to help people why getting paid for it.
People will comment on your articles and email you saying "thank you."
What I'm saying is, don't stop at $100 per day.
Instead, shoot for $200, $300, and so on.
Start your website RIGHT NOW and begin writing you're first article.
The faster you start, the faster you'll get there.
Yesterday is gone, and tomorrow isn't an option.
What will you do with what's left of today?
Talk soon,
-Alexander Writer
PS – Download my NEWEST book "How To Make $100 Every Day On The Internet" because it's going to show you my ALL my proven ways to make money online.