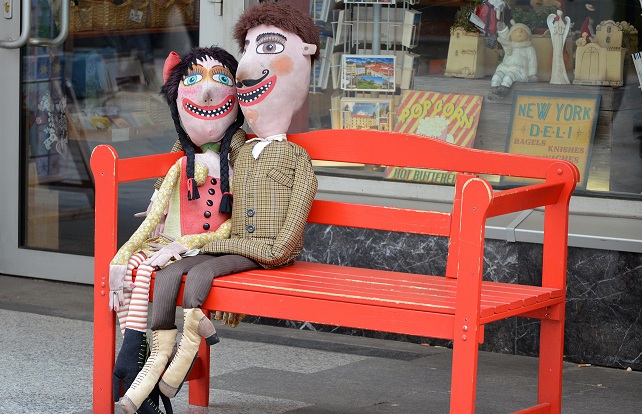 It's been a while since I've written an article for my 'Dating' category.
Truth is I only write about what I'm working on in the moment.
And in 2015, I spent most of time focused on making money online.

However, I'm going to show my dating category some love. (No pun intended)
I want to share a simple sentence to say during a first date.

These 15 words will drive a woman crazy and keep her curiosity strong all night.
It works incredibly well.
Will it work 100% of the time?
Well, unless I date every woman in the world, I wouldn't be able to tell you. (haha)
However, what I can tell you is that it's worked for me and other people I've shared it with.
It's an effective way to make the date more fun and playful.
The last thing you want is a boring date that looks and sounds like a job interview setting.
[bctt tweet=" The last thing you want is a boring date that looks and sounds like a job interview setting."]
I've seen it many times at Starbucks:
"So ummm what's your sign? What did you eat today? What do you think about Donald Trump?"
All jokes aside, here's the sentence I promised you.
First, let me tell you when to say it.
You'll want to wait until somewhere around the midpoint of your date.
So let's say you take that cute brunette out for coffee or a drink.
Around 10-15 minutes into your conversation, when you notice a pause (moment of silence) you'll repeat the following:
"I noticed something very interesting about you I'm sure no one else has noticed before."
…And then STOP talking.
99.9999% of the time she'll ask "What is it?"
And this is the MOST important part so pay close attention.
Respond with:
"I'm not going to tell you just yet"
You'll want to express a smirk on your face immediately after you respond.

And when I say smirk, I mean smirk; not a big cheesy smile that will brighten the room with your teeth.
You'll want to say this in a cool, calm, and collected tone.
I don't know what it is about this but it absolutely drives women crazy.
It automatically makes a date a whole lot more interesting and fun.
Some women will not stop bringing it up every 5 minutes "Tell me! Please!"
Others will make sure not to let you leave the date without telling them.
A friend of mine told me that one woman even offered to pay for their drinks so he'd tell her.
So now I'm sure you're wondering two things:
1) When do I tell her what's interesting?
2) What do I tell her?
Let's answer question #1.
I've found that not telling her until the 2nd or 3rd date works best and keeps the tension going.
Keep in mind that this isn't one of those cheesy seduction techniques you see on the internet.
I don't believe in nor recommend any of those silly programs.
The purpose of this is to tease her a little bit and make things exciting and fun!
…You know, the way dating should be.
You can choose to tell her whenever you want.
Just know that the longer you keep it from her, the funner it gets.
Let's answer question #2.
You have to actually find something interesting about her.
And since I have no idea who you'll be saying this too; there's no way for me to tell you what that will be.

So you know what that means, right; you'll have to actually find something interesting about her.

Don't tell her that her face is pretty or that her hair is nice.
Don't say her smile is nice or that she dresses well.
She's probably heard things like these a million times in her life.
Get creative and find something interesting.
It could be a certain thing she does when she talks.
…Or how she has a nice walk and then ask her if she used to/still dances.

Remember, you don't have to find something interesting until the point when you actually plan to tell her.
Therefore, don't start looking her up and down like a crazy guy the moment you sit down to try and find something.

That won't lead anywhere good.
Just go with the flow and eventually you'll find something.

What's most important here is the curiosity you create; not the response.
Remember, this is just a small technique that will only work if things are already going well.
I cant promise that it'll save a date that's going bad.
But if things are going well, trust me when I tell you this will make it even better!
Give it a try and see how it works.

You can thank me later.
Talk soon,
-Alexander Writer
P.S. – Do you need my private dating advice? I provide a FREE email response to everyone who buys my dating book. Follow these steps:
Click the image below to buy the book now and send me an email to Inertiawillhurtya@gmail.com with your order number. In your email, tell me exactly what's going on with as many details as possible so I can tell you what needs to be done. You will receive a response from me within 24 hrs. (Offer good until January 31, 2018)