3 Easy Ways to Improve Your Website Rankings In Google
What are the hopes and dreams of every blogger?
To get a LOT of daily traffic to their website.
Well, it's very possible to achieve that goal IF you do things right.
You see…
Many people will always seek the short-cuts to success.
They'll try to bypass all the hard work.
But that's the thing, the work isn't really that hard.
All you have to do is work smart.
Many bloggers believe that "SEO" is the ONLY way to rank well in search engines.
While SEO is vital, there's something just as important.
Can you guess what it is?…
Here, I'll tell you.
The amount of time people spend on your website.
Google is one smart tool.
They play the numbers game.
When someone searches for information, Google wants to give them the best response.
Seeing that there are well over millions of websites floating around the internet, Google doesn't have the time to sit and go through every single one to ensure they provide people the absolute best response.
So how do they figure out which is the best response?
Again, whichever website people spend the most time on.
Let me give you an example.
Let's say YOU search Google for "What are the best ways to earn money online?".
There are millions of websites providing an answer to that question.
…But which one provides the BEST answer? 
How does Google decide which one to rank higher?
Whichever one has the lowest bounce rate and most time spent on the page.
Sure, there are other factors like the amount of shares the article gets and backlinks it has.
However, unless your page is ranking HIGH in Google and people are finding it, how in the world will it ever get shares and backlinks?
By the way, a backlink to your article is when some includes it in their website.
For example: "Click here to read this great article I found on how to rank better in Google"
The more people who do that, the more backlinks your article has which will also help you rank better.
However, until people find and read your article, it won't receive any shares or backlinks.
This is also why it's very important that your content is EXCELLENT.
People won't share low quality content with their readers.
So make your content is great and easy to read.
If people land on your article and it's a mess or difficult to read, they'll leave quickly.
Leaving quickly = High bounce rate = Google doesn't rank you well
However, if people land on your article and stick around for a while; Google will see your article as "worthy"' and rank you higher.
It's really that simple.
Articles with the "most time spent on a page", rank better.
Anyone who tells you different is lying or doesn't know any better.
…"OK Alex, but if my article isn't ranking yet, if no one reads it, how in the hell will people ever find it and spend time on it?"
I'm glad you asked, my friend.
I have an answer for that too!
Are you ready?
YOU SHARE THE HELL OUT OF YOUR CONTENT!
If you just wrote an article, you better share it everywhere (Facebook, Twitter, StumbleUpon, etc.)
…And I don't mean to just share it today and then forget about it.
You should share it daily for a minimum of two weeks on all of these social sites.
The more people who read it, the more time will be spent on your article, the faster Google will begin to rank it higher.
Got it?
It really isn't difficult to do.
Just create an inciting title that people want to click and learn about, and you're good to go.
So now let's actually talk about how to make people stay on your article once they land on it.
Here are my 3 easy ways to improve your website rankings in google.
1) Easy to Read Content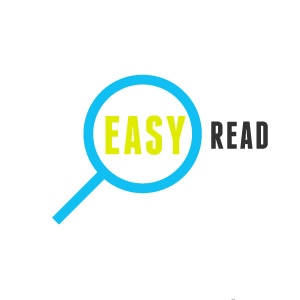 What's the one obvious thing in all of my articles?
I write short and easy to read sentences.
No long paragraphs.
No big cool words to show the world how smart I am.
…And no meaningless B.S.
When someone lands on your article and they see HUGE paragraphs and/or big words like hippopotomonstrosesquippedaliophobia (yes, that is actually a word and it means the fear of long words) all of a sudden your article becomes "hard work".
"I have to get through all of this to get my answer? I'll just come back to it later".
What are the chances someone will actually remember and return to your website later?
Slim to none.
When you write short sentences, your article is much more attractive to the human eye.
The eye doesn't get frustrated.
Instead, it easily glides from one sentence to the other.
I've noticed huge improvements in the time people spend on my articles when switching from paragraphs to short sentences.
Besides short sentences, you also want to make sure you use a good font size and family.
I use font family Helvetica size 12 because I read in the book Cashvertising that it's a great option.
So far, it's done nothing but great things for my articles.
By the way, I highly recommend that book.
I learned so much that it's now one of my top 3 favorite marketing books.
Whether you use Helvetica or another font, just do your research and make sure it's a good option.
Remember that people visit your website using their computers, phones, tablets, etc.
Make sure your font family and size looks good on ALL devices.
Short easy to read sentences + a good font size and family = an enjoyable article to read.
You know what happens when your article is easy to read?
People will most likely read all of it. (If your content is actually good)
That means more time spent on the article and higher rankings in Google.
You might feel that short sentences and a different font family and size won't make that much of a difference…
Just try it and see what happens.
2) Pictures
People love pictures, graphs, and any form of illustration regarding your article's topic.
Pictures also help some people grasp your message a lot easier. 
But you know what else pictures makes people do?
It makes them stay on your page longer.
If you have 4-5 pictures which people look at for 5-10 seconds (sometimes more), it can really help.
Let's do the math: 4 pictures x 5 seconds = 20 seconds.
This is using the lowest example possible.
If your pictures are really nice to look at or if they contain a lot of information (a graph) people will stare at them longer.
I know that 20 seconds might not seem like a lot, but in the blogging world, every second counts.
An extra 20 seconds might just be enough to get your page ranking higher than it already is.
I know this might seem like no big deal, but trust me, it's very important.
3) Videos
Sure, pictures are a great way to get people to stay on the page longer, but videos work even better.
Including a video in your article is an easy and guaranteed way to get people to stay longer.
It doesn't even have to be your own video, just as long as it helps get your point across.
Let's say you include a five minute video on your article and people watch all of it.
So now you have all the time they spent reading your article, the seconds from them staring at your images, and the 5 minutes from a video.
Do you see how this works?
Combine all three and the time spent on your article really adds up!
Putting a YouTube video on your article is VERY easy. 
Just copy the URL of the video, click "Add Media", and "Insert from URL".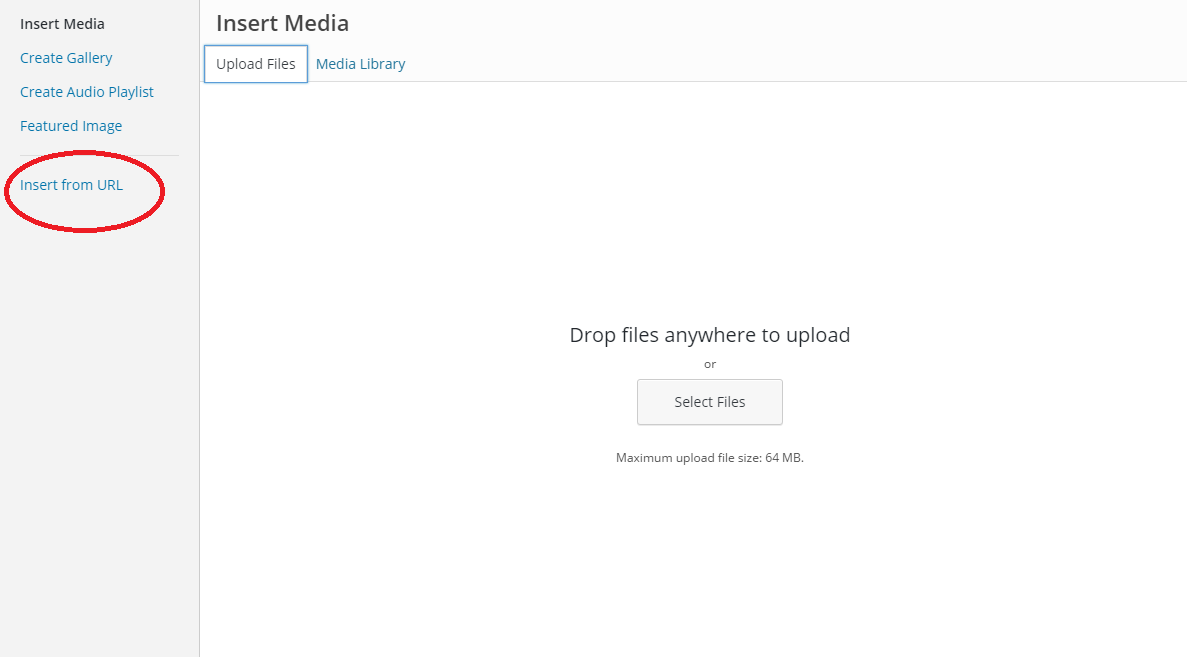 Then just paste the link and click insert into post on the lower right.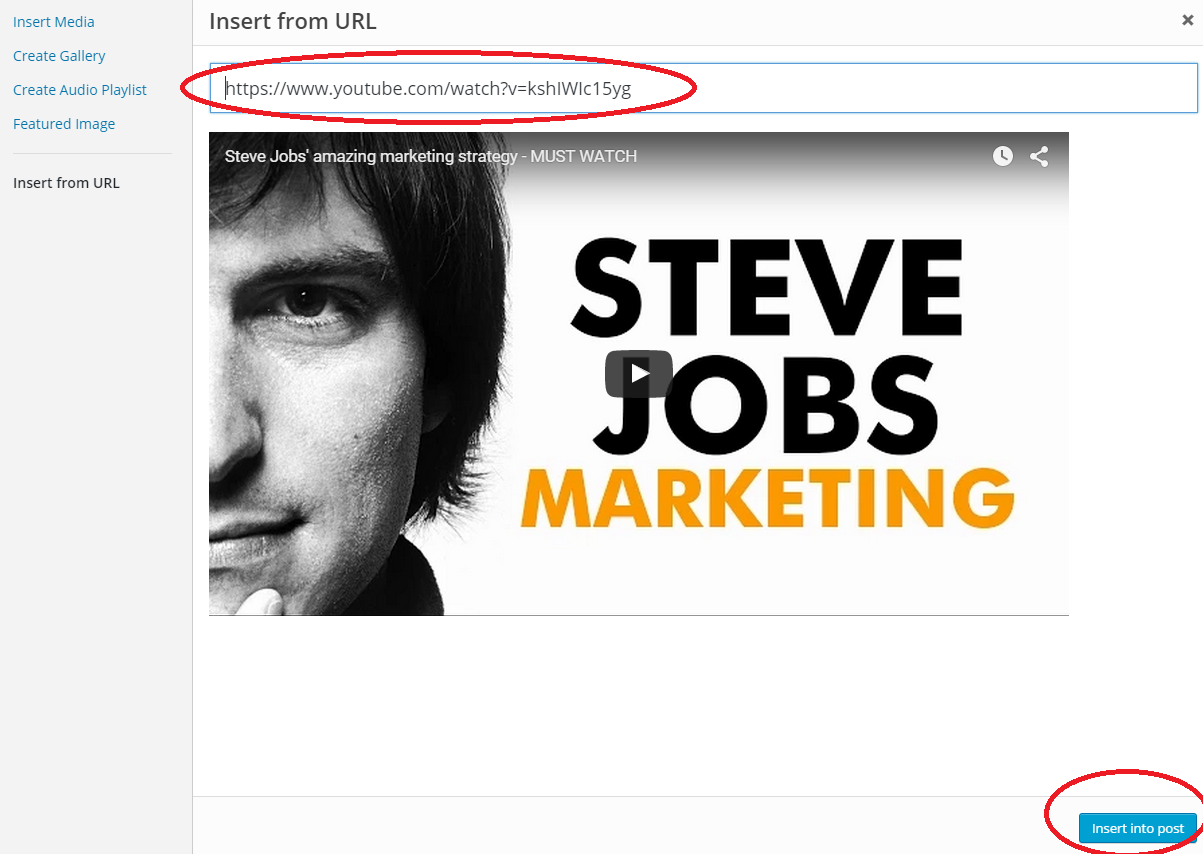 Easy. Easy. Easy!
IMPORTANT: Make sure you follow this step and actually include the video in your article.
If you just link to the video, people will be redirected AWAY from your website to YouTube.
That'll mean two things: 
1) They spend less time on your article
2) They won't read your entire article and probably won't return to do so
That's no good, my friend.
Even if you place your video at the end of your article, you're still driving them away from your website.
The point is to get them to stay longer.
You can download the "Add Media" plugin on WordPress for free.
Now, you don't want to get carried away with this.
Don't put 50 pictures and 20 videos in your article.
You want to find the perfect balance.
My advice is 4-6 pictures max, and no more than two videos. (I actually prefer one but two is OK)
Can you get away with more pictures and more videos?
Maybe, maybe not.
However, you don't want to risk stressing out your reader with information overload.
Remember, besides keeping people on your page longer, you also want them to return to your website.
If you provide them an informational, easy to read article; there's a high chance they'll stick around and/or come back to see what else you have on your website.
A successful blog is all about finding the right balance.
I'm trying to save you some of the mistakes I made and these tips are a great place to start.
So there you have it, my 3 easy ways to improve your website rankings in Google.
Put them to work and you'll see improvements in your bounce rate and article rankings.
Remember one thing: Google ranks articles, not websites.
That means that if you want people to find each article you write, you have to follow these steps for each and every one of them.
You know what that means right?
You have to do the work if you want to reap the rewards.
We'll talk again soon,
-Alex