I've read many business books, attended seminars, and networked with internet entrepreneurs.
All three have one commonality….
They all ask the SAME question: "Why are you NOT making money online?"
There are countless ways to earn money online.

However, they all require work, patience, and time.
They also require self-belief.
If you don't think you can, you probably won't even try.
Right?
I'm going to share one of the EASIEST ways to make money online so you can prove to yourself that you CAN do it!

You see, once you have a little proof that YOU can do something, you become unstoppable.
Sky truly becomes the limit!
Well, let's get you on the road to becoming unstoppable.
Are you ready?
Let's go!
Niche Websites
I have a couple niche websites that earn me money monthly on auto-pilot.
I don't share my niche websites because it'll lead to competition for the same targeted keywords.
Don't worry, this will make more sense by the end of the article.
Some of my niche websites earn a small amount of money, and others do a little better.
So what is a niche website anyways?
Basically it's a website dedicated to ONE product.
How does a niche website earn money?
You provide information about the niche and display affiliate links for relevant products.
People come to your website, click on those links, buy, and you earn commission.
Are you a little confused as to how it all works?
Don't worry, I'm going to break it down step-by-step just for you!
How to Start Your Own Niche Website
1)

Pick a Niche



First, come up with an idea (targeted keywords) for a niche:
EX:
How to make money online

Dog collars that are waterproof

Grass fertilizer that's safe for pets


How to lose 20 pounds in a month
Go into the Google Keyword Tool to see how many monthly searches it averages.
Make sure you choose "All Locations" in the "Targeting" option.
For this example, we'll use the niche "how to make money online".
*You'll want a niche that gets a lot of monthly searches but has low competition.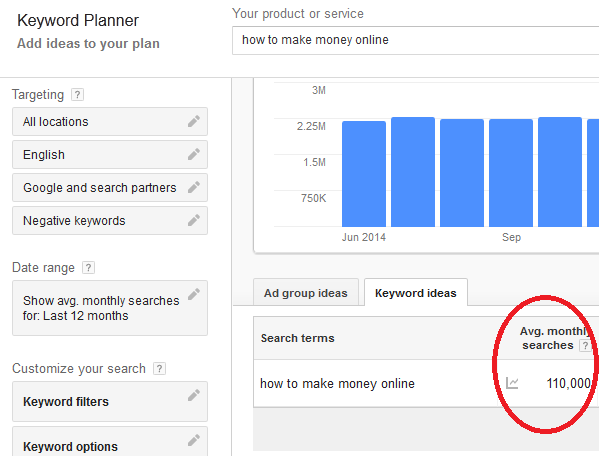 So here we see this niche averages 110,000 monthly searches.
That's a TON of searches which clearly makes this a good niche.
Anything that has over 1,000 searches is great so 110,000 is EXCELLENT!

Now that we have those numbers, we have to verify the level of competition.
Go into Google.com and enter the niche to see how many search results appear.

IMPORTANT: You'll want to choose a niche that has 2 million or less results, preferably less than a million, but 2 million is fine.
The image below shows 568 million search results for "How to make money online".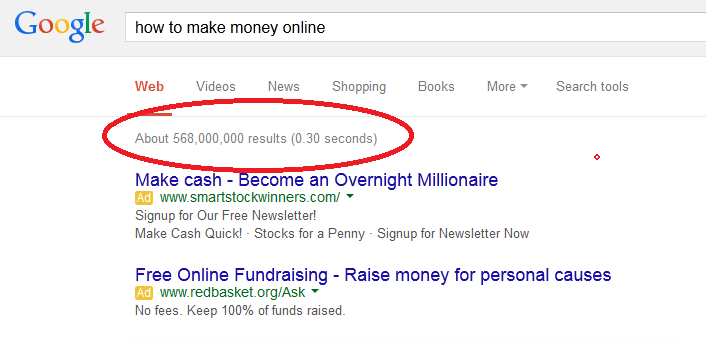 This is a perfect example of a niche you should NOT use!
It's too saturated (high competition) and hard to rank well for in Google.
Therefore we would NOT move forward with this niche.
At this point, you could either switch a couple words around (ex: how to quickly earn money online, how I made money online for the first time, etc.)
…Or you could begin searching for a completely different niche.
As you can see, this requires some trial and error but the rewards are well worth it!
Once you find a niche that has over 1,000 monthly searches and less than 2 million search results, you can move forward and begin creating the website.
2) Creating the Niche website
First things first, you need a domain name (website address).
EX: This blog's domain name is www.inertiawillhurtya.com
Go into Hostgator.com and search to see if your desired domain is available.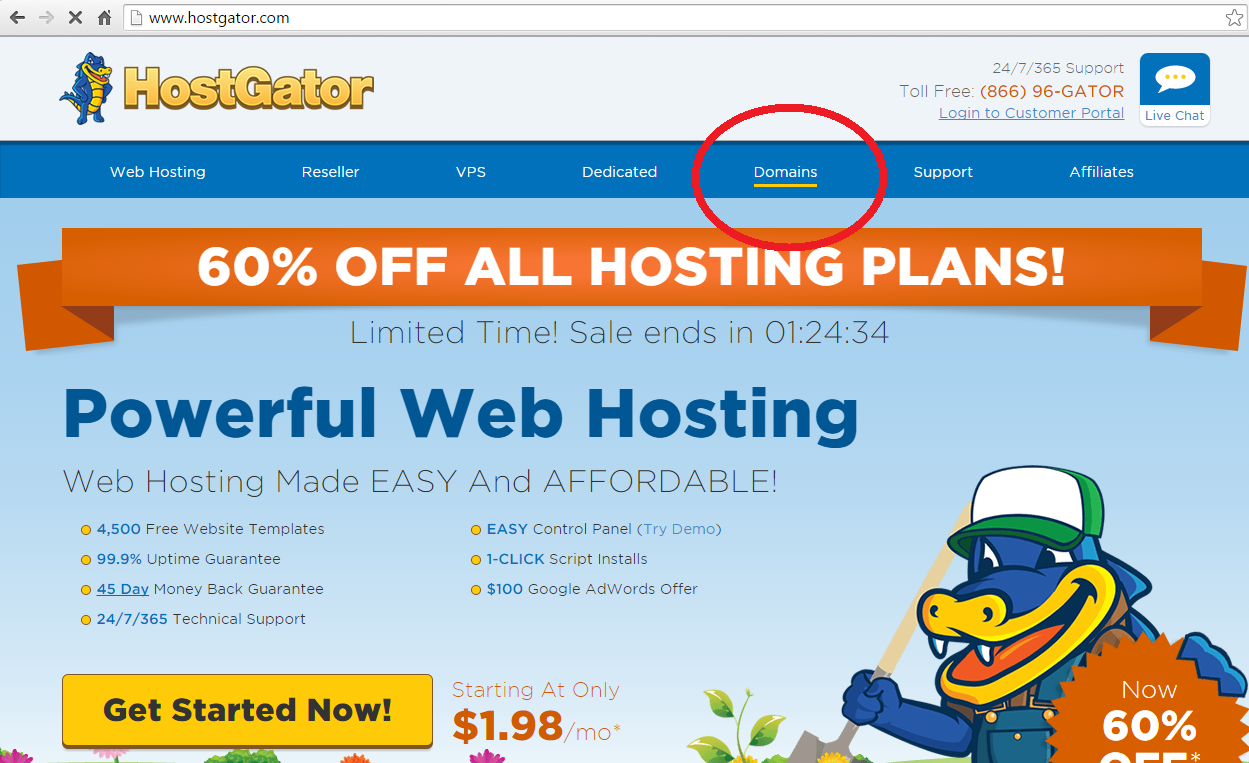 You should include your niche (keywords) in your domain name.
For example: if your niche is "How to gain more muscle", it should look like this:
www.howtogainmoremuscle.com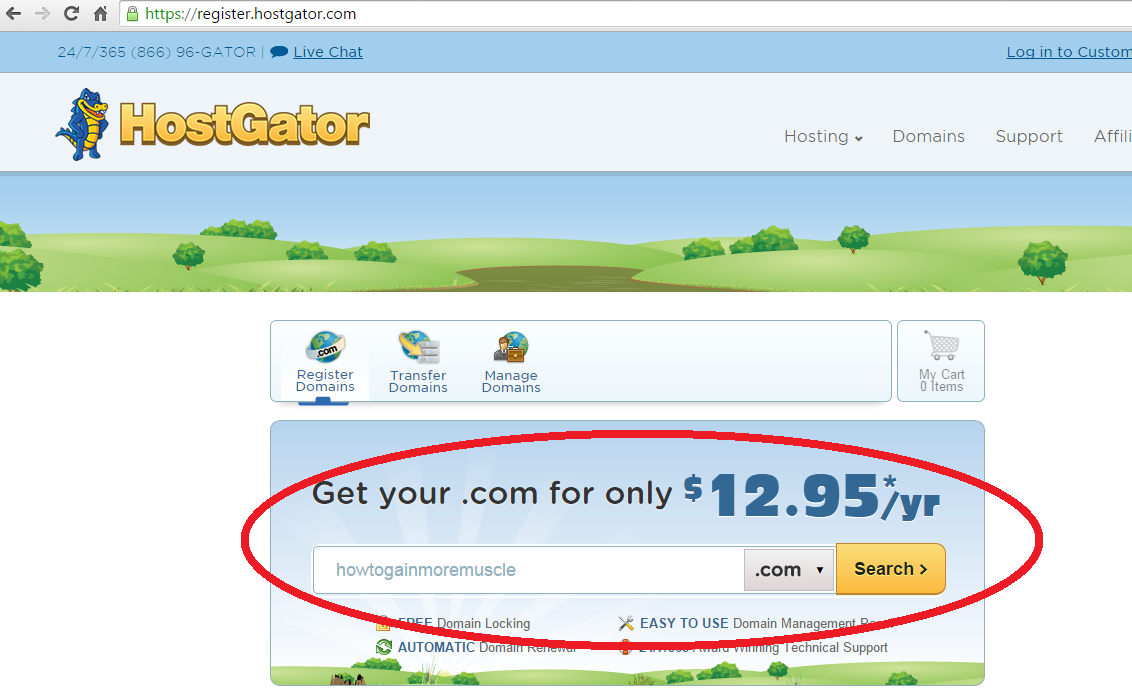 However, if that domain name is already taken, do your best to create one that still has your keywords in it.
EX:
www.waysonhowtogainmoremuscle.com
www.secretsonhowtogainmoremuscle.com
www.howtogainmoremuscleeasily.com
Get it?
Keep playing with the words until you find one that's available.

The point is to have your keywords in the domain name any way you can.
This will help your website rank well in the Google search results.
…And remember to ALWAYS register a ".com" domain.
Domains that end this way are perceived as professional and trustworthy.
All the others (.net, .org, etc.) are no good.
Once you have your domain name, proceed to purchase and host it on Hostgator by clicking here.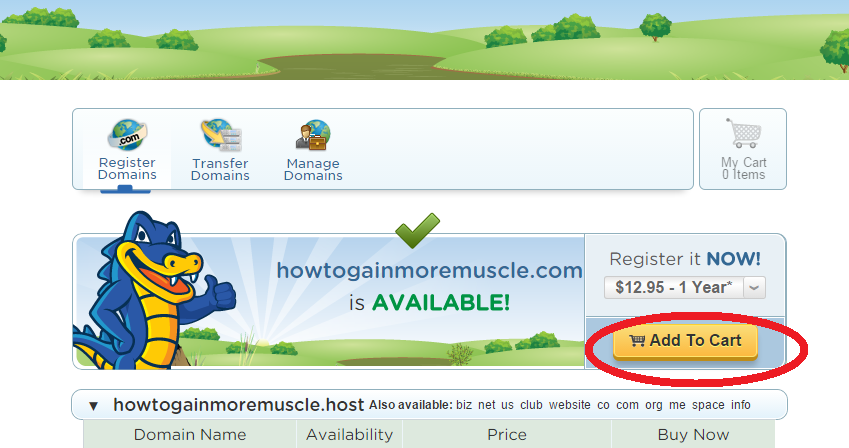 You pay for your website domain once a year and pay less than $10 a month to host it.
Don't worry, the small fee will pay for itself with your niche website.
Trust me.
Once that's done, you can begin setting up your website.
NOTE: if this is your first website, you can find a TON of free step-by-step videos on YouTube on "how to start a website". I would write the steps but it will make this a VERY long article. Building a website is learned A LOT easier and quicker through svideo anyways.
…And we're not trying to complicate things, there's enough work that needs to get done.
Here's a great video on how to do it.
Don't start watching videos until you've purchased and hosted your domain because you'll need to apply what you learn.
You'll be pausing the video often and jumping back and forth from your website and YouTube as you go following the steps.
Once you have your website up and running, it's time to get started!
3) Write Articles and Promote Products
Now you're going to want to create at least 8-10 articles that contain your keywords in it.
Don't "stuff" each article with your keywords in attempt to rank better in the search results.
Google spams websites that do this.
The way to rank better is by creating quality articles in low competitive niches.
Write 400-500 word ORIGINAL articles and mention your keywords 3-4 times in each.
And when I say "original", I mean you write you OWN article.
Do NOT copy and paste information from another website.
Google can also tell when you do this.
Yes, in case you didn't know, Google is quite miraculous with it's genius abilities.
If you're not willing to sit down and write your own article, then you're not serious about making money.
Go into the "Add New Post" section in your website and get to work!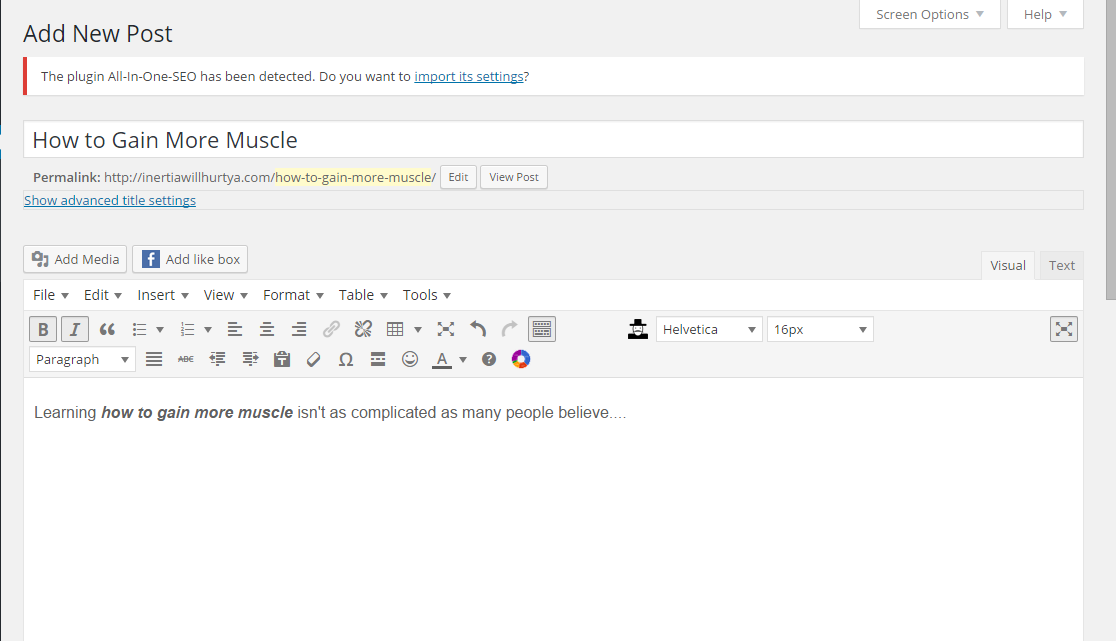 Your other article titles should look something like this.
Bodybuilder's strategies on how to gain more muscle

How to gain more muscle without spending money

Former inmates share secrets on working out

What I learned last year on building muscle

How much protein do you really need?
You'll include your keywords in your article titles, but don't necessarily need to in all of them.
Also, make sure you don't start every article with "How to".
Switch it up a little like the examples I provided.
The important thing is that your articles are of quality and authentic.
Do plenty of research for each title so you can provide great and useful information.

Last, offer your readers affiliate links to buy items you KNOW will help them gain more muscle.
This can be dumbbells, a good protein product, or a book.
Make sure you use/read the items before promoting them to ensure they actually work!
A niche website has two goals:
Educate people on their searched keywords

Make sales from the products you recommend which will actually help them.
You want to be an authentic niche website, not a scam.
The most trusted website to promote products from is Amazon.com
Creating an amazon affiliate account is easy and free.
Amazon pays monthly for sales through your choice of direct deposit or check.
After you create your account, log in and search for the book you want to promote.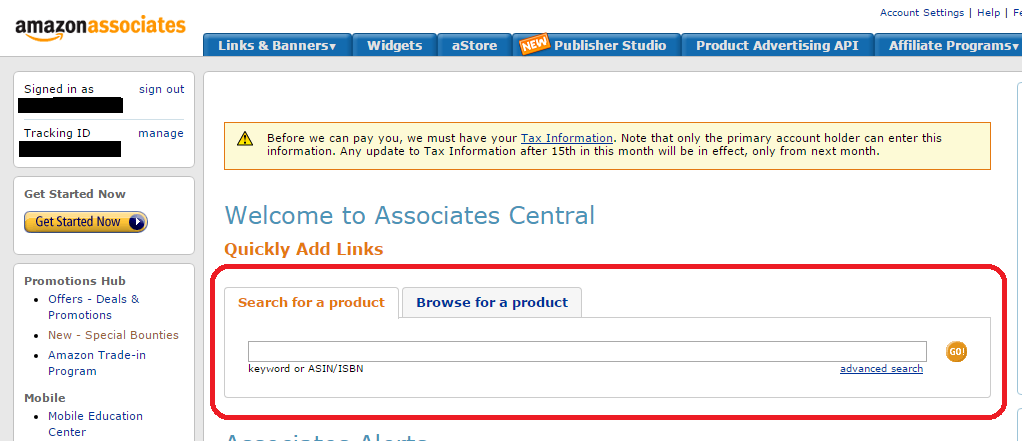 Click on "get link" for the book you want.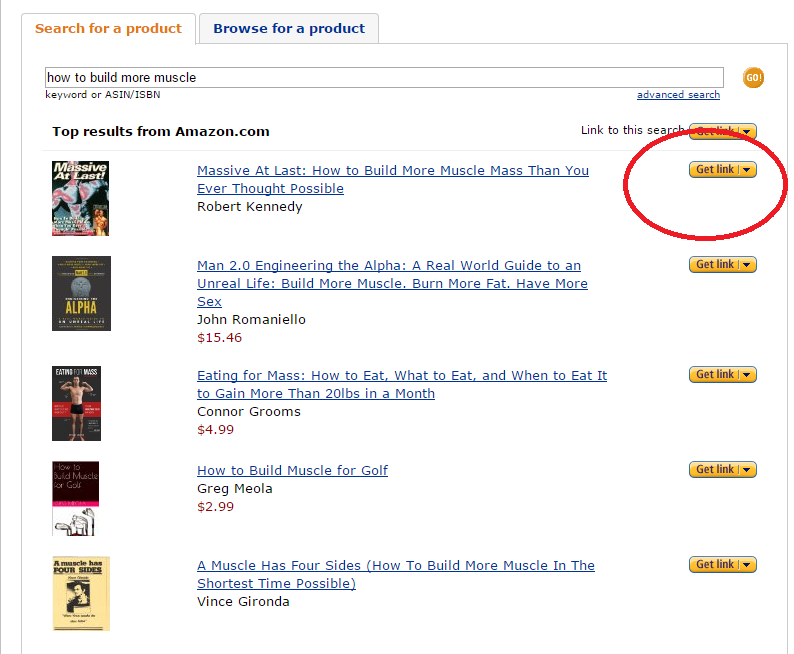 Save a picture of the E-book cover on your computer.
Click "New Post" in your website and add the picture.
Link it with the affiliate code you get from Amazon.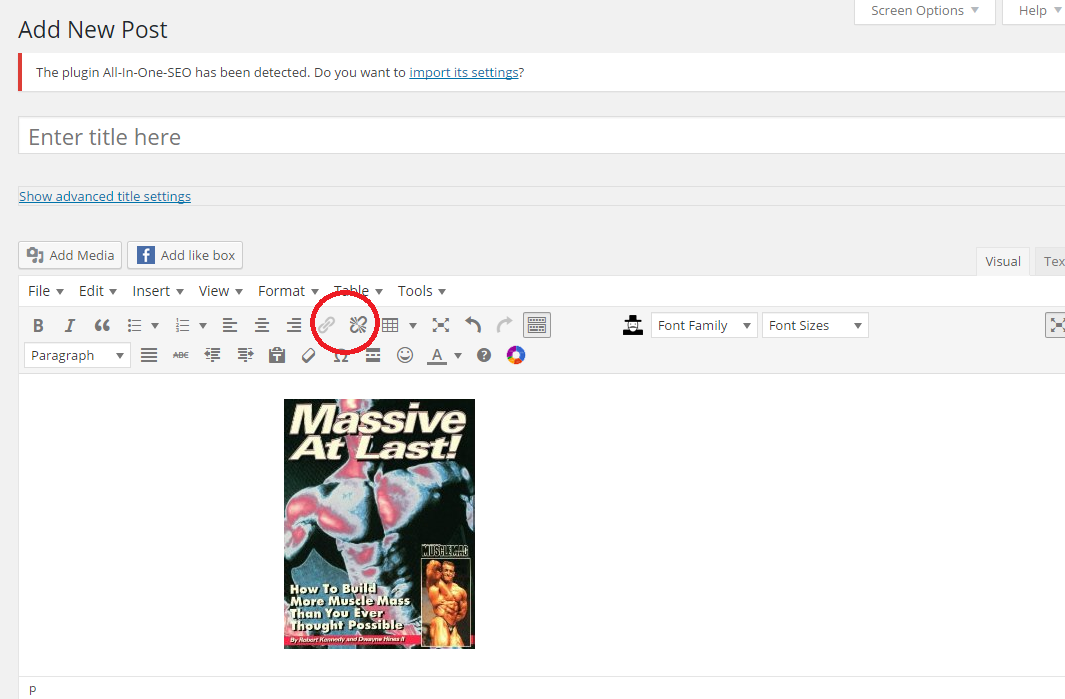 Paste the link in the URL section and click "Add link".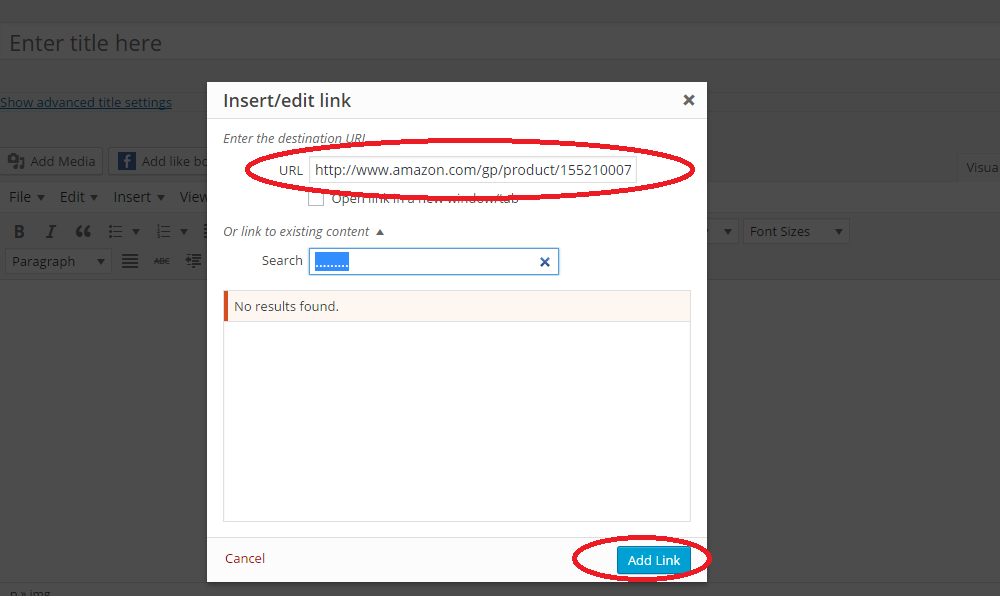 Click "text" on the far right and copy the code displayed.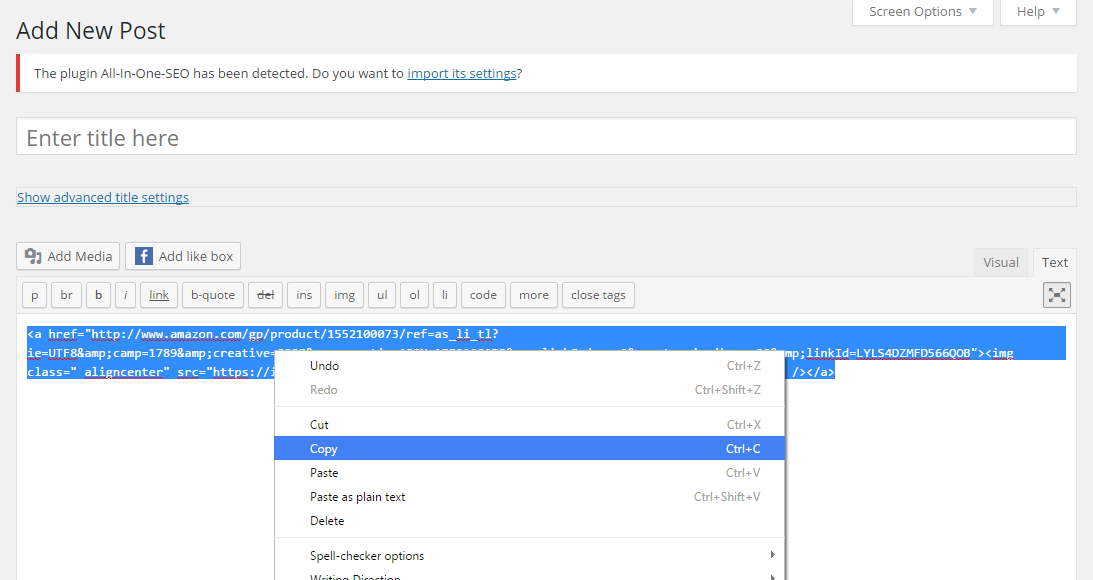 Go into your widgets section in WordPress and enter the code in a "text" category.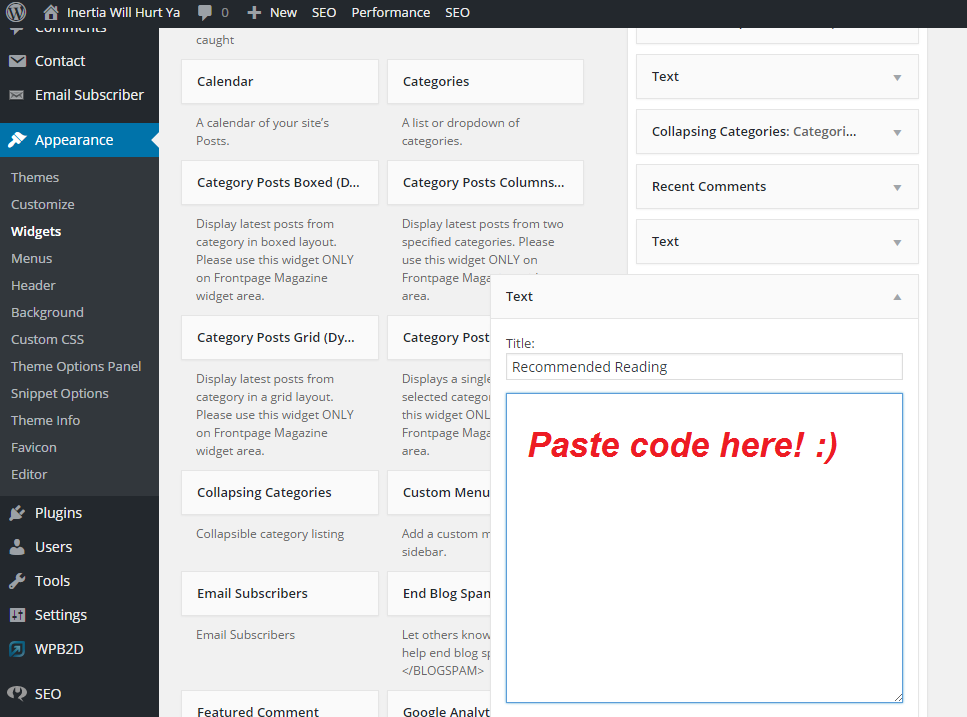 The final result….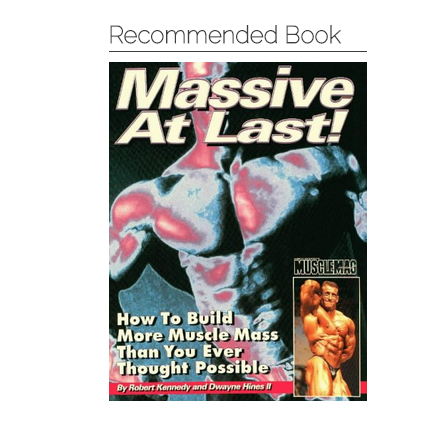 Click on the picture above to see an example of how your readers will be guided straight to Amazon.
It's that easy, my friend.
Promote no more than 2 – 3 books/products.
Don't JAM-PACK your website with too many offers.

Even though this is a niche website where promoting products is perfectly fine, you don't want your readers to get distracted with too many offers and not notice that you have articles (information) to offer them.
Make sense?
The goal is to educate and allow them to purchase a product if they choose to.
Well that's it!
Simple and straight-forward just how I like it.
Let's recap:
Find a niche

Set up the website

Write 8-10 articles

Promote a couple relevant books/products

Earn money monthly on auto-pilot
Again, as long as you find a niche that's getting A LOT of searches monthly and doesn't have too many search results in Google, you'll be able to rank in the first page and make money.

How much money you make will ultimately depend on how much time you spend working on the website.
Even though this really works, the whole process requires time and effort which most people are NOT willing to dedicate.
However, if you DO THE WORK, you'll reap the rewards.
Remember, don't share your niches with any one unless you want competition.
But trust me when I say this, there are A LOT of niches available.
Just play around in the Google Keyword Tool and you'll find them.
So if this is so easy, why isn't everyone doing it?
Well because they either:
A) Don't know how
B) Are too lazy to take action
Remember, this requires time and patience but once your niche site is "live", it won't be long before you appear on Google and begin earning money on auto-pilot.

And I know what you're thinking: "Why in the hell would he share this?"
1) I don't have a scarcity mindset. 
2) There are a TON of niche ideas available.
Even if I didn't share this with you, I wouldn't discover nor have time to work on all of them.
And this is the reality for all the other bloggers and internet entrepreneurs.
They all start with small projects like this but then move on to BIGGER and more profitable things.
This can earn you money monthly, but once you get good at it, you move on to projects that can make you the same amount of money in a month that you would make in a year with a small niche website.
Is this beginning to make sense?
The goal of each and every entrepreneur is to earn money on auto-pilot so they no longer have to go and spend time building small niche websites.
You can't be scuba diving in the Caribbean if you have to work on a website, can you?
The answer is no, you can't.
There are literally millions of keywords that get searched for monthly that have yet to be discovered.
…And some never will.
Just think of the billions of people in the world who all have different interest and search for different things.
So by now I'm sure you're wondering just how much can you earn monthly with niche websites.
The answer is that it depends on of course how many niche websites you build and how much time you spend working on them.
A niche website can earn anywhere from $100 to a couple $1000.
It ultimately all depends on the amount of searches it gets.
The more searches, the more traffic comes in.
The more traffic comes in, the more sales.
But look at this way, if you put in the time and work to build 20-30 small niche websites which all earn $100 a month, would that money on auto-pilot change your life?
But YOU have to work for it, my friend.
Setting up that many websites will take some time, but it CAN BE DONE!
You have to sacrifice and sit down in front of the computer and do what needs to get done.
I wrote this 2100 word step-by-step guide to show you how, but only YOU can actually do the work.
I know sharing this kind of content will result in my readers trusting me more than they already do.
The goal of my blog is to help others get motivated and create success for themselves.
…And that's exactly what it always has and will do.
Don't just read this and say "Oh wow, Alex is such a great guy for providing this".
TAKE ACTION!!!!!!
We'll talk again soon,
-Alex
PS – Download my NEWEST book "How To Make $100 Every Day On The Internet" because it's going to show you my ALL my proven ways to make money online.