Most men focus on the wrong things when trying to become more attractive to women.
They think they need a ton of money, extremely good looks, or some special dating skill.
While these things will not hurt your success, trust me that they're NOT necessary.
There are COUNTLESS ways to be more attractive to women.
I'm going to give you my top 3 favorite things that have worked for me many, MANY times.
Start doing them today so you can watch your dating success SKYROCKET!
Let's begin.
1) Always use unique compliments
"You're very pretty…Wow, your eyes are amazing…You have a great smile…You're gorgeous"
Can you guess what all of these compliments have in common?
They're predictable and not unique.
Any woman you say these to has heard them a MILLION times in her life.
Does it mean that they're bad compliments?
No, not exactly.
But, it does mean that they don't stand out.
Think about a song that you've heard 500 times.
How much attention do you pay to it when it comes on the radio?
Not much.
You've heard it so many times that you're craving something new.
Well, my friend, the same thing applies to that cute girl you noticed at the supermarket.
She's craving something new!
In a world where there's, I don't know, 3.5 BILLION men, it's important to stand out.
Women get complimented all day, every day, especially if they're attractive.
So, is it a bad idea to give compliments?
No, quite the opposite.
Women love and need to be complimented.
However, it works 100x better when it's a unique compliment that she doesn't hear often.
Before I give you examples, let me explain why they work better.
A unique compliment means that you noticed something that's specifically special about her.
Telling a woman she's "beautiful" isn't specific because you can say that to any woman.
For all she knows, you said it to 10 other women today.
You follow me?
But, when you give her a unique and specific compliment, it instantly makes it special.
So what exactly is a unique compliment?
You must notice something specific on her that most men don't notice and explain why it makes her beautiful.
Don't stare at her for 5 minutes to find something, that's just creepy and weird.
Instead, try to quickly notice a detail about her that stands out.
For example, let's say you see a woman in the supermarket who you'd like to meet.
Instead of telling her "Hi, you're pretty", you can be more smooth and say "Hi, it looks like you're having trouble choosing a cereal. I see that you're the picky type", and then smile at her.
This will "break the ice" and get her talking.
99.9 % of women will smile and respond "Yeah, there's just so many to choose from", or something similar.
After chatting for a few, you can proceed to give her the unique compliment.
Example:
"By the way, your hairstyle and length looks great on you. It goes well with the shape of your face. I think it makes you look gorgeous."
Do you see that?
That, my friend, is a unique compliment. 
I've personally used it MANY times and it works very well.
Instead of just telling her that she's gorgeous, you explain why.
Here are other examples of unique compliments:
You're hair color looks great on you, it compliments your skin tone.

You have a great style, you dress well and your choice of colors look amazing on you.

You have a very nice walk. Where you in dance growing up?
Again, there are many to choose from, you just have to make the effort.
Am I saying that unique compliments are the ONLY way to succeed with women?
No.
What I'm saying is that they'll HELP and work a lot better than predictable compliments women hear daily.
Trust me that a woman will find you more attractive and interesting for making her feel special with a unique compliment.
…Unlike the other 20 guys today who told her she's pretty.
2) Maintain clean skin
I was listening to a podcast the other day where the speaker explained how rich people always look rich regardless of what they're wearing.
He explained that their clean skin is what gives them away.
Clean skin instantly makes you more attractive to women.
Think about how attractive a woman with clean and healthy skin looks.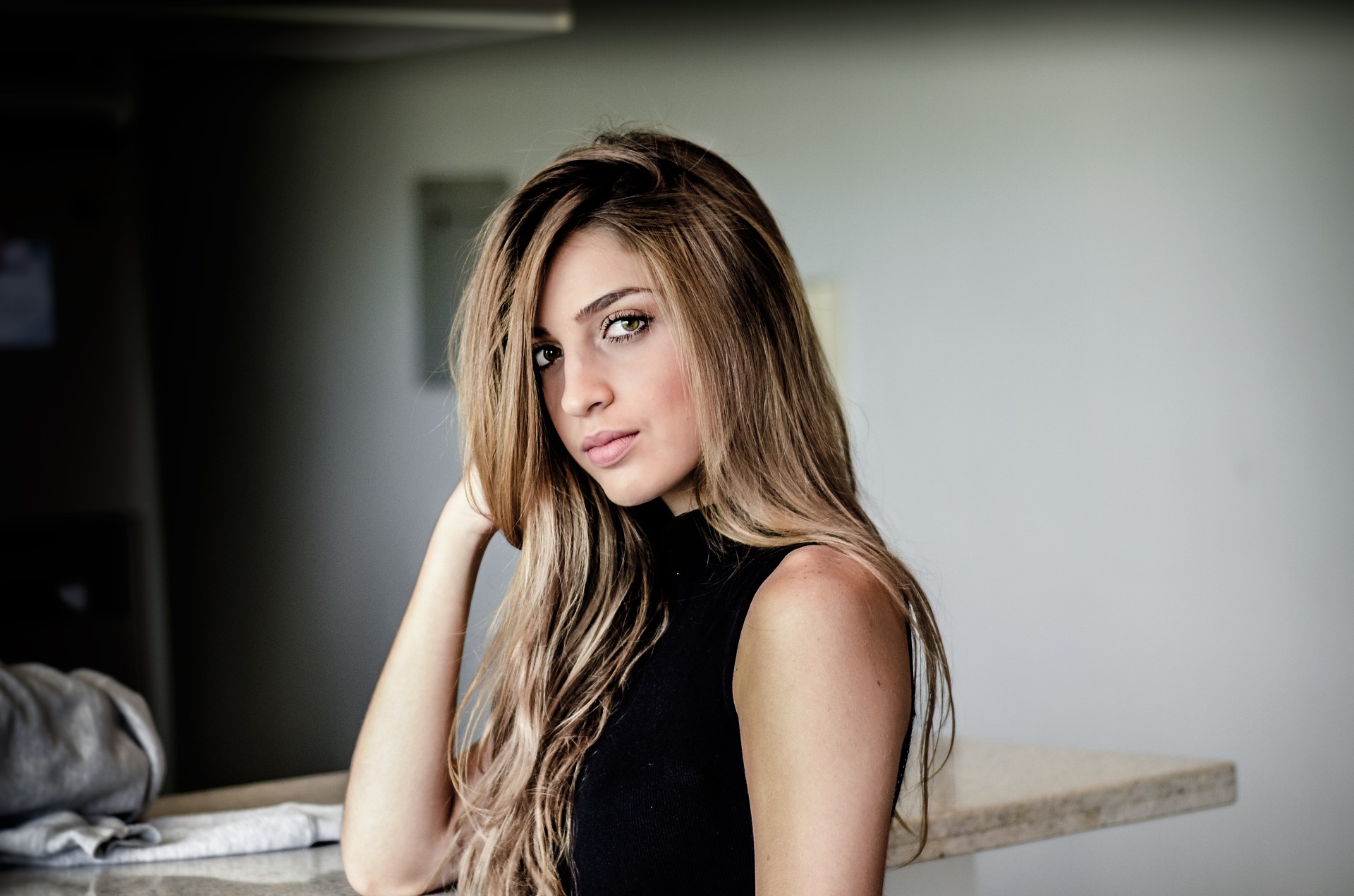 She has a vibrant and rich glow that lights up any room she enters.
Well, just how you notice a woman's face when you first meet, she notices yours.
If you have acne, oily skin, or dry skin; you must fix it immediately.
The good news is that it doesn't take much to get and maintain clean skin.
No, you don't have to get facials or start doing a ton of beauty routines like women do.
Simply follow my 3 steps:
1) Drink water 
I know you've heard it a MILLION times, and there's a reason why…it WORKS!
Your skin is one big organ.
Keeping hydrated helps flush toxins out of your body.
Toxins get eliminated through your pee and pores when your sweat.
When you're not properly hydrated, your body CANNOT properly "cleanse" itself.
The result?
You get things like acne, oily skin, blackheads, dry skin, and all other kinds of skin conditions.
And guess what?
None of those things make you more attractive to women.
There simply is no excuse not to drink water.
Many people will tell you to drink half your body weight in ounces every day.
I disagree.
Everyone should drink a minimum of a gallon per day.
Period.
2) Exfoliating gloves
These gloves are one of the BEST investments you can make for your skin.
I've written about them in many of my articles.
They cost less than a box of pizza and are worth every single penny.
They work way better than the traditional soap to skin method. 
And, they do a fantastic job at scrubbing away dead skin and dirt.
You simply put them one while showering and scrub your body from head to toe so you can have that sexy, clean, and smooth skin that women love to see and feel.
Make sure you get a pair immediately.
You can get them at any store in the Bath and Beauty department, or order them here on Amazon.
3) Hot and cold shower
People are constantly asking "Which is better, hot or cold showers?"
The magic answer is: Both!
Hot water opens your pores and allows you to properly wash away dirt.
On the other hand, cold water closes your pores and prevents dirt from entering your skin.
This is why you must combine both.
What I do is start my showers with hot water.
I put on my exfoliating gloves, lather soap all over my body, and scrub away.
Then, I change the water temperature to cold the last 5 minutes.
NOTE: It's a lot easier to shower with cold water after you've warmed up with hot water.
This routine keeps my skin clean and acne/oil free year round.
It's a simple solution that's low cost, but will never be reveled by the beauty industry.
Why?
Because they would LOSE money if everyone began following this regime and stopped buying their "Beauty products".
Think about it…
3) Constant adventure 
Women are emotional creatures who LOVE to have their imaginations run wild.
If you share stories of adventure with her, she'll automatically become more interested in you.
When you share a story, add color and life to it.
For example:
"This weekend I went mountain biking with my best friends. The trails were insane. My bike was shaking like if there was an earthquake. It was such a thrill, I can't wait to go back! Also, the weather was great. The sun was out, but there was a great breeze that cooled my face as I peddled."
-or-
"This weekend I went fishing and caught a HUGE fish! It was incredibly hard to reel in. He was fighting me with all he had. As I was reeling him in, he would jump in and and out of the water trying his best to unhook himself. My heart was beating fast as I was anxious to reel him in before he got loose. Everyone around me at the peer was looking in amazement at how big he looked in the water. At the end, I was able to reel him in. Check out this picture I took."
You see that?
A small and simple adventure story like these can do wonders!
First of all, it tells her that you're fun and adventurous.
Second, it tells her that you get out of the house and have a social life.
Last, it makes you a lot more interesting than other men who only talk about boring topics like work, their family, and their favorite TV show.
Add adventure to your life and tell her about it.
It's that easy.
Conclusion
So there you have it, my friend.
Do these 3 things and watch how women begin responding more positively.
Try them, and if they work for you, share them with a friend.
The both of you can thank me later.
Talk soon,
-Alexander writer
PS – Want my personal and private dating advice? I provide a detailed response to everyone who buys my book. Click my book below to buy now and email me at DatingquestionsforAlex@gmail.com. In your email, tell me your exact situation with your woman and I'll show you what to do so you can fix it. You'll receive a response from me within 24 hrs. (Offer available until February 28, 2018)