I know many of my readers are in their 20s and either live or are looking to move out alone.
Unless you're into the whole roommate thing, there's a good chance that your current or first place will be a studio (efficiency).
Many studios don't have access to the air conditioner.
In other words, you can't control the room temperature.
This is a big problem especially if it gets real hot where you live.
The good news is that most landlords will be open to adding an air conditioner window unit.
And if they read this article, there's a good chance they'll purchase the Frigidaire FFRA0511R1 5 model.
Besides cooling a hot room, its other benefits make it the most attractive and smart choice.
Here are the 6 reasons why I feel it's the best model.
1) Small
Unlike other air conditioner window units, this model is surprisingly small.
While still noticeable, it's different in size compared to other units is worth mentioning.
When I was shopping for an AC, one of the things I hated was how big they were.
I figured it would be a pain in the ass to install, would use a ton of electricity, and probably be loud when on.
At the end of the day, I didn't care too much about those things.
I just wanted to keep cool.
However, if I was able to get a smaller unit without those disadvantages, I'd pick it over any other option.
Luckily, I came across this one.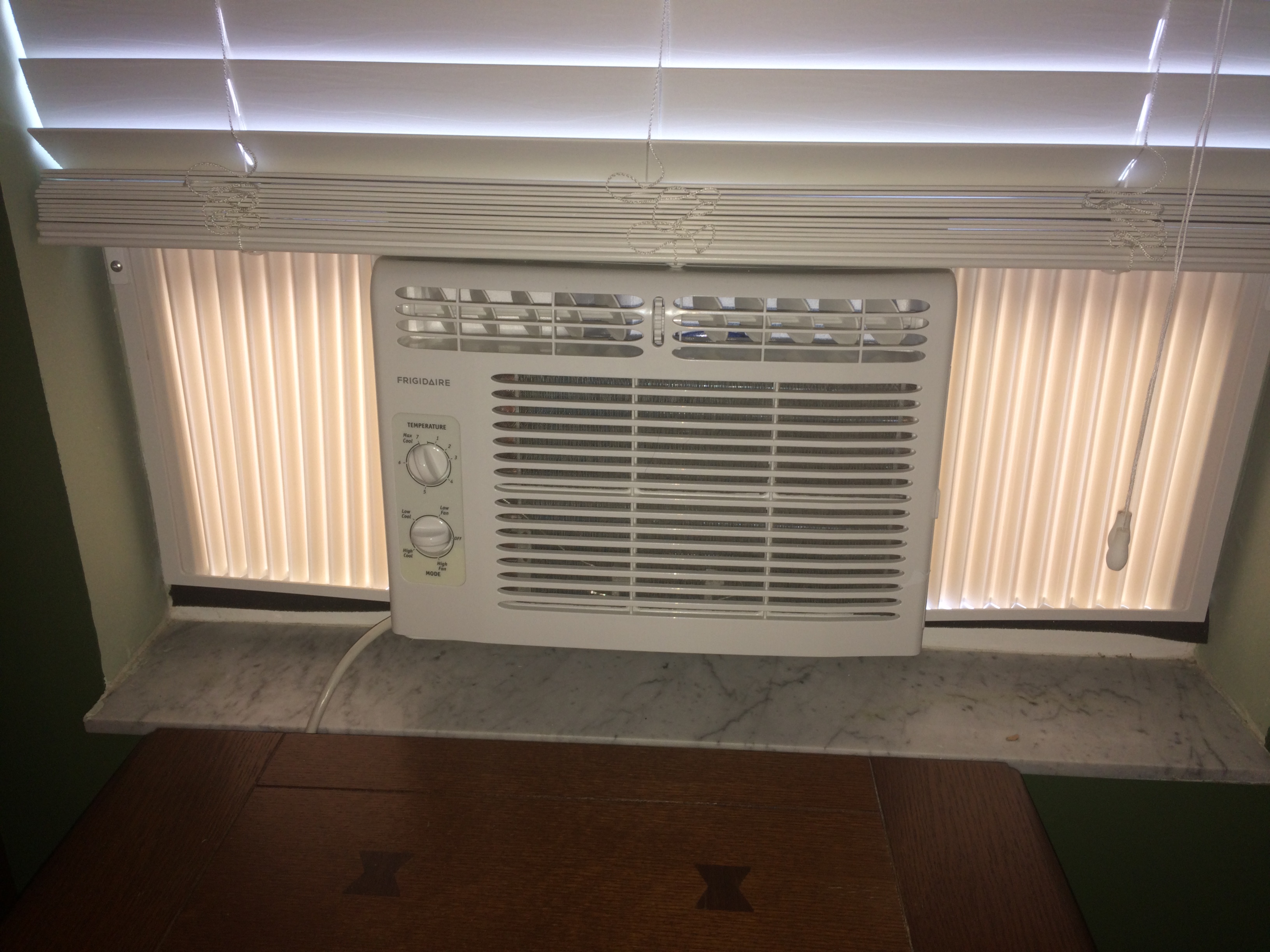 2) Inexpensive
All the air conditioner window units I found were $200, $300, and up.
This model was only $129 (Get it on here on Amazon)
While I know how cheaper things are cheap for a reason, I went with my gut feeling and gave it a shot anyways.
The reviews on Amazon were very good.
I figured that worse case, I'd just return it.
For the huge difference in price, it was worth the risk.
The result?
I had it for a year and half and never had any issues.
It worked great and was still running like new when I moved out.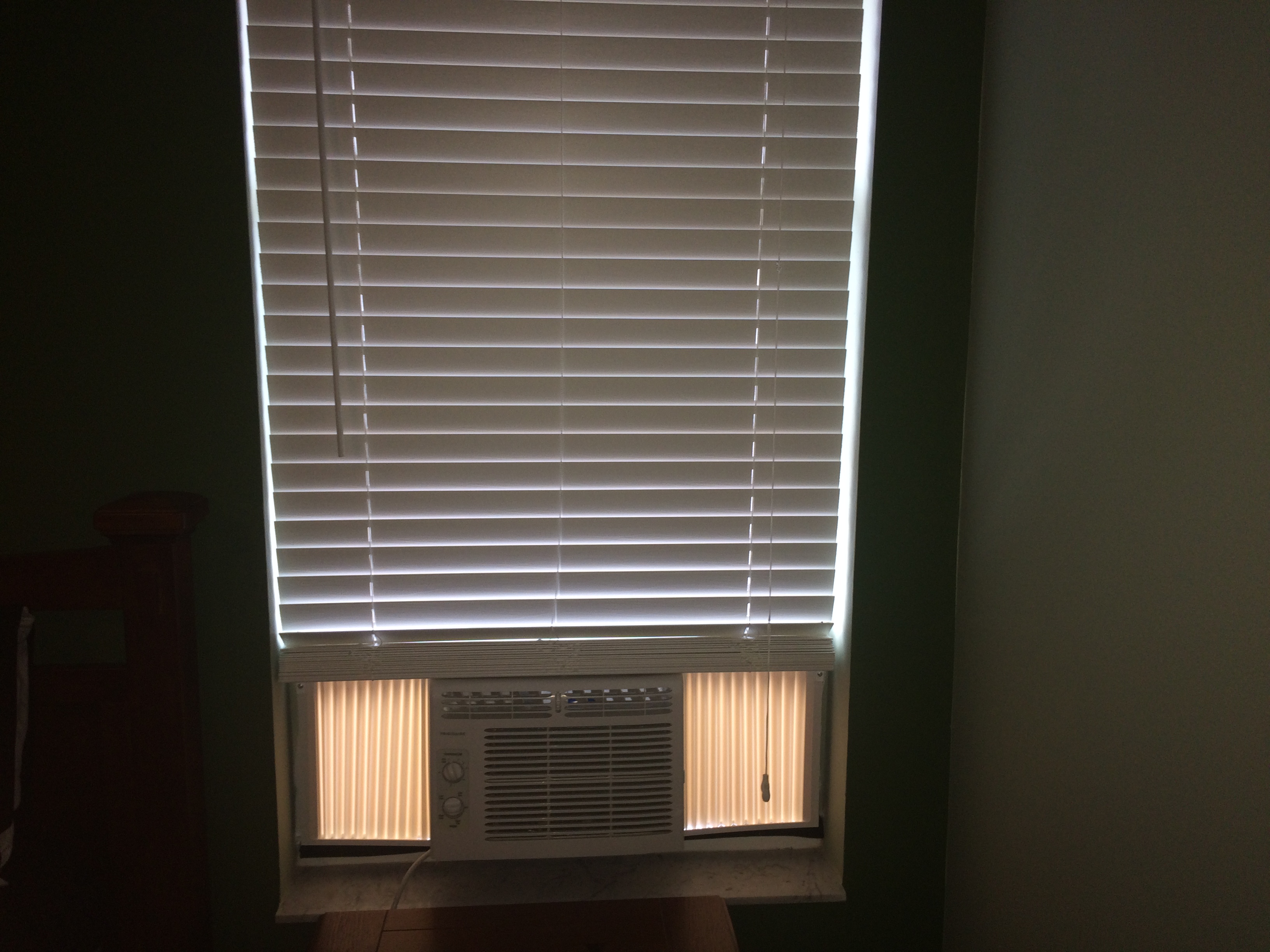 3) Ice cold air 
I remember reading the reviews were people claimed this unit blew out very cold air. 
At first, I admit I had my doubts.
I figured the reviews were exaggerated or possibly fake due to the unit being so small.
In my mind, "bigger air conditioner" meant better and colder air.
To my surprise, the reviews were not exaggerated.
The air this little guy blows out is in fact very cold.
Freezing!
I remember having to keep it on "low cool" at night or I'd wake up due to how cold it got.
And I'm someone who gets hot very easily.
Keep in mind that studios are typically small and cooling the area isn't difficult.
It's for this reason why this small air conditioner window unit is MORE than enough.
Trust me.
Don't waste more money than you have to.
4) Not noisy
Some AC units make an annoying and loud rumbling noise while on.
This is something I wanted to prevent if at all possible.
While this Frigidaire model isn't 100% silent, the sound it does make is barely noticeable.
The last thing you want is for your room to sound like a construction site.
Especially when you have guest over or when trying to get a good night's rest.
There are two things I need in order to sleep great every night.
5) Incredibly easy to install
Installing this model could not be easier.
You simply place the unit in the center and pull the window down so it holds it in place.
Then you slide the side accordions out until they make contact with the edges of your window.
Next, you'll hammer in a small screw to hold them in place.
The accordions are what keep bugs from coming in and AC from going out.
Last, you'll want to put a small piece of wood on the top of your window to prevent it from sliding up.
You can also use window stoppers.
Looking at my picture below, you can automatically tell that this doesn't require much work.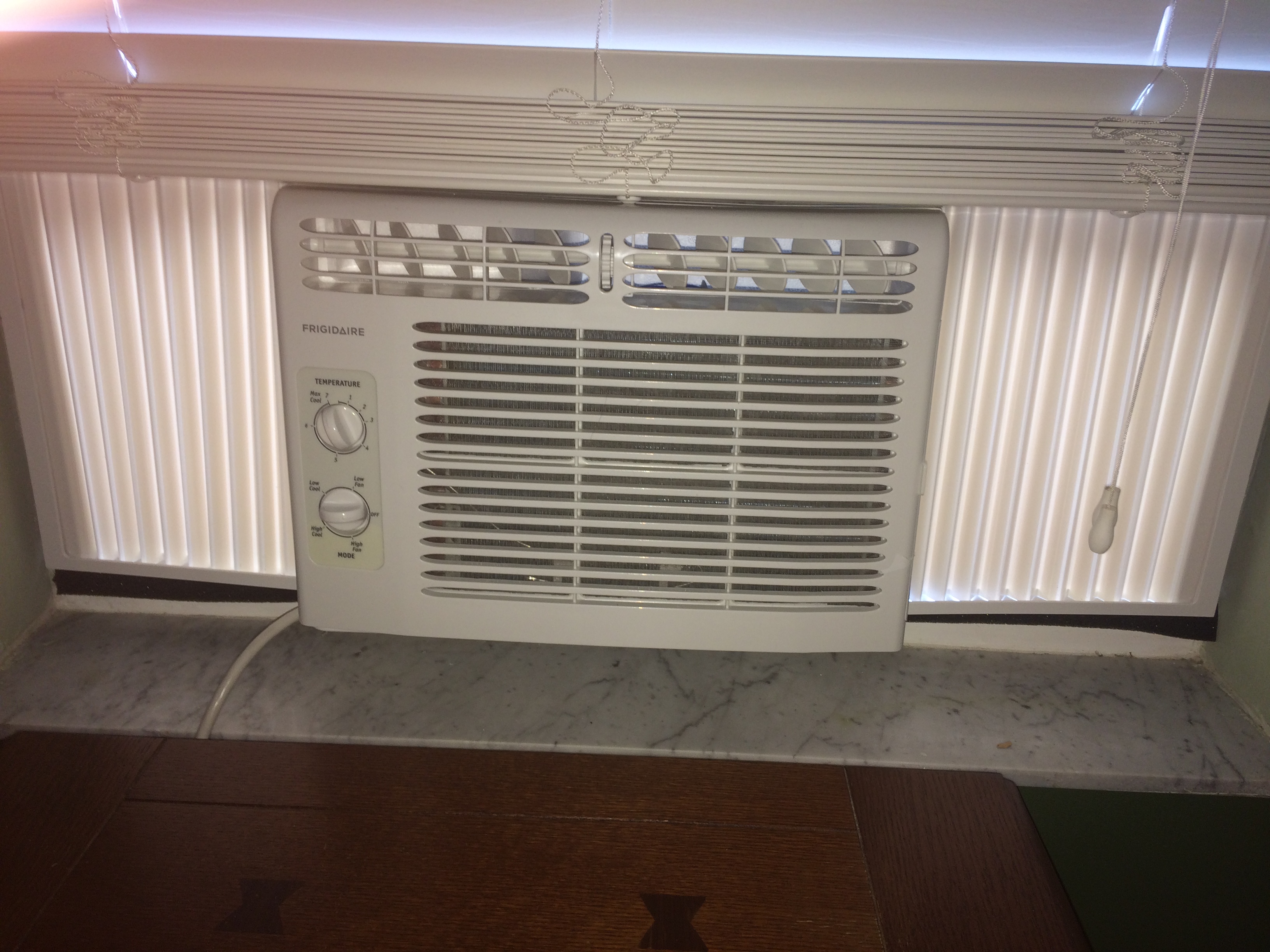 There are plenty of videos on YouTube that show you how to easily install it.
Below is one I conveniently provided for you.
6) Energy efficient
One of my concerns before buying a window air conditioner unit was its energy use.
The last thing I wanted was for my landlord to complain about the light bill rising an immense amount.
Since I was planning on ordering the unit from Amazon, I decided to first contact the Frigidaire Company directly and ask about the Frigidaire FFRA0511R1 5 model's energy use.
An agent explained how these models are wasting less and less energy due to how they are being manufactured.
In other words, they've become much more energy efficient.
The agent also explained how even if I left it on for most of the day, I wouldn't see a significant rise in my light bill.
And since I only planned to turn it on when I was home, I figured it wasn't something I'd have to worry about.
My landlord never complained so I'm sure what the agent told me was correct.
Note: Your landlord should be the one to purchase the unit.
In my case, my landlord just deducted from the rent and I installed it myself.
So there you have it.
My top 5 reasons why this model is the best air conditioner window unit.
You can check your local stores to see if they carry it.
If you can't find it for the same price of $129, order here on Amazon.
Stay cool, my friend.
Talk soon,
-Alex