It's been a while since I do a book review.
But there's no way I'd keep quiet about this one.
Let me start off by saying that this book is pricey.
I want to make that clear.
If you're used to paying $10-$15, this book costs 10x more.
Literally.
But!…And it's a HUGE BUT!
Apply what you learn and you'll earn back every penny. (I sure did)
Whether you're already selling a product or plan to in the future, you MUST read this book!
Period.
I'm serious, it's a MASTERPIECE.
How I Found Advertising Secrets of The Written Word
I contacted someone I consider a copywriting expert.
His sales letters are amazing!
They're FANTASTIC at persuading people to buy.
I emailed him advising I wrote a great book on earning $100 per day online.
I knew that no matter how great Mr. $100 was, without a good sales letter (effective copywriting), it wasn't going anywhere.
I expected him to send me a lists of books to read.
Most copywriters have a collection of books they swear by.
But no.
His response was only 6 words: Advertising Secrets of The Written Word.
That's it.
And that's all that was necessary.
The book is PACKED with tricks, tips, and strategies to create effective and profitable copywriting.
There's so much value inside that I literally had to slow down.
I was reading it fast.
Too FAST!
I was stuck between learning and being intrigued.
I couldn't put it down.
The more I read, the more I wanted.
There's no doubt in my mind it's one of the secret tools copywriters use and don't tell you about.
Well you're in luck because I'm telling you.
Since reading this book, I've studied other sales letters and witnessed the information I learned applied into the copywriting.
When I finished it, I immediately understood why it's priced higher than average.
Advertising Secrets of The Written Word is basically an entire copywriting course condensed into a book.
Everything, and I mean EVERYTHING, you'll need to create a high converting and profitable sales letter is inside.
Even at its high price, I still consider it underpriced.
I would've paid more knowing now what's included inside.
Pure gold.
It made my old sales letter look like a joke.
I must've changed more than 10 things.
Now my sales letter is clean, effective, and converts 10x better than before.
Below is what the beginning of my sales letter looks like now.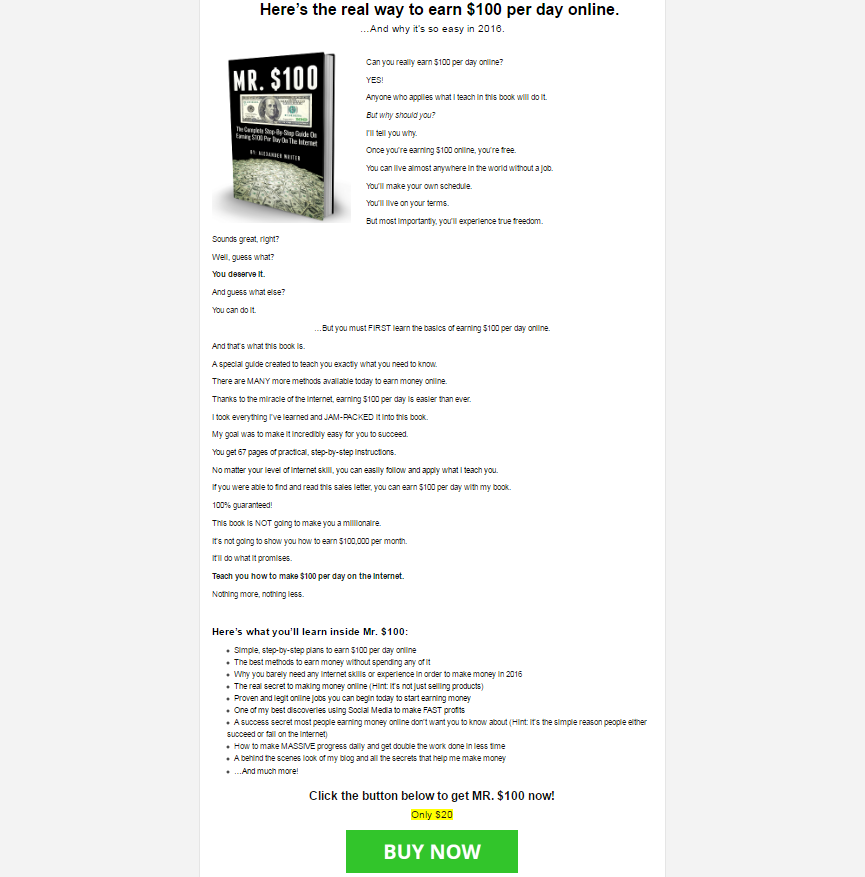 It's clean, easy to read, and looks great.
The customer's eye knows where to go.
Click here to read the full sales letter.
You'll understand the psychology of my copywriting after reading the book.
What you learn
One of the things Joe teaches is the importance of getting your customer's attention.
Using a short and catchy headline hooks the reader.
Following with a short subheadline keeps them hooked.
The purpose of a headline is to motivate the reader to read the subheadline.
Can you guess what the purpose of your subheadline is?
If you guessed "To get them to read the first sentence of the sales letter" – you're right!
"All the elements in an advertisement are primarily designed to
do one thing and one thing only: get you to read the first sentence
of the copy." -pg.29
Once you get them to read the first sentence, you send them down what Joe refers to as a slippery slide.
In other words, they're left no choice but to read your entire sales letter.
There's no escape.
They feel compelled to read even if they don't want to.
Seriously.
Joe talks about a lady who doesn't buy his products but always reads his sales letters.
She can't help it.
Now that's what you call POWERFUL copywriting.
Getting someone to read something they're not interested is impressive.
Imagine if they were interested in your product.
Every single detail in your sales letter has a purpose.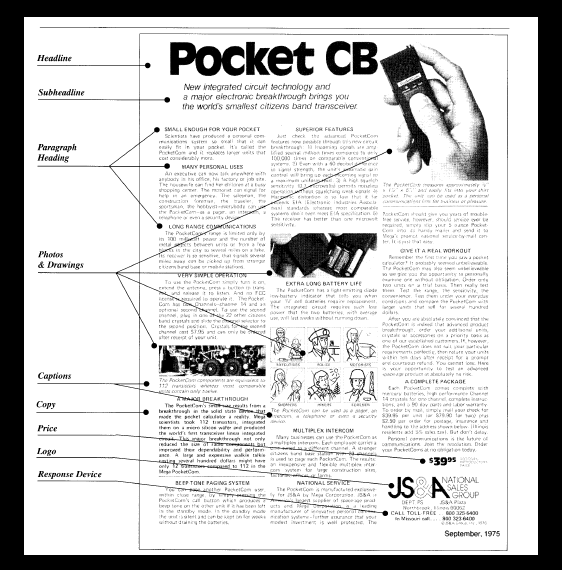 1. Headline: To get your attention and draw you to the subheadline.
2. Subheadline: To give you more information and further
explain the attention-getting headline.
3. Photo or Drawing: To get your attention and to illustrate the
product more fully.
4. Caption: To describe the photo or drawing. An important element
and one that is often read.
5. Copy: To convey the main selling message for your product
or service.
6. Paragraph Headings: To break up the copy into chunks,
thereby making the copy look less imposing.
7. Logo: To display the name of the company selling the product.
8. Price: To let the reader know what the product or service costs.
The price could be in large type or could be buried in the copy.
9. Response Device: To give the reader a way to respond to the
ad, by using the coupon, toll-free number or ordering information.
usually near the end of the ad.
10. Overall Layout: To provide the overall appearance for the
ad, by using effective graphic design for the other elements.
Great copywriting is an art.
A skill that's high in demand and very lucrative. $$$
You can have the world's best product, but if you're copywriting sucks, your sales will too.
On the contrary, you can have a terrible product and but still earn MASSIVE profits with good copywriting.
Here are a few notes I took of things you'll learn in the book:
How much copy you really need (Mine was way too long)

How to create a rhythm that makes reading your sales letter fun

How to edit the right way

Physiological triggers that influence customers to buy

The power of telling a story in your sales letter and why it works

The value of being honest in your copywriting and why it boost sales. (Hint:Your customer's are a lot smarter than you think. Joe goes into detail on what this means.)

Where to place the "Buy now" button and why you need to ask for the sale
If it sounds like I'm trying to sell you this book it's because I am!
You need it.
Joe Sugarman is a copywriting BEAST!
A legend.
A hero to the masses.
He's also known for the famous copywriting book Triggers
.
And while that book is great, I can safely say that this one is 10x better!
Triggers is the more attractive option when it comes to price.
But when it comes to value, Advertising Secrets of The Written Word blows it out the water!
"And in this book you will learn some valuable techniques to use to expand your knowledge of the copyrighting process so you can write copy that motivates people to take an action. Specifically to take their hand-earned money and exchange it for your product or service.
Copywriting is the key to any successful direct marketing venture. You can have the world's best product or service, but if you can't communicate your ideas, you have nothing. I will give you the skills and insights you need to successfully write copy. I've already personally taken the most expensive course ever. If you would add up my failures and their cost to me, add the insights I received mostly from my failures, and then add the experiences I've had in copywwriting and marketing, you would see that it has indeed been an expensive education. And you're about to share in it." -Pg. 25
How I recommend you read this book
As I mentioned earlier, this book has a TON of information.
I suggest you read each chapter twice and take notes.
A lot of notes.
There's no way you'll read this book cover to cover and retain all the information.
It was very tempting for me to apply as I was learning.
I was literally editing my sales letter as I read.
You experience so many "Wow! I need to add that and change this right now!" moments that you can't help but edit as you go.
This book has my stamp of approval.
I wouldn't recommend unless I strongly believed in it.
It will make you money.
If you can't afford it, do whatever necessary to get your hands on it.
Split it with a friend.
Do a garage sale.
Get a part-time job.
I don't care.
Get this book! 
You can thank me later.
Talk soon,
-Alexander