Death Before 
Dishonor
I'm not a "business genius" but I know a thing or two.
And one of the most important things I know is how important your personal credit is.
…Especially online.
I've seen MANY people who started out with something great and turned it into shit just to make a few bucks.
For example, there's a blog I used to love reading.
Until one day, I logged in and was bombarded with ads, pop-ups, and products to buy.
It went from a place that offered value to a place that harassed me for my money.
I went back a couple weeks later and it was still practicing the same manipulative strategy.
And guess what?
Al though the website had good content, I got tired of having to close a bunch of pop-ups.
I remember I logged in through my phone and the pop-ups were difficult to close.
This resulted in me leaving.
Listen to me…
I know many people have the dream of making just enough money online so they can quit their job.
Not everyone wants to make thousands of dollars and travel the world.
Some people just want to make enough to allow them to wake up every morning without an alarm clock and not worry about going to a job they hate.
Hell, most people just want to make enough to pay their bills and could care less about having money left over for other things.
In other words, some people would rather make less money online than they make at work so long it allows them to make ends meet.
…And I don't blame them.
The good news is that this goal is VERY possible.
ANYONE can make money online.
People with barely any education or common sense (Seriously, I see it all the time) are making money online everyday.
No, they're not lucky.
No, they don't have some special talent.
They simply take action. (And don't quit)
If you're not making money online it's because you haven't made effort or you simply don't want to.
The problem comes when people don't see results right away and become impatient.
The very first time I made money online, it was a profit of $7.32 for some affiliate sales.
That was ALL I made for the month.
And I had worked very hard that month pumping out article after article and other side projects I had online. (Niche Websites)
That commission wasn't very motivating.
So I had two choices:
1) Give up 
2) Turn those $7.32 into WAY more money every month
I choose option #2.
But then…
I had another 2 choices:
1) Sell out and make money the "spammy" way by offering products, ads, and services which don't deliver on their promises
2) Work hard and continue to add value to my blog and watch my sales increase slowly but steady every month.
Again, I went with option #2.
…And you know what?
It worked.
I continued writing article after article, growing my audience, and my sales increased every month through my affiliate links and niche websites.
I did everything in an authentic way.
That means no false promises.
Zero.
None.
Nada!
Could I have made WAY more money by being a "fake" and spamming the hell out of people?
I'm 100% sure I could have.
But that's not the goal of Inertia Will Hurt Ya.
This blog is my main source of income online.
And it's for that same reason why I'll NEVER sellout.
Everything I write, recommend, or sell will be worth its weight in gold.
I want this blog to stand the test of time.
…And it will.
I want to continue to help many people all over the world with my words.
…Not become some sellout who makes a quick couple of bucks and then disappears from the face of the internet.
You'll notice a lot of people online don't stick around too long.
Why?
They try spamming the hell out of their email list with shitty and expensive products.
Take a look at this…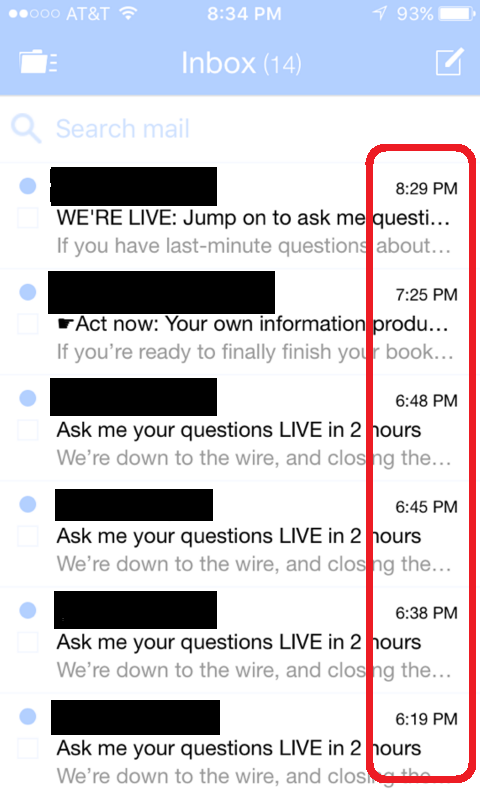 You see that?
That, my friend, is harassing people.
As soon as I saw this in my inbox yesterday, I unsubscribed from that person's email list.
This is a "respected" online marketer and look at what he's doing.
He sent me the same exact email multiple times within minutes.
The first two emails are also from him.
You might notice who this person is if you're on their email list.
However, I'm not here to put anyone on "blast" so I won't share his name.
But just know that these are the type of people who I want no part of.
You will NEVER see me harassing my readers this way.
Death before dishonor.
Some people say "Fake it until you make it"
Hahaha!
I rather DESTROY this website and take my little USB with all my backed up files and throw it in the ocean.
You don't have to be a fake.
You can work hard and provide people value. 
You can make thousands of dollars online every month.
…Or just enough to tell your boss "See ya!"
Just do the work.
Be patient.
And you'll see, how one day, out of nowhere, the money will begin pouring into your bank account.
But always remember…
Death Before 

Dishonor.
We'll talk again soon,
-Alex
P.S. – Thinking of starting your own blog/website? Check out my book Mr. Website Builder.