10 months…
That's how long its been since I wrote my first article for Inertia Will Hurt Ya.
…And let me tell you, its been one hell of a ride.
From all the people who've commented on different articles, to the emails I've received, to all the great things I've learned about working online and myself; I am very proud of this blog.
Last week, I decided to release Terrific Tumblr Traffic. (Update: Ebook no longer available, new Ebook in the works)
It's a great guide I put together that shows you how to get more "targeted traffic".
You have a website about dogs? You'll learn how to get visitors who love dogs.
You have a website about fitness? You'll learn how to get visitors who love fitness.
I felt great about releasing the guide because I know what I share inside really works.
However, a couple interesting things happened after I put it up for sale.
I began receiving feedback from people who had NOT even bought the book.
"Hey, are you sure this works? Is this snake oil? Where's the proof that it works? Show us proof!"
Look…
I understand how careful people are with their money. (I am too)
I know there are plenty of "spammy" products floating around the internet.
However, in life, sometimes you have to take risks.
You can't over analyze every single purchase you make.
I used to be this way.
When I would hear about a good book and head over to Amazon to buy it, the very first thing I would do is read the negative reviews.
I had the mindset that everything had something wrong with it and wasn't worth my money.
What did that do for me?
Nothing.
I finally made peace with the fact that EVERYTHING has good and bad things.
The point is take advantage of the good that everything offers.
Is Terrific Tumblr Traffic the best guide ever created?
No.
Does it offer A LOT of great information which you can apply and get results from instantly?
Yes.
…But it's not perfect, and no other product on the internet is.
You have to get a feel of people before buying from them.
I've released plenty of FREE content that shows you how to get results.
Why would you assume something I put a price tag on automatically lacks value?
But I knew it was coming…
I know how the internet works.
Tim Ferris (author of The 4 Hour Work Week) explained how only a small percentage of your audience is worth your time and energy. (as cruel as that may sound)
The rest is out to constantly nag you, ask endless questions, and basically "bother" you as much as you allow.
…Oh, and at the end of it all, they still won't buy what you offer for sale.
No matter how much free content you give away, the moment you put a price tag on something, you become the bad guy.
There are no secrets to making money online.
There are scammers and there are people who create value.
I create value.
How Scammers Make Money Online
Scammers are usually great copy writers.
They know the "triggers" that make people buy.
They study their market, and study them well.
Then they create a sales letter JAM-PACKED with false promises.
You buy the product and later realize you were ripped off.
How do they continue to get away with these schemes?
By constantly creating new products, getting a new list of email subscribers, and creating convincing copy writing.
And guess what?…It works.
There will always be new people online to rip off who've never heard of you.
Every day, people log online searching for a specific product to fix a problem.
These people aren't aware scammers exists and they fall for every false promise included in a sales letter.
These are the targets for scammers.
YOU don't have to be this way…
You can create valuable products that gets people results.
However, no matter who you are or how valuable the product you create, you will ALWAYS get negative feedback.
You'll even get feedback from people who have NOT even bought your product if you're "extra lucky" like me. (Ha ha!)
That's the price of helping people.
You have to deal with some of them assuming you're a fraud who's only after their money.
…"But Alex, I thought working online was suppose to be fun and liberating"
Every pleasure has its price, my friend.
How Authentic People Make Money Online

Everything is available online.
You can learn whatever you want on the internet.
They reality is that you DON'T have to buy anything.
BUT…
You still have to pay a price.
Can you guess what the price is?…
TIME.
When you seek to learn ALL the information on whatever you're focused on, it takes time.
You have to search through MANY different sources = Time
You have to apply what you learn to see if it really works = Time
You have to take notes, go back and review, and work very hard until you figure it all out = Time
This is where an authentic person comes in.
They do all the hard, time consuming work and create a product that answers your questions.
They tell you what works, what doesn't, what to do, and when to do it.
Now you tell me, which is a better investment:
 Wasting a bunch of time trying to learn everything yourself?
 Spending a little money which will save you time, energy, frustration, and mistakes?
You see the difference?
All selling online is packaging FREE information into an easy to understand format.
You're trying to provide people the answers they're seeking, immediately.
And that's the route I've chosen to take; and hope YOU choose as well.
If you create quality products, word will get around and people will beg you to take their money.
However, you MUST do things right.
You have to go out and do all the research.
You have to test and figure out what works and what doesn't.
You have to create the product, edit and proofread it, find someone to design the cover, market it, write the sales letter, etc. 
It isn't easy, it's A LOT of work.
I don't have an issue paying for information I know I can find free online.
Which do you think I prefer:
Spending my weekend locked up in my apartment trying to figure things out?
Pay a small fee, read a book, learn everything I need to know, apply it, and spend the rest of my day at the beach?
It all comes down to personal preference.
But you're always going to pay a price – time or money.
I've learned that their isn't enough time.
I can't afford to figure everything out on my own.
I have to study and learn from people who've already accomplished what I want.
I'm here to help as many people as possible and only have time for those who trust me.
I knew the "internet trolls" were coming…and will continue to come.
You can log on to any popular blog and find negative comments.
You can even log on to YouTube and find amazing, informational, educational videos that offer FREE advice and you'll still see negative comments.
A perfect example is a book that literally had transforming effects on my life, How to Win Friends and Influence People. 
Check it out later and you'll see it has negative reviews on Amazon.
After finishing that book, applying what I learned, and getting the results I did; I would've paid $1,000 for that book with NO problem.
Warren Buffet (the most successful investor of the 20th century) was influenced by the book before beginning his successful multi-billion dollar empire.
You need to read it if you haven't.
But like I said, as amazing as the book is, it still has negative reviews.
Some people are never satisfied.
Trying to please everyone isn't possible.
Creating quality products, writing kick-ass content, and helping people who are serious about their success; now that's possible.
I want my readers to know that I'm aware of the content I write.
I know it motivates and helps people.
I know I'm an authentic person.
…And just know this, no matter what happens, Inertia Will Hurt Ya isn't going anywhere.
I help people.

…I help people.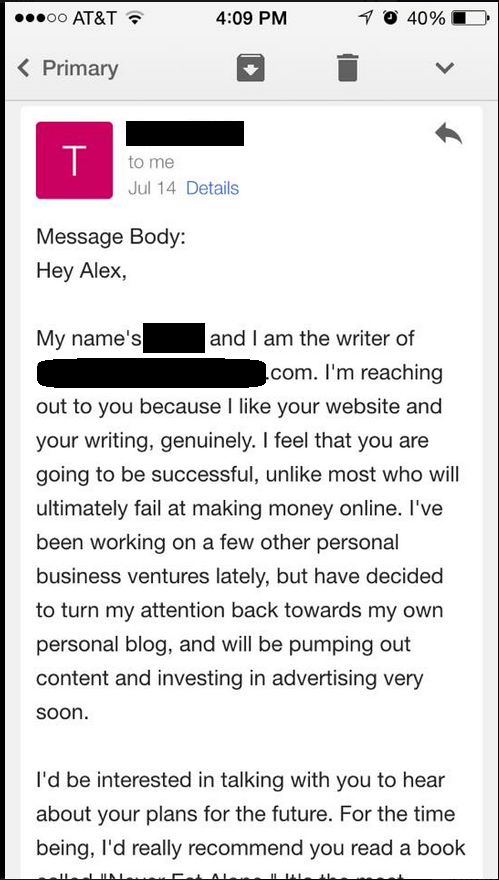 …I help people.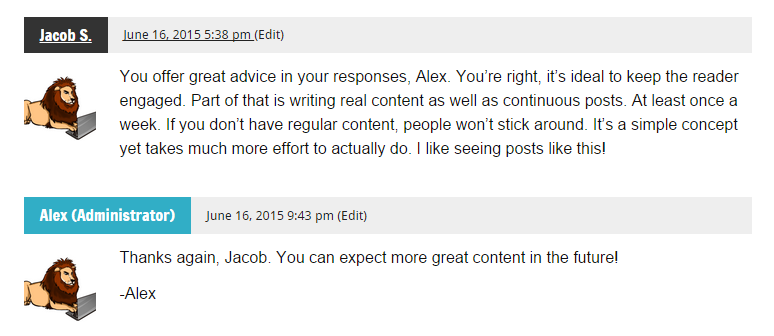 …I help people.

…I help people.

…I help people.

I don't create and release bullshit…I create VALUE.
You want my help?
I'm here, just email me.
You want to tell me how much you doubt me?
Go ahead.
…But the line is around the block so dress comfortable.
We'll talk again soon,
-Alex
Click here to check out my new book 'Mr. $100' and learn how to easily earn $100 per day online.