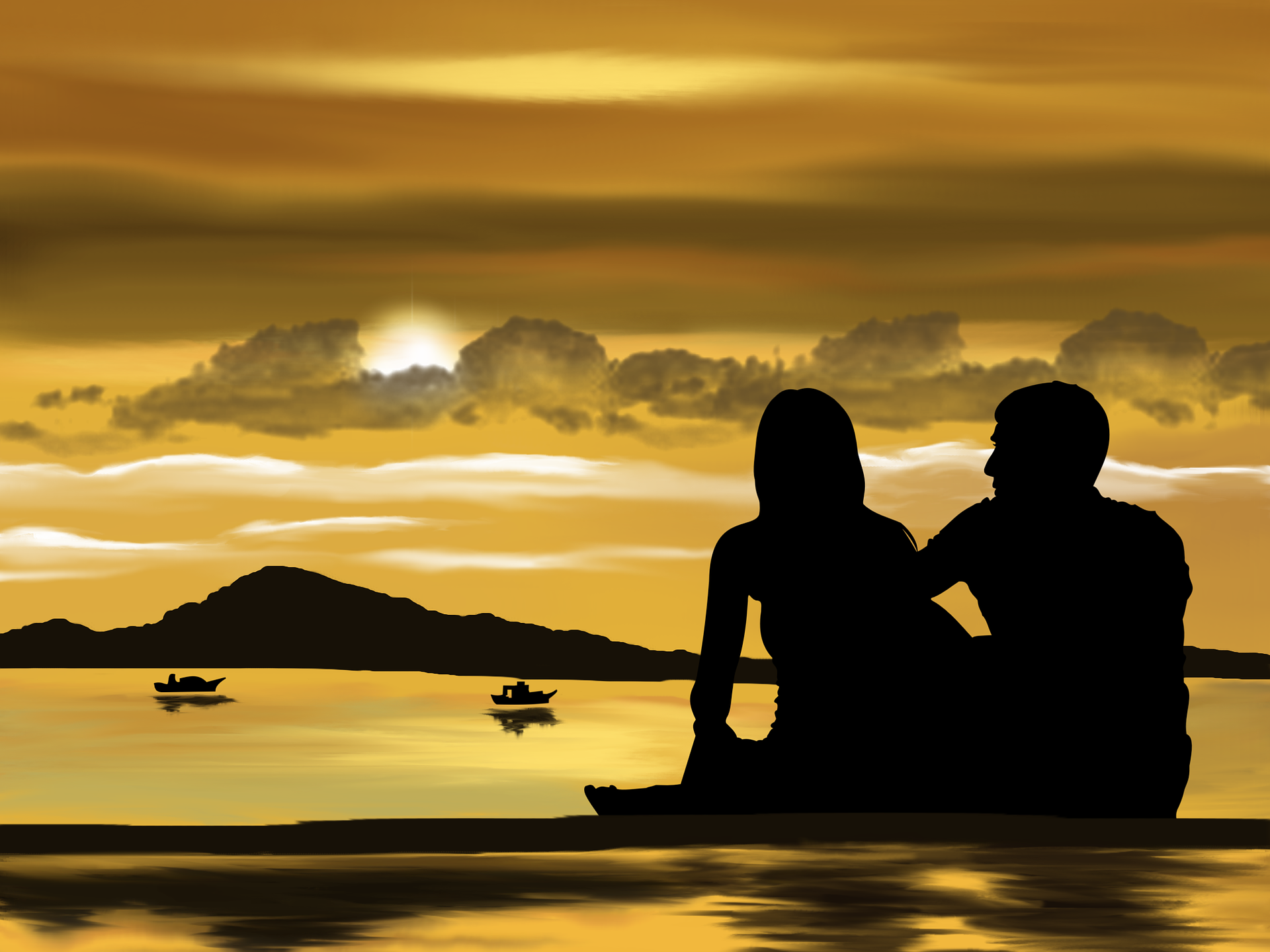 So you really like this girl, huh?
She's fun, different, gorgeous and makes you happy even when she's not around. 
Could this be love?
Hey, you never know, but that's something to focus on later.
For now, let's focus on the problem at hand: You don't know how she feels about you. 
You think she likes and sees you as a potential boyfriend, but you're not 100% sure.
Sometimes it seems like she does, and other times she behaves in ways that make you think differently.
It's frustrating.
Why does she do this?
Is she playing games with you?
Does she like someone else?
Does she only see you as a friend?
The reality is that I can't answer your question without knowing all the details.
However, what I can do is tell you how to quickly find out how she feels about you.
Are you ready?
Let's go!
The "Am I her friend or next boyfriend" test
Like I said, I don't know your exact situation, but I know one thing…
You haven't kissed her yet.
Right?
You've hung out, eaten together, text messaged throughout the day, and so on.
But why haven't you kissed her?
You might think it's one of 3 reasons:
There hasn't been a "right time"

You're scared of her reaction

You're not sure how she feels about you
These are all valid reasons, but I'm going to treat you like a little brother and give you some tough love.
Here it comes…
The real

 reason

why you haven't kissed her yet is because you don't have the BALLS to!
You know it, I know it, and guess what?
She knows it!
And guess what else?
The more time that goes by without you kissing her, the more that she'll see you as just a friend.
And, the more that she sees you as just a friend, the FASTER she loses attraction for you.
Listen to me…
If your goal is make her your girlfriend, the LAST thing you want is for her to lose attraction for you.
Read that last sentence again.
When a woman feels attraction for a man, nothing or no one can convince her otherwise.
She likes and wants him.
On the hand, when a woman does not feel attraction for a man, there's no way to change her mind.
No amount of gift giving, being nice, texting, calling, or telling her how pretty and amazing she is will change her mind.
As I mention inside my dating book, a woman either feels attraction for a man or she doesn't.
Period.
What's one of the things that every man must have to make a woman feel attraction?
Balls.
…And I mean that both metaphorically and literally.
A man with balls isn't timid, shy or scared of rejection.
He respects women, but also goes after what he wants.
When a man likes and wants a woman, she'll become one of two things:
His girlfriend

Someone he use to know
A real man refuses to settle for less.
"But what about being just friends, Alex? Isn't that better than nothing."
Don't make laugh.
Being just friends with a woman you want is equivalent to a man who's doing life in prison and has a woman inmate directly across from his cell.
He can talk to her all he wants and fantasize, but he'll never actually be with her.
Is that what you want?
I think we can both agree that you deserve better than that.
With that said, guess what you MUST do the next time you see this woman that has you confused?
That's right…kiss her!
Here's the reality…
No woman will kiss a man that she only sees as a friend.
Kissing her is the FASTEST and most reliable way to find out how she really feels about you.
So, what do you do next time you see her?
Do you just grab and kiss her?
No…that's not smooth.
Here's what you're going to do instead.
Invite her to hang out just the two of you.
Go somewhere where you can sit and talk.
You'll need to sit directly next to her to do what I'm about to share with you.
I found that the movie theater works great for these kind of situations.
Just make sure you go in 15 minutes before the actual previews start so that she isn't distracted.
After talking for a few minutes, pause the conversation, look at her hair, reach over to touch the tips, and tell her: "I love your hair, it's so soft and looks great on you".
Next, make eye contact and smile at her.
Don't give her one of those huge smiles like in one those Colgate commercials.
That's creepy.
The right way to do this is to simply smile without showing any teeth.
If she smiles back, which she probably will, slowly and gently cup your hands around the sides of her face and lean in to kiss her.
However, if she looks away when you smile at her, it doesn't mean she's not interested, it could just mean that she's shy.
Regardless, have some balls and proceed to follow the same steps so you can kiss her.
If she lets you kiss her, then it's obvious, she likes you.
…Congratulations you little daredevil you.
But, if she doesn't let you kiss her, pay careful attention to her reaction because it's very important.
If she responds in a shocked way and says something along the lines of "What are you doing?", I hate to be the one to tell you but she only sees you as a friend.
However, if she appears shy, blushes, and/or smiles nervously, it means that she likes you, but is just nervous.
At this point, say to her "It's OK, I'm a little nervous myself", then smile again and kiss her.
If she sees you as more than just a friend, 99.9% of time, she'll let you kiss her.
How to react if she rejects your kiss
Three words: Keep your cool.
Don't get dramatic, mad, angry, or sad.
Instead, smile and act like nothing just happened.
Continue with whatever the two of you were doing.
Sure, things might feel a little awkward after, but stand your ground.
Stay in control.
The important thing here is to not make a bad thing worse, and to keep her respect which you just gained a few seconds again.
Let me explain.
You see, even if she only sees you as a friend, the fact that you had the balls to make a move automatically gains you her respect.
Does having her respect mean that she'll see you as more than a friend?
No, not necessarily. 
However, if there's even the slightest chance that she'll change her mind about you, it will be because you had the balls to make a move like a man.
What to do if she only sees you as a friend
If she only sees you as a friend, it's up to you whether you want to continue hanging out with her.
My honest advice?
Stop hanging out with her.
You're only to get obsessed with the idea of being with her until one day she no longer hangs out with you.
Why will she stop hanging out with you?
Because some other guy with balls made a move and will be dating her.
As a result, she'll no longer have time for you, her friend.
Talk soon,
-Alexander Writer
PS – Want my personal and private dating advice? I provide a detailed response to everyone who buys my book. Click my book below to buy now and email me at DatingquestionsforAlex@gmail.com. In your email, tell me your exact situation with your woman and I'll show you what to do so you can fix it. You'll receive a response from me within 24 hrs. (Offer available until February 28, 2018)