How I Make Money Daily With My Amazon Affiliate Account 
It's simple.
You buy a product you need.
You use it.
If it's good, you tell your story.
If it sucks, you stay quiet.
Making money with Amazon is the one of the MOST popular methods you'll see online.
Why?
They are a trusted supplier.
Everyone buys from Amazon.
Well, OK, maybe not everyone, but a huge majority of people do.
Let me share with you the exact steps I follow to earn money daily my amazon affiliate account.
Let's use an example of one of my latest articles The Best Body Hair Trimmer For Men.
Here's my story…
I was searching for a product that would remove body hair fast and easily.
I'd been using razors but the results weren't pleasant.
Not only was I tired of using razors, I was tired of spending money on them.
In the article, I tell my story of how I found out about The Wahl Peanut Trimmer.
I explain how it helped me, why I continue to use it, how it saves me money, and why I recommend it.
Now, anyone searching the internet for a body hair trimmer, who stumbles upon that article, will read my review and possibly buy it.
(Note: not everyone who reads your article will buy, but many will)
As you see below, yesterday 11 people clicked on my affiliate link for the trimmer but only ONE of them bought it.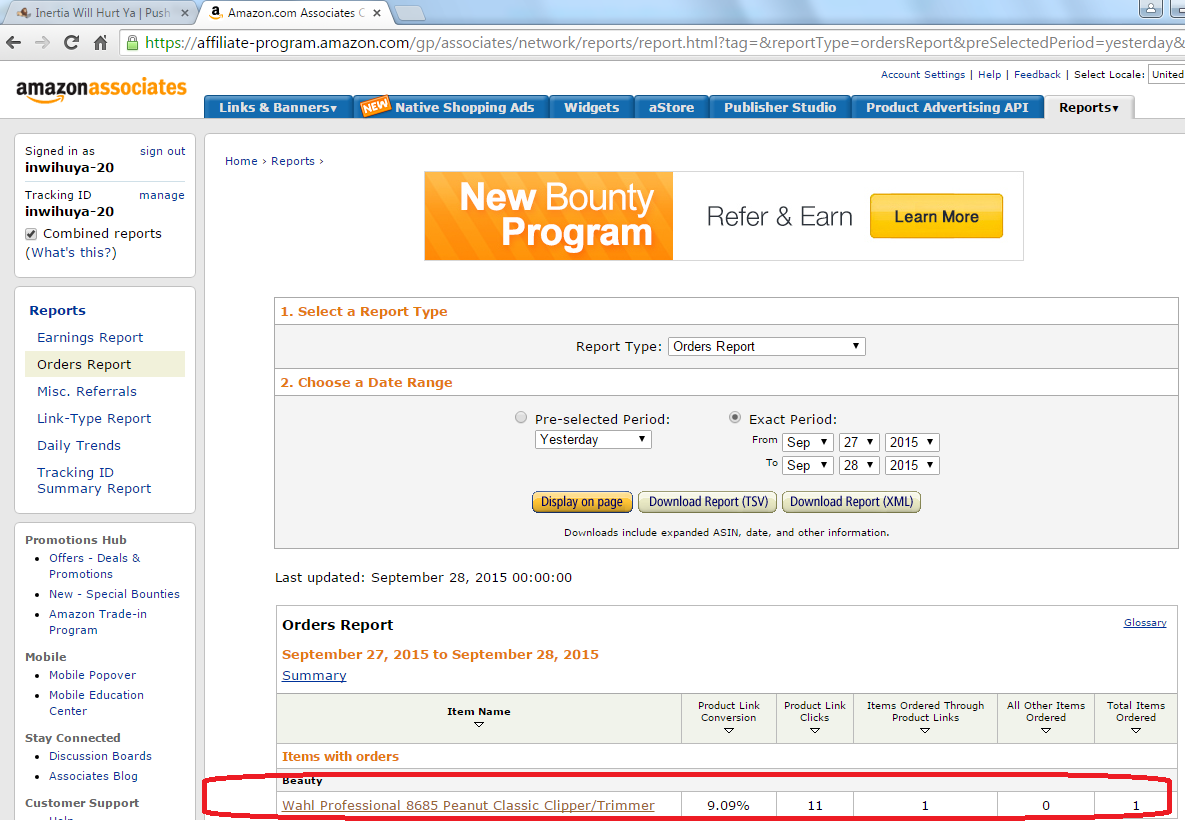 The important thing to keep in mind here is that I made money yesterday from an article I wrote a couple weeks ago.
That means I'll continue to make money with it in the future without any additional work.
It's really that simple.
The quickest way for you to start earning money is by building a niche website which I teach you how to do here.
Another option is building a huge blog like this one and JAM-PACKING it with quality content that helps people in some way. (This method takes longer)
Once you create a huge blog like mine, you sprinkle affiliate links for products into articles and those who want to, buy them.
The most ethical way to do this is by ONLY promoting things you actually use.
Every single product I mention in any of my articles, or on my niche website's, are products I've bought and used.
Why is this the most ethical way?
Because 90% of products on the market SUCK!
As soon as you promote something you've never used, and someone buys it, only to realize it sucks; you automatically get perceived as a scammer.
…And if you want to make money online, you better guard your integrity like its gold.
Amazon is great not only because it's a trusted supplier but because you get commission for any product purchased from your affiliate link.
In other words, if someone clicks on one of my affiliate links, but buys something else, which I don't promote, I still get credit for that sale!
This feature is great because Amazon does a really good job at up-selling products.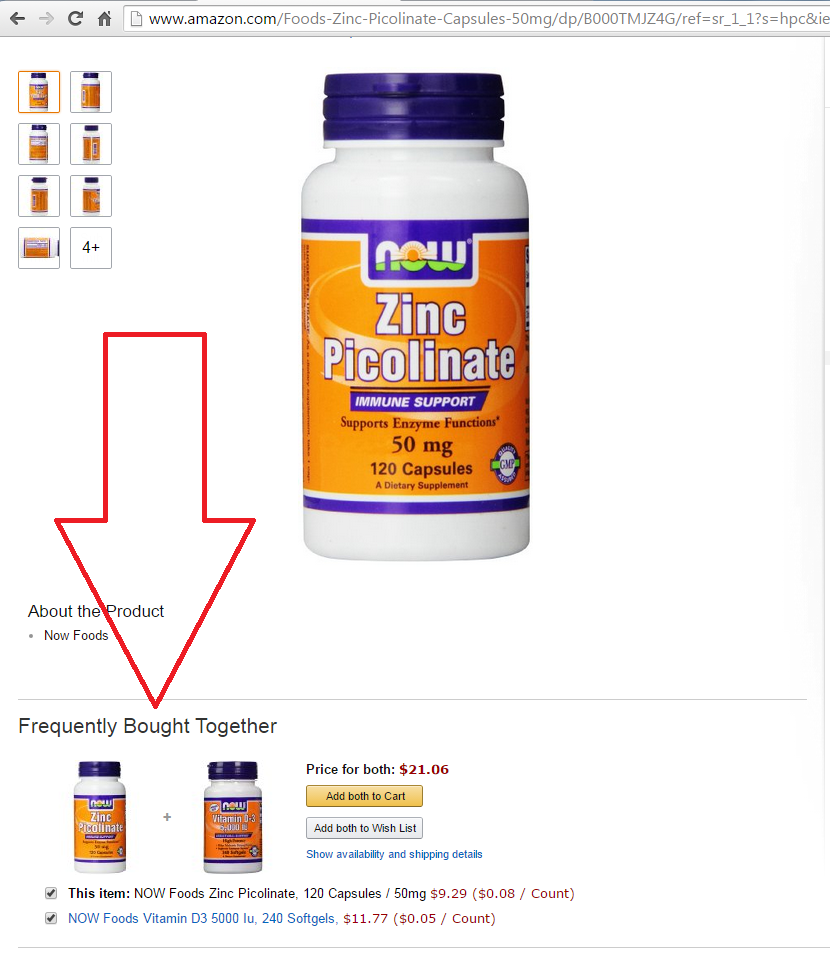 This means I could promote a product that's only $5 but people can end up spending $20 and up.
I've had MANY people follow my links and buy a ton of stuff I've never even heard about.
The other day, someone bought a New York Knicks cup, something I'd NEVER promote seeing that I live in Miami and am a hardcore Miami Heat fan! 
The Knicks have actually been our rivals for years!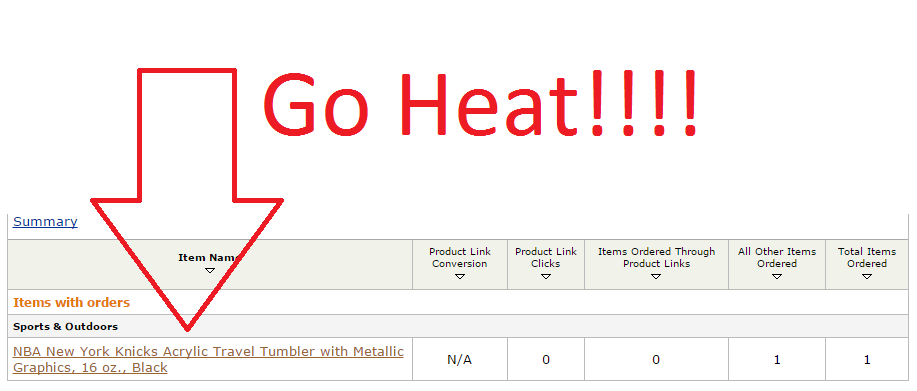 …But that's the beauty of having an Amazon affiliate account.
Just by redirecting someone to their website, they'll give you commission for the entire sale.
As long as they enter Amazon through your affiliate link, you get commission for every single item, whether it's relevant to the product you promote or not!
And here's some more good news…
People don't even have to buy anything today.
Whatever they buy from Amazon in the next 24 hours, you'll still get credit for.
In other words, if you follow one my affiliate links right now, don't buy anything, but go back into Amazon before the same time tomorrow, and buy something; I'll get commission for it.
Yes, I know…it's FANTASTIC!
My Money Making Methods With an Amazon Affiliate Account
So here are my methods for making money with my Amazon affiliate account.
Right now, I have 6 niche websites and this blog.
Don't ask me to reveal my niche websites because I won't.
Neither will any other blogger because that just leads to unwanted competition.
People automatically copy niche websites examples instead of following the steps in my 3 Secret Steps I Follow to Make Money with Niche Websites article.
All my niche websites focus on ONE topic.
Then I promote products I've used which are relevant to the content discussed.
People land on my website, read a couple articles, learn a thing or two, and click on a product to buy.
Easy. Easy. Easy.
You just have to do the work which is a little time consuming, but once it's done, it's done!
With this blog however, I use a different money making strategy.
I write a ton of articles and give away MASSIVE value for FREE.
I'll mention products I use and recommend if they're relevant to the article I'm writing.
I don't hard sell anyone.
I mention the product and you buy it IF you want to.
All the content on this website will always be free.
I'll never charge a membership fee or anything ridiculous like I've seen other bloggers do.
I'll also never have those annoying pop-ups or email my subscribers a million times a week begging them to buy something.
I treat my blog like I'm talking to a friend.
I give advice and tell my friend things I've used and recommend they try.
You don't force or pressure your friend to go buy a product, do you?
No, you tell them about it and let me them decide if they want to buy it or not.
This is my method.
Some will agree with it and some won't.
All I can tell you is that it's ETHICAL and IT WORKS!
Listen to me when I tell you this…
If you create things of value, the money will follow.
However, you have to be patient and work.
This doesn't happen overnight.
With niche websites, it's all about creating a website with low competition that focuses on one topic (targeted keyword).
This is also discussed in my article 3 Secret Steps I Follow to Make Money with Niche Websites.
With a blog containing a lot of content like this one, you get traffic from many different sources from people looking for different things.
Typically, people will read an article on your website for a topic they searched for in Google.
If you provide them quality information, they'll be likely to scan your blog to see what other topics of interest you offer.
This is why I preach you writing quality content ONLY.
If your article sucks, people will leave and forget you exist.
If you want guidance on what quality articles look like, just study a few of mine.
You'll notice I write short, easy to read sentences.
My articles are well organized with paragraph titles.
But most importantly, they help the reader in some way.
Inevitably, people who come to your website will stumble on an article where you share a product.
The more content you have, the more traffic you'll get, the more sales you'll enjoy.
…But only IF you're authentic with your audience and provide FREE quality information.
Here are a few articles of mine on driving traffic to your website.
The question now is:
Are you going to take action?
Here are a few examples of products reviews I've written that make me money.
If you're serious and ready to start earning money online with your own amazon affiliate account, you know what you need to do.
We'll talk again soon,
-Alex
PS – Download my NEWEST book "How To Make $100 Every Day On The Internet" because it's going to show you my ALL my proven ways to make money online.