How My Modafinil Purchase Made Me The Productivity King of The Jungle
Modafinil.
So little, yet so amazingly powerful.
Ever since the release of the movie Limitless, people have been intrigued as to if there is some kind of prescription drug similar to the one Bradley Cooper takes in the movie (NZT-48).
Turns out that Modafinil is one of those things.
And if you're wondering just how good it is, let me tell you…it's VERY good.
It's not as exaggerated as in the movie, but boy, it comes close!
If you do your own research, you'll find how many successful people are now beginning to admit they use it.
You may have heard of people who take Adderall instead (typically college students), but that pill has some nasty side effects.
I've never personally taken it, so I can't really say from experience, but what I've heard about it is enough to convince me NOT to try it.
However, when it comes to Modafinil, all you get is intense focus, motivation, lack of exhaustion, and a kick-ass productivity session.
Just like all prescription drugs, Modafinil has potential of having side-effects but I personally didn't experience any whatsoever.
…And from what I read online, experiencing a scary side-effect on Modafinil is rare.
The only side-effect I did notice was lack of appetite.
I simply did not get hungry all day when I would take it.
Many people report the same thing.
But as far as any crazy or scary side-effects are concerned, I had none.
The Story On My First Modafinil Purchase
WOW!
I'll bet good money that'll be your response when you try it.
…But let me tell you my story.
I was doing some research online and came across an article where Modafinil was mentioned.
I'd heard of it before but never tried it.
Looking back, I wish I would've purchased it the moment I heard about it.
But let me explain why you shouldn't wait.
The article I came across spoke on Modafinil as if it were the best thing in the world.
It preached about the amazing focus, motivation, huge improvements in quality of work, and so on.
Being a cautious consumer, I did additional research.
I'm very careful before trying ANYTHING.
The last thing I want is to have some horrible experience or side-effect.
I'm the worse person to try and sell anything to.
I do extensive research, find out all the good, the bad, who has the best product and the best price.
During my research journey for Modafinil, it turned out MANY people were reporting amazing experiences.
I read a TON of different articles, watched videos on YouTube, and even emailed people who mentioned it on their website.
After a ton of research, I was 100% convinced I should give it a try.
I knew if I didn't, I would go crazy thinking about it.
So I went directly to a trusted supplier known as Modafiniledge.com
There I was, closer than ever to my first experience with Modafinil.
A small chat window opened on the lower right of the screen where an agent asked if I had any questions.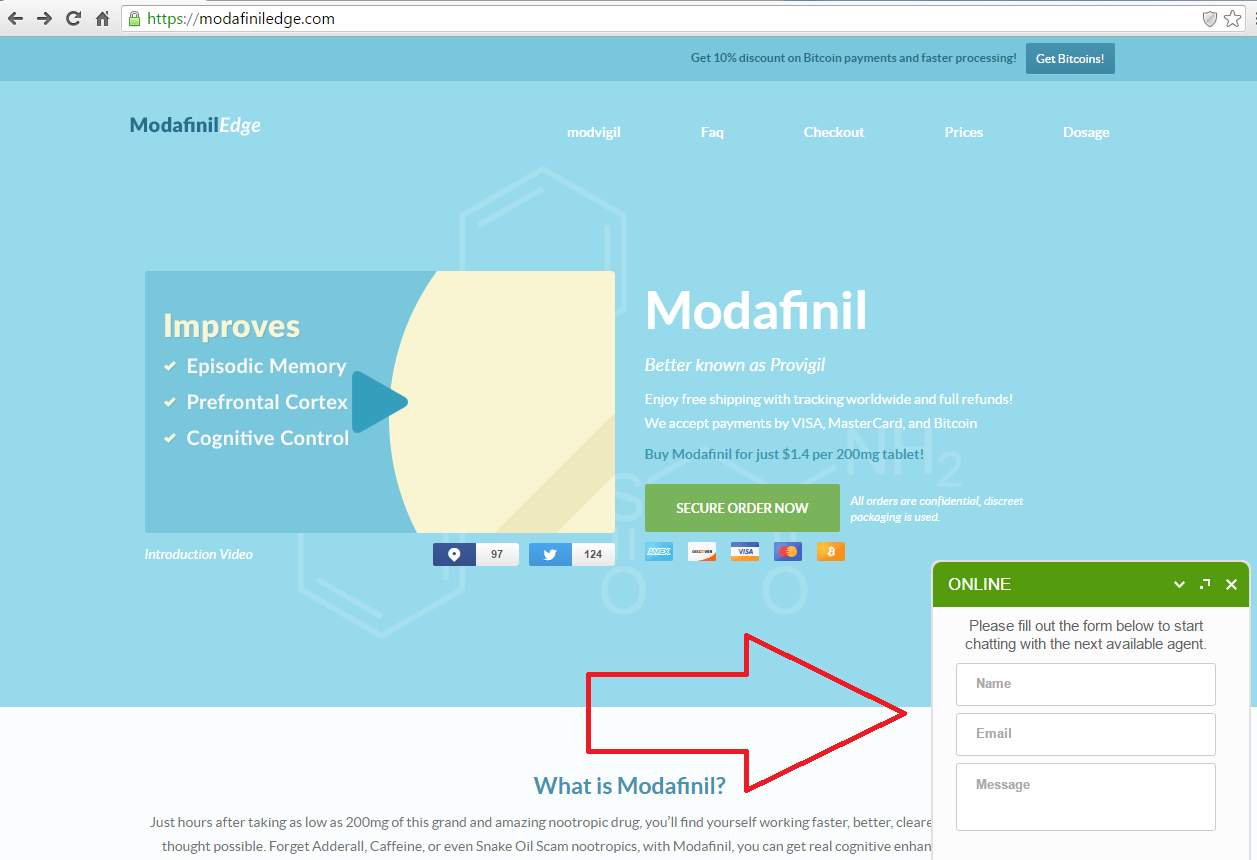 …And even after all the convincing I had, I asked the most popular questions:
1) Is Modafinil safe?
2) How does it work exactly?
3) Is it safe for long-term use?
4) Any free samples? (haha)
After chatting with the agent, I felt confident to move forward with my purchase. 
I ordered 30 pills x 200mg.
…And now, there was nothing left to do but wait.
And let me tell you, I waited for those pills like a kid in school waiting for summer break.
Like a person who feels lucky waits for the lottery numbers to be announced.
Like a dog who sits by the door waiting for his owner to get home…
Anxiously!
Modafinil Arrives At My Door
I'll never forget the day!
It was a Friday where I had planned to take it easy.
I usually work hard all week but I'd just finished a huge project the day before and decided to reward myself by taking the rest of the week off.
Believe it or not, I had momentarily forgotten about my order.
…And then, I hear someone knocking.
I knew it was here and expected to see the delivery guy at my front door.
To my surprise, it was my neighbor, who'd signed for the package earlier in the day when I wasn't home.
As my eyes met with the package, I looked at it as if it were a brick of gold.
I reached for it, said 'thank you' to my neighbor, and closed my door.
"It's here", I thought to myself.
Eagerness rushed through body like a cold chill.
It was time to experience just how great this little pill was.
However, since I'd already decided to take the rest of the week off, I thought about waiting till Monday.
…But that's not how things went.
I decided to open the package and take it right there and then!
I read how you should only take half a pill when you first experiment with Modafinil.
So instead of being superman and popping the entire 200mg pill in my mouth, I cut it in half.
I grabbed a water bottle from the fridge and swallowed 100mg.
10 minutes went by…
Nothing.
20 minutes went by…
Nothing.
Then out of nowhere…BOOM!!!
I swear it felt like I was hyped up on the STRONGEST coffee I'd ever tried.
It's a feeling difficult to put into words…but I'll do my best.
You're instantly filled with motivation and eagerness to work, work, work!
I paused the documentary I was watching and popped open my laptop to log into this blog.
I felt as if I had a million things to say and decided I wanted to create an amazing article.
Before I knew it, I'd put together a 2000 word article which is now the second most popular on my website.
…And it's held the #2 spot for many months!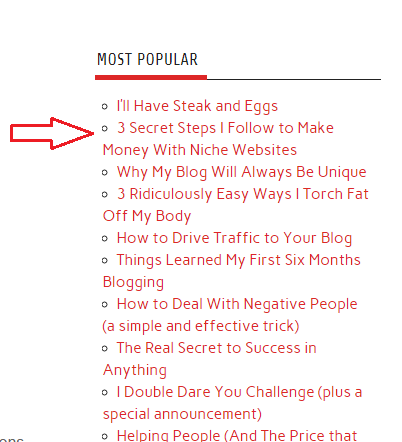 Check it out here: 3 Secret Steps I Follow to Make Money with Niche Websites
Coincidence? Placebo effect?…
…I highly doubt it.
When Modafinil kicked in, the work felt effortless.
Hours went by which felt like only 15 minutes.
The article was a classic!
So good in fact, people later asked me why I didn't offer the information as an eBook instead and charge for it.
I completed the whole thing (writing, editing, images, and links) in a few hours.
Usually, a quality article takes me days to complete. (I don't publish crappy content)
…But that wasn't the case that day.
I published it and immediately began working on my next one.
Unstoppable is the word I'd choose if asked to describe Modafinil in one word.
I had laser focus.
Imagine drinking 5 cups of coffee but without feeling anxious from the overdose of caffeine.
Yes…it's that GOOD!
After writing my second article, I had to get out and do something.
I had so much energy and focus; I decided to go to the gym and see what would happen.
The result?
I went in and did a little bit of everything: Weight-lifting, cardio, boxing, and swimming.
…And felt like I could keep going.
Modafinil is absolutely incredible.
It's worth every single penny and I wouldn't recommend any other productivity tool as this one is considered a safe smart drug.
I don't take it every day because I don't feel I need to.
However, if I plan to spend a whole day working or if I'm getting close to a deadline, I'll take it.
Even though there hasn't been any reports of bad side-effects from long-term use of Modafinil, I still don't feel a need to abuse it.
When my 2 week supply was done, I placed another order but wasn't desperate for it to get to my house.
I mean, I loved how I felt while taking Modafinil and I got a LOT done; but I wasn't completely unproductive without it.
Just know one thing…
It turns you into a freaking productivity king!
You simply do NOT get tired.
You just keep working and working and working.
It's definitely worth experimenting with.
The quantity on quality of work on Modafinil is very, VERY noticeable.
Will I Become Addicted to Modafinil?
This was honestly a concern of mine before trying it.
If I had the choice, I would take it every day because you truly feel amazing on it.
However, there are no withdrawal symptoms of any kind when you don't take it.
My fear was that I would feel "slow" or different without it.
…But that wasn't the case at all.
When I'm on Modafinil, I'm a working machine with laser focus and an endless supply of energy.
When I'm of it, I work as I usually do and feel like my regular self.
I'm not addicted to Modafinil in no way whatsoever and I've yet to hear of anyone who is.
I would understand why people would claim they feel like they can become addicted to it.
…Because you truly feel amazing and unstoppable.
But in my opinion, to be addicted to something it means you can't function without it.
…You lose sleep over it and/or are a different person when you don't have it.
None of the above occur when I don't take Modafinil.
How to Order Modafanil
Simply go to modafiniledge.com 
As I mentioned, they are a trusted supplier, offer free shipping, and full refunds if you're unsatisfied (I highly doubt you'll be) for any reason.
Once you're on their website, feel free to look around a little and even chat with the agent if you have any additional questions like I did.
When you're ready to move forward with your purchase, click on 'secure order now'.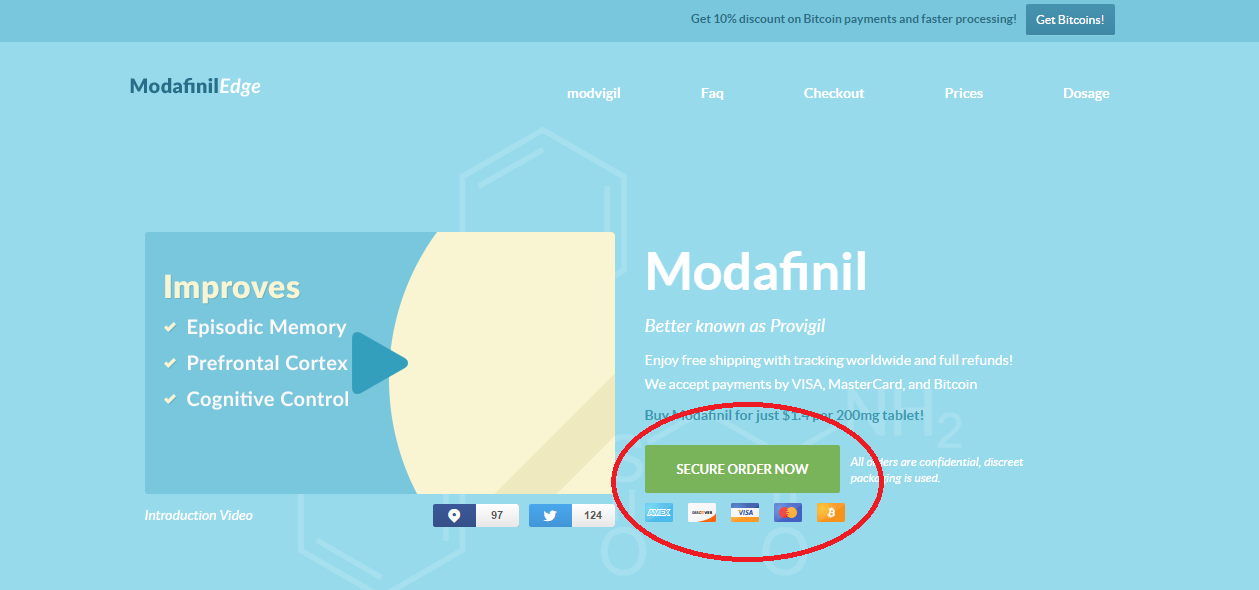 Choose your quantity.
I recommend the 2 weeks supply because you get a better deal.
You end paying $3.30 a day for each pill. 
That's cheaper than your daily cup of coffee which doesn't come anywhere near the level of focus, motivation, and energy Modafinil provides.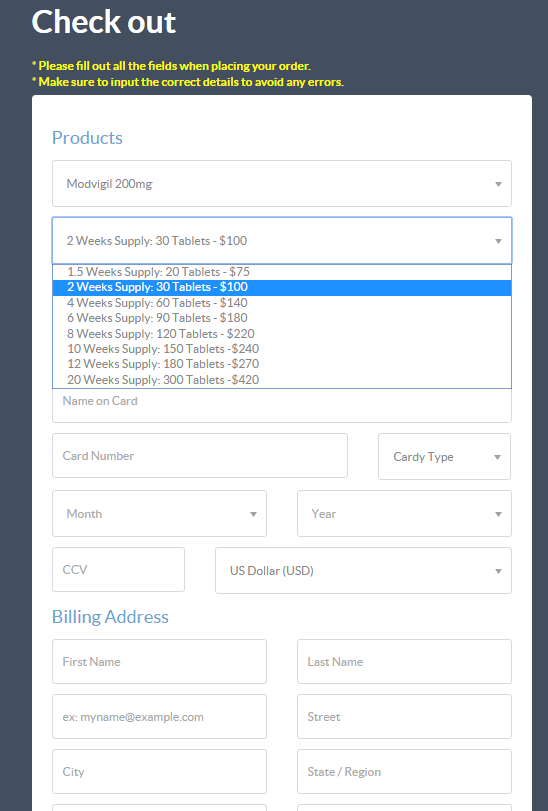 Once you've chosen your quantity and filled out all the personal information, go ahead and click 'Order Now'.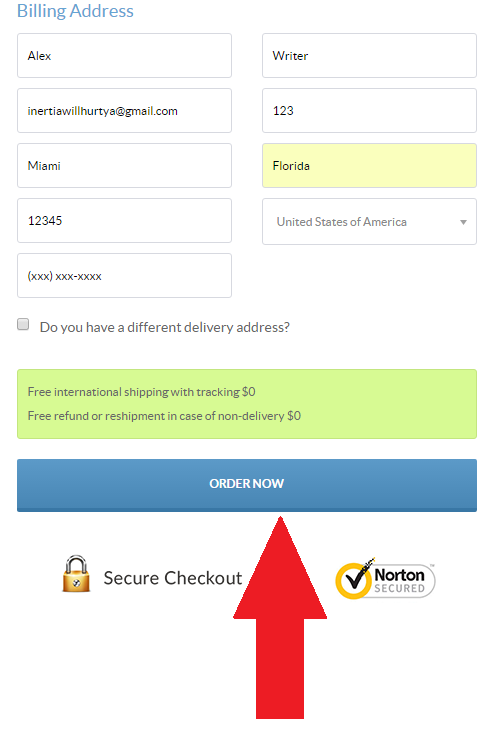 …Now you just have to be patient and wait for that small but MIGHTY package to arrive.
Enjoy!
You can thank me later.
Talk soon,
-Alex
Click here to order Modafinil now!
MEDICAL DISCLAIMER:
I am not a doctor. This article does not contain medical advice. This article is for informational, educational, and entertainment purposes only. Reliance on any information is solely at your own risk. This article is not intended to be a substitute for professional medical advice. Always seek the advice of your physician or other qualified health care provider. No liability will be assumed for the use of any information provided or contributed on this article.