How to Easily Make Money Online By Creating Your Own Review Blog
What's one of the FIRST things you do before buying a product online?
You find out what others are saying about it.
These days, reviews are what practically sell products.
Sure, good marketing can convert people into customers.
However, to make selling easy, good reviews are the way to go.
Just look at how popular the review section in for the Amazon website.
How can this information put money in your pocket?
Easy.
Create a review blog and write your story about product's you've used.
Every day, people hop online to find reviews before buying something.
In case you didn't know, everyone's very careful with their money.
They want to prevent getting ripped off at all costs.
…Why not be the one to make them feel safe by creating a review blog?
It's incredibly easy to do, barely costs anything, and it's actually a fun hobby.
Anyone who tells you review blog's don't work don't know what they're talking about.
I make affiliate sales constantly from my review articles.
There's no reason to have a limited mindset.
The internet is FLOODED with opportunity for everyone.
And if you're serious about putting money in your pocket, you'll know how by the end of this article.
How much can you make?
The answer depends on how much time you dedicate.
Some people make a couple hundred bucks a month.
…Other's make thousands.
Creating Your Review blog
First things first, you're going to need to start your own website.
If you don't already have one, you can follow the instructions in my book Mr. Website Builder where I guide you step-by-step on how to easily do it yourself quickly.
Once you have your website up and running, it's time to review your products.
You'll talk about why you decided to buy it, what it did for you, if you'll continue to use it and why (very important), and whether you recommend it or not.
One of the most popular and high converting forms of marketing is what they call word of mouth marketing.
We humans tend to believe others about their experiences.
Therefore, when you write your story, chances are you'll motivate someone to move forward with a purchase.
And it's right here where you'll begin seeing the money come in.
How to Make Money as an Affiliate 
The way to make money by reviewing other products is by doing what's called affiliate marketing.
Basically, you're provided a link (code) by the company who sells the product.
The most popular affiliate company is Amazon since they have just about every product available for sale.
When writing your experience/story with a product, you'll include your affiliate code for that product in your article.
This is what tracks any sales made and referred from your website.
For each sale you refer, you'll get a percentage.
It's unbelievably simple.
Take a look at one of my most popular product review articles Death Wish Coffee.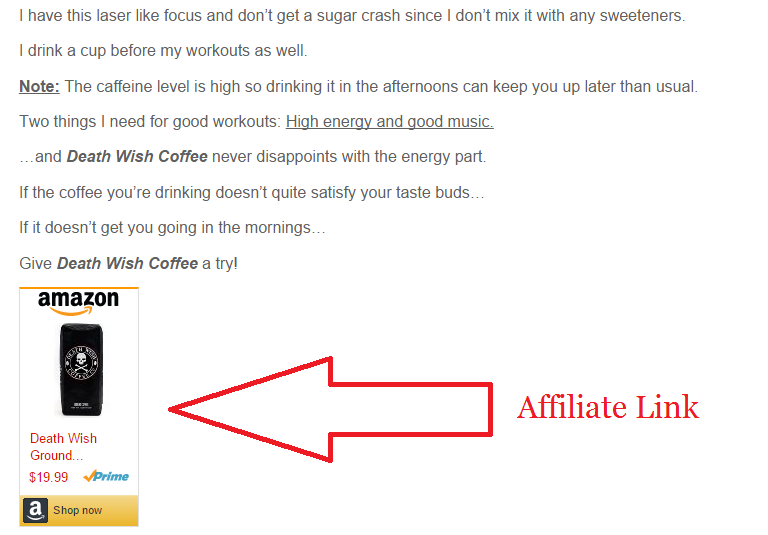 All I did was write my story and include my affiliate link at the end.
Now, every person who reads that article, clicks the link, and buys; puts money in my pocket.
I never have to look at or edit that article or in anyway.
It simply earns me money all on its own.
People go into Google, search "Death Wish Coffee Review", and find it.
Affiliate marketing is one of the easiest ways to make money online.
And if you take it seriously, you'll begin seeing profits very quickly.
Most affiliate programs are FREE to join.
Come to think of it, I've never seen one that charges money.
Just go to the website where your product is available for sale and search for the affiliate tab.
The easy and fast way to do this is to hit ctrl + F on your keyboard and enter the word 'affiliate' to search the page.
Then just follow the sign-up instructions.
Easy!
How to Get Traffic to Your Review Blog and Make Sales
Sure, creating a review blog is great and profitable.
IF…
You get traffic!
Without traffic (website visitors) no one will read your reviews and you won't earn a single penny.
A review blog with no traffic is like a supermarket with no customers.
…You have all the goods but no one to sell it to.
So how do you get traffic?
One way is to use Google Alerts.
This option allows you to setup notifications for your product reviews.
You instantly get emailed whenever an article, blog post, group forum, and so on related to your product gets posted on the internet.
You'll receive a link to the post and have the opportunity to leave a comment with a link back to your website.
Give your input and share your thoughts in your comment.
Next, mention how you wrote your own review to the product on how it helped you.
People who read your comment will click on your link if what you write is valuable.
Therefore, don't just leave a comment saying:
"Great article. Click here to read my review."
You have to give people a reason to click on your link in order to learn more.
What you'll want to do instead is write something like this:
"I like your views on Death Wish Coffee. I see you had a similar experience to mine. However, I feel the need to ask if you've tried drinking the coffee on an empty stomach? (fasted) My experience was 10x more powerful. I later learned that coffee on an empty stomach gives you a better caffeine buzz compared to drinking it with food. Here's the link to my review and if you want to learn more. Thanks for sharing your experience."
See that?
That's a valuable response.
You provide people knowledge without them even visiting your website.
They read your comment and think "That's interesting. Maybe I should try drinking my coffee on an empty stomach to see if I get a similar experience."
There's a HIGH chance they'll visit your blog to see what other interesting and informative things they can learn from you.
It's that simple.
Action Steps:
1) Write a review blog
2) Use a product and tell your story
3) Set up an affiliate account
4) Get traffic
5) Get paid
Questions?
Many people will find your reviews in search engines (Google, Yahoo, Bing) but it usually takes a couple weeks before these websites crawl (find) your article and place in it their search results.
Be patient and don't get discouraged, it doesn't happen overnight.
This is why Google Alerts is so important at the beginning if you want to make sales quickly.
You can get traffic to your website instantly and begin making sales.
Besides Google Alerts, you should also share your reviews on social media.
Facebook, Twitter, and Tumblr are the best.
I wrote a book (Terrfic Tumblr Traffic) on getting traffic with Tumblr which you can you get here.
Important things to remember
Keep in mind that once you've created a review, it'll be on the internet forever.
This means people will find it and earn you money without any effort on your part.
In the beginning though, the more Google Alerts you respond to, the more traffic and sales you'll get.
But if you only want to make sales from search traffic (people who search your product review in Google), then all you have to do is create a good detailed review and you'll rank for it with time.
Check out these reviews of mine to use as examples of what a good detailed review looks like:
As you can see, review blogs are very popular and profitable.
These days, people are also making review videos on YouTube and then placing their affiliate link in the description area.
Why?
…Because reviews for products work!
People want to read/watch them.
And most importantly, it's a lucrative hobby.
The trick to making the most money is to create as many products review as possible!
The more product reviews you have, the more people will find your review blog. 
Just look at products around your house that you've bought and used.
It can be anything!
A specific razor blade, a body lotion, shoes, protein shake, headphones.
The rule of thumb is that if you use it and it works, you should consider writing about it.
After that, you can sit back and begin seeing the money come in.
However, before you reap the rewards, you have to do the work.
Again, if you take this seriously, you can have your blog up and running and begin writing your reviews in less than an hour.
So stop wasting time, download Mr. Website Builder now if you don't already have your own blog, and begin earning money today.
You can thank me later.
Talk soon,
-Alex
PS – Download my NEWEST book "How To Make $100 Every Day On The Internet" because it's going to show you my ALL my proven ways to make money online.