Why is it so hard for people to follow through when they want to change something?
"I want to make more money"
OK, have you researched how, learned a thing or two, and taken action? No?
"I want to meet more women"
OK, have you made a commitment to say "Hi"' to 10 women daily and see what happens? No?
"I want to work out but I don't have any energy after work".
OK, have you actually made yourself workout anyway and realized that it didn't kill you? No?
Then you shouldn't be surprised as to why you don't have what you want.
How to Escape Habit Gravity
I have news for you, my friend…
You're never going to feel like doing what you're supposed to do.
I'm a boxing fanatic.
I admire the vigorous training boxers go through for an upcoming fight.
I don't watch a lot of TV, but you'll never catch me missing a PPV boxing match.
One of the most famous and respected boxers of all-time, Muhammad Ali, mentioned how much he hated every second of training.
Not once did he feel like doing it.
BUT…
He would repeat to himself: "Don't quit. Suffer now and live the rest of your life as a champion".
…And he would train anyways.
However, you're not Muhammad Ali, and neither am I.
And whatever someone says to themselves to get motivated means shit if it doesn't work for you.
So how do you do it?
How the hell do you make you success inevitable?
How do you make yourself sit down, read a business book and apply what you learn?
How do you get the balls to approach that gorgeous brunette with the big blue eyes at Starbucks and say: "I see you ordered a Grande, you must have had a long night"
How do you man up and say: "I'm not going to bitch and moan. I don't want to get my ass out of bed and workout but I'm going to do it anyways"?
See this rocket?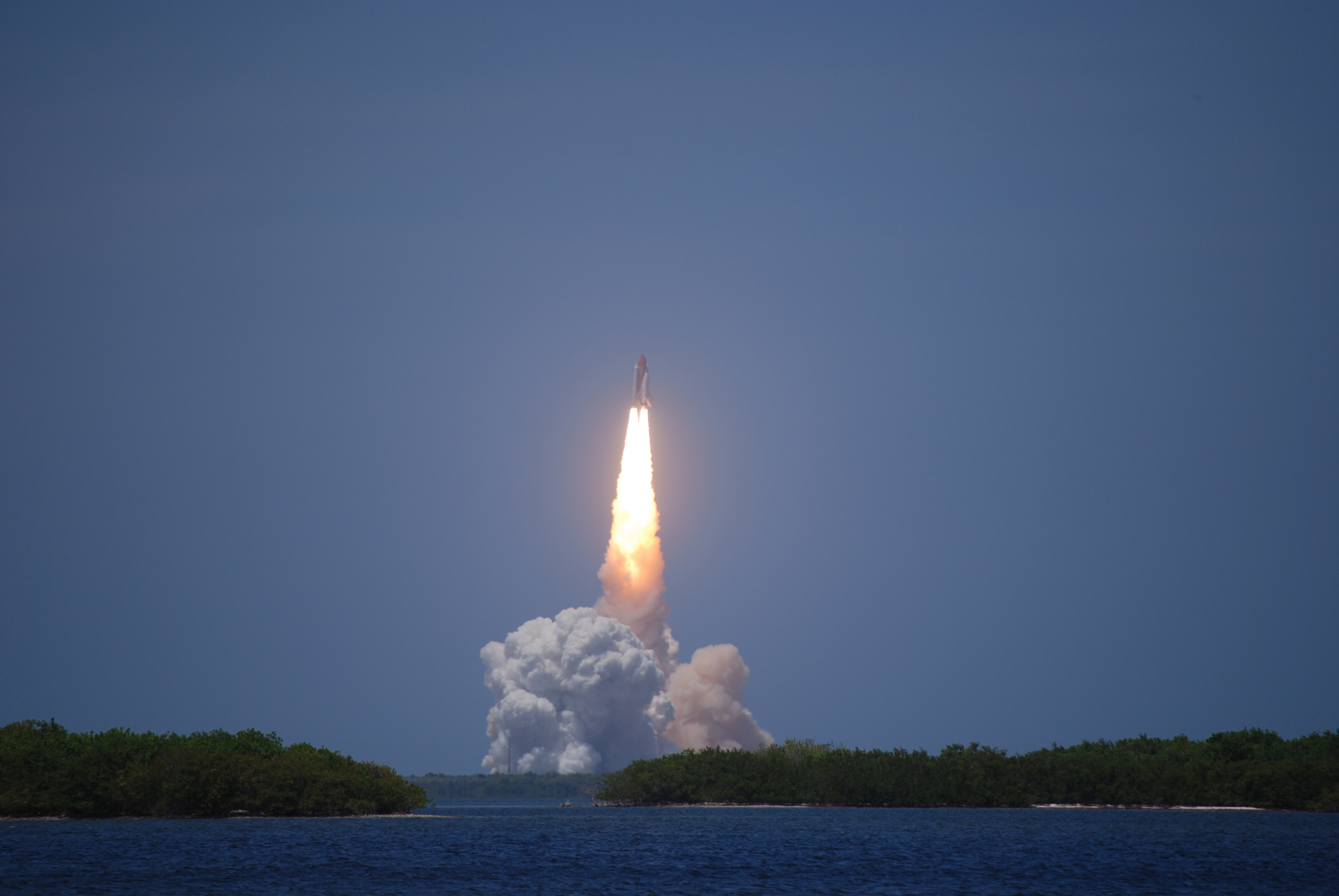 He's going to be your new best friend and you'll learn why by the end of this article.
Habits from Hell
Habits, whether they're good or bad, whichever ones you have, follow you around all day like paparazzi.
Let's talk about the ones from hell.
Can you guess the bad habits of the examples I provided above?
The first one where the person wants to make more money is the habit of not taking action.
How do we fix it?
Again, keep the rocket in mind.
The second example is a man who has the habit of not approaching women.
He either lacks confidence or simply has the habit of looking at women and walking away because he doesn't want to "bother them".
Ahhh bud, if you only knew how much women love to be approached and acknowledged whether they're interested in you or not.
…And let me just add this without getting too much off topic, there's way more women interested in you than you might believe.
Finally, the last example clearly demonstrates someone who has developed the habit of laziness.
You see, if you develop the habit of effort, when the moment comes to do something, you'll do it whether you feel like it or not.
Why?
Because you have the effort habit instead of the laziness habit.
It's really that simple.
Again, keep the rocket in mind.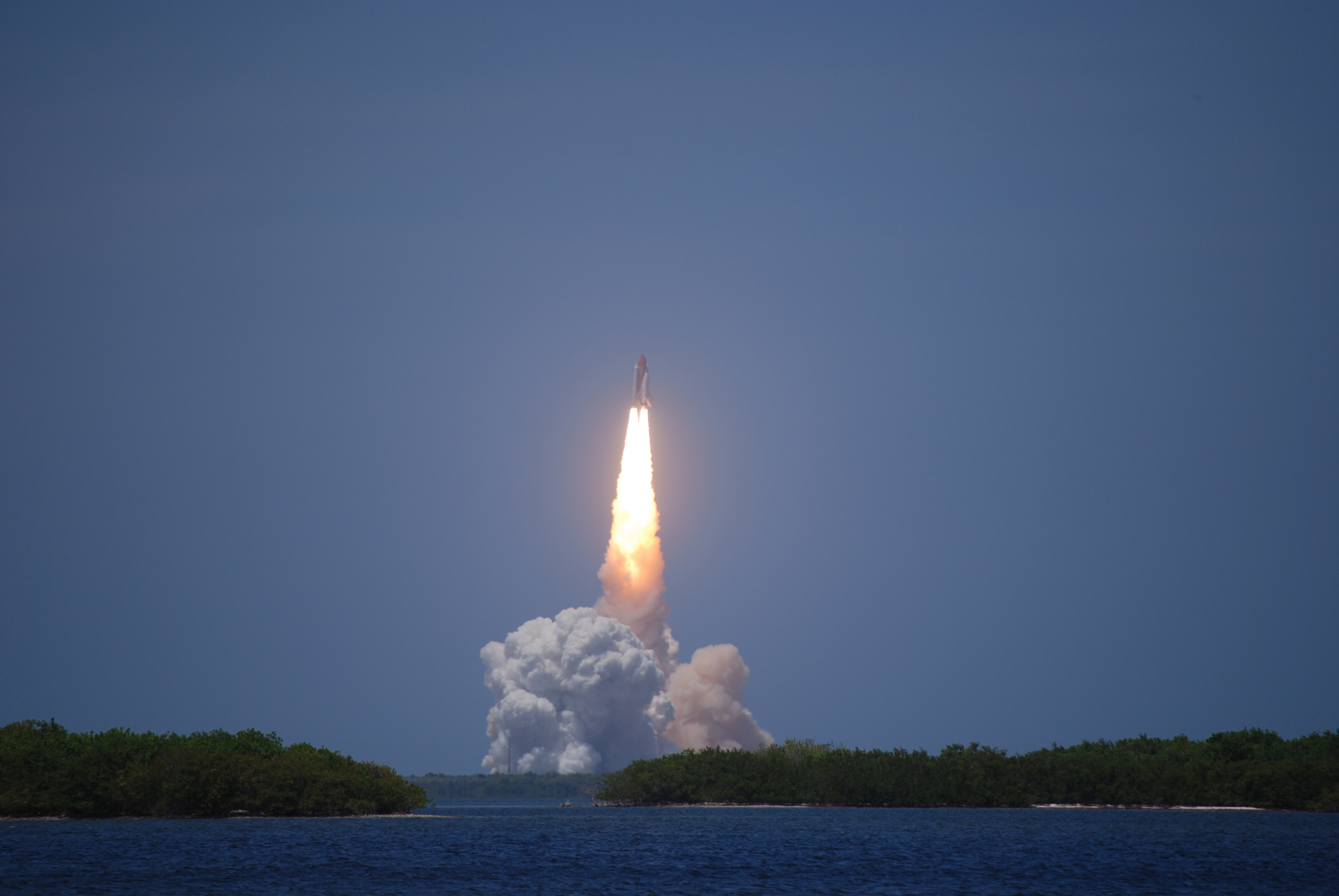 So where do you start?
What in the world do you do to develop good habits and get rid of the bad ones?
Is there a certain book you should buy?
Should you attend a weekend seminar?
…Or is there one simple FREE thing you can do?
Don't worry, I'm about to change your life IF you listen and follow everything I say in this article.
So before we continue…
I need you to read the next sentence and understand how much you'll be disappointed in yourself if you don't keep the promise you're going to make.
I promise that if I continue reading this article, from this point on, I will follow everything I learn because it will get me the results I want.
If you can't make the promise, this article isn't for you.
Go spend your time on something else and come back when you're ready.
Mr. Rocket Man and his 10-20-30 Journey
Are you wondering what the hell the purpose of the rocket is?
Don't worry, the answer is coming.
Like I mentioned, no one ever really feels like doing what they're supposed to do.
Want proof?
Look at all the people who say they want something but clearly don't do anything about it.
However, for people who actually take action, the first 10 days they do something, it totally sucks.
Do you think a man who is 50 lbs. overweight and goes jogging 10 days straight, experiences a single second of enjoyment during his jogging session?
My guess is that he hates life and every one in it a little more with each step he takes.
BUT…
If he's persistent and keeps jogging daily, something interesting begins to happen.
The jogging still isn't his favorite part of the day but the benefits begin to show.
He's loses a little weight, he's sleeps better, and experiences more energy throughout the day.
Not bad.
Now let's begin revealing what the hell the purpose of the rocket is.
You might not be an expert on how rockets work (neither am I) but let me tell you, it's miraculous!
In order for a rocket to fly through space, it MUST reach a certain altitude to escape the pull of gravity.
In other words, the reason it blast into space at 25,000 mph (7 miles per second) is to reach an altitude where it can no longer be pulled back into Earth.
A rocket is provided enough fuel to reach the point where gravity is no longer a factor.
It actually burns 96.2% of its fuel just in the take off!
Pretty cool, huh?
Take a moment to check out the amazing footage below.
What does this have to do with you building a new habit?
Everything!
Picture yourself as a rocket trying to escape the gravity of your old habits.
Whenever you're going to start something new, your old habits will be pulling you back with EVERYTHING they got the same way gravity tries to pull a rocket back to earth.
You have to get to 30 days the same way a rocket needs to reach a certain altitude.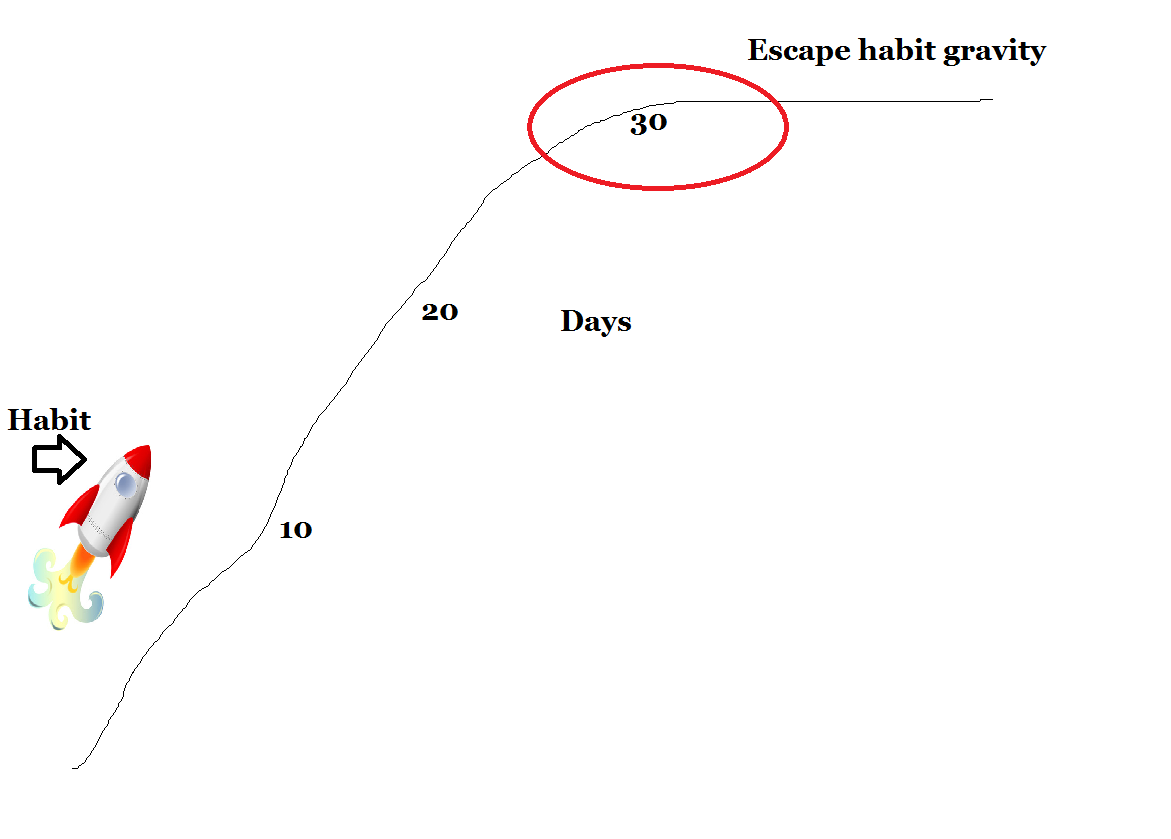 Once you get to 30 days, you no longer have to provide any effort.
You begin doing the new behavior automatically.
You're now pulled to do the new habit.
So if you developed the habit of reading (an amazing habit) now it's going to drive you crazy whenever you can't read on a particular day.
See how it works?
Habits, whether they're good or bad, control our lives.
YOU must push yourself the first 30 days to reach that "altitude".
YOU have to make yourself do it every single day!
The good news is that you now know how this works.
You know that when trying to do a new behavior, you're going to experience "gravity".
You've already felt it before.
How many times have you had to do something (a project, go workout, run an errand) and you just didn't feel like doing it?
That feeling you felt is habit gravity at its finest!
…And unless you push through, gravity will win EVERY SINGLE TIME!
There is no book in the world that will change your life unless you actually apply what you learn for 30 days.
Oh you learned how to eat right and workout?
Cool, but that means NOTHING unless you do it consistently to escape habit gravity.
Your old behavior of eating the wrong foods and sitting on the couch are going to PULL as hard as they can to prevent you from doing the new behavior.
This is what it really takes to change your life, my friend.
If you read just this ONE article on my blog and never come back…
If you just apply what I'm teaching you… 
If you fight off gravity and push through for 30 days…
YOU WILL CHANGE YOUR LIFE!
Think about it for a second…
What if you do this for a year?
Every month, you pick one new habit and do it for 30 days.
That's 12 new habits in a year.
Now tell me…how would that change your life?
How much would the quality of your life improve?
I hope you're beginning to see just how important and valuable this is.
The Problem
The gravity of your old habits is VERY strong.
You have to push and fight with everything you got!
So let me tell you a story of how I fought gravity to develop one simple habit.
I once read that the human body is the MOST dehydrated in the morning when waking up.
It's recommended that we drink at least a half-liter (16 oz.) of water first thing in the morning.
"Not too hard, I can do that easily" – I thought.
Yeah right!
The next morning I got up and completely forgot about the water.
My old habits (get up, make coffee, shower, etc.) pulled me into my usual routine.
Somewhere around midday, I remembered about the water.
"Tomorrow I won't forget!"
And guess what?
I forgot again!
So what did I do?
I made it so that the water was in my way when I woke up in the morning.
I would place a water bottle on my bathroom sink the night before.
I even set up an alarm on my phone to remind me to put it on the sink just before bed.
So I would wake up, see the water bottle, and be like: "Oh yeah, that's right! I have to drink the water."
Knowing how habits worked, I did this for 30 days.
Now, I no longer need the alarm nor do I have to leave the water bottle in the kitchen sink.
It's already "programmed".
I wake up and go directly to my fridge to drink water without even thinking about it.
That's all it is my friend.
If you want to do something, you just have to "program" it into your brain.
How do you program it?
You fight off habit gravity by pushing through for 30 days.
Whatever it is that you want to do, make sure you set up either an alarm or an accountability partner to remind you to do it every day.
Put the new behavior in your way the same way I did with the water.
Remember, you MUST do it for 30 days straight.
If you miss a day, you start over from day one.
Most people let gravity win, that's why it's so lonely out in space (success world).
We'll talk again soon,
-Alex
P.S. – Thinking of starting your own blog/website? Check out my book Mr. Website Builder.