Everyone wants a better life, that's no surprise.
You show someone the easy way to get something, they'll go get it.
But that's the catch, everything isn't always easy.
As a matter of fact, all the things worth having will require hard work.
Discovering how to get ahead in life is simple, but not easy.
Did I confuse you?
Don't worry, let me explain…
You see, everything you need to know about getting ahead in life has become easier than ever to find.
Whatever it is you want to pursue as a business venture, you can guarantee that someone has written a book on it.
Reading a book is easy, but remembering to download it on your phone or go pick it up at the bookstore is the hard part.
Why?
Because you either forget or get distracted by your everyday habits.
"That book sounds good, I have to read it!"
Have you ever said that to yourself and then forget about the book for weeks?…
I know I have.
So the question isn't really "how to get ahead in life"; it's "how do I get myself to do the things I need to do, when I need to do them?"
How do I make my success inevitable?
If you can figure out how to make your desired results happen AUTOMATICALLY, then there's nothing else you need to worry about.
Forget Shortcuts
If you're looking for a shortcut to your desired goals, stop.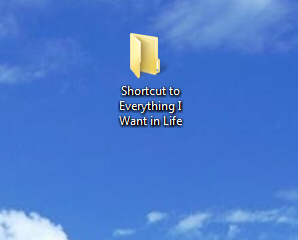 There are no shortcuts.
If there were, everyone would have what they want. Right?
Humans are lazy by nature and that's why only a small percentage achieve success.
Do you know what the difference between successful people and quitters is?
Successful people do one thing differently…
They don't quit!
People waste SO MUCH time looking for the easy way to do things instead of spending that time doing the necessary work that would guarantee success.
What happens to people who exhaustively search for a short-cut and never find one?
You guessed it, they quit!
Stop looking and start doing.
Sacrifice
If you've read my other articles, you'll know how much I talk about the importance of sacrifice.
There is no such thing as achieving a goal without sacrificing in some area of your life.
I mean, think about it…
If you want to buy a house, you'll need to save money.
If you want to become an expert online marketer, you'll have to study instead of going out with friends.
If you want to improve your physique, you'll have to give up unhealthy foods or at least cut back.
Learning how to get ahead in life isn't a problem, it's disciplining yourself that's hard.
…but if you can get yourself to do it, then the magic begins to happen.
There's no book, person, or magical pill that will make you do what you need to do.
If you want something, only you can make it happen.
Stop being a victim for the latest book on how to easily do this or that.
Marketers are aware that people will do ANYTHING for a short-cut to success.
What these marketers also know is the hard work and dedication it takes to achieve anything.
But which of the following sounds better?
1) How to become a millionaire in less than a month
2) How to double you income in 4-5 years
Which one would sell more?
The answer is obvious.
People don't like to wait or work hard for things.
Marketers know how to use certain words and triggers that motivate people to buy.
These words/triggers work very well!
Studies in consumer psychology have proven it.
Am I saying that you should NEVER read another book on your desired field of study?
Of course not.
All these books do offer great advice and knowledge.
But none of them will make you an instant success.
Do you think marketers wrote the book they're selling you, overnight?
NO.
It took them months or years of hard work, revising, editing, and research.
They did the work and as a result their book sells itself.
But they actually did the work, not search for an instant solution to their goals.
Listen to me…
If you don't take action…
If you don't demonstrate discipline and dedication…
If you don't develop an immortal work ethic…
What good is all the advice and knowledge in the world going to do for you?
The secret on how to get ahead in life is simple:
Learn, apply, sacrifice, and figure out what it is that you need to do.
….and oh yeah, actually do it!
-Alex
P.S. – Thinking of starting your own blog/website? Check out my book Mr. Website Builder.