How to Succeed With Your Plenty of Fish Search
I did online dating for a while and met plenty of women.
There are many dating websites.
However, I liked POF (Plenty of fish) the most.
I met women who were gorgeous, funny, and smart.
Others had boring personalities and looked nothing like their pictures.
Regardless of the situation, I acquired something important.
EXPERIENCE.
And that's why I wrote this article.
I want you to benefit from EVERYTHING I learned.
Take advantage of what I'm about to teach you.
I'll be sharing secrets that helped me with my plenty of fish search.
Let's begin!
How to stand out in your plenty of fish search
After creating your account, it's time to stand out.
Millions of guys are online doing the same thing you are – Trying to meet women.
In order to have more success than most guys, YOU MUST STAND OUT!
I began trying different things when my results weren't that great.
After trying many ideas, here's what SKY-ROCKETED my results.
The first thing you'll want to do is include 5 of your best pictures.
Each should show you doing fun and interesting things.
My pictures were of me boxing, at the beach, hanging with friends, and with my dogs at the park.
Whatever you do, don't be one of those guys who puts a bathroom selfie as one of his pictures.
Get out of your house and take some outdoor pictures if you don't have any.
Taking a "selfie" in your bathroom gives the impression that you have no social life.
Women think "This guy probably spends the whole day at home and has no friends".
Next, it's time to talk about yourself in your profile.
Don't write some unoriginal boring message like:
"My name is Alex. I lift weights. I like Italian food. The end."
Instead, write something like:
"My name is Alex. I'm on here looking for someone fun and interesting. Please no crazy women. I run an online business. During my free time, I'm at the boxing gym, the dog park, or hanging with friends. Family and traveling are important to me. Looking for someone who shares the same values."
In just seven sentences, I've communicated many things.
I come across as interesting, funny, successful, athletic, social, family oriented, and passionate.
All seven qualities are very attractive to women.
Not only am I creating attraction in her mind, but I'm providing a good idea of who I am.
This will automatically BOOST your success rate.
Trust me.

Having standards in your plenty of fish search
Most men online are only trying to get laid.
They'll sleep with just about any woman they meet.
Guess what?
Women know this.
But if you make it clear you have standards, you're automatically perceived differently.
Women will know you mean business.
You're not online trying to sleep with whoever is up for it.
…You're there for a bigger purpose.
Setting standards will make you much more attractive to women.
It confirms you won't settle for less than what you want and deserve.
I've had many women admit they liked the favt that I have standards.
I would say something like this in my profile:
"I'm not that picky with looks but there are a few things that are necessary with women I date. These include: 100% independence, a job, the desire for constant improvement, and no taller than 5'7."
Try it and see whay happens.
Write her a personal message
Once you've completed your profile, it's time to start messaging the ladies.
Here's where a lot of guys make the same mistakes.
When I was going on dates, women would tell me how most guys write the same thing.
Their inbox was FLOODED with these messages:
"Hey cutie"
"How are you?"
"What's up?"
"You're so beautiful"
Knowing this, I started sending more personal messages.
Something unique and interesting.
I'd read a girls profile (Something most guys don't do) and comment on something specific.
For example, if she stated that she loved the beach, I'd message her saying:
"I noticed you mentioned you love the beach. I try to go every weekend. There's nothing I'd rather do to relax and have fun. Have you been to the boardwalk in Hollywood Beach? I like it better than South Beach. It doesn't get as crowded and there's better places to eat at. -Alex"
You see the difference?
The message is written specifically for her.
Instead of saying "What's up" just because she's attractive, I actually take the time to read her profile.
This immediately puts you ahead of all the other guys.
Next, give her a unique compliment.
This is where I really started seeing results.
Don't say she's pretty, that her hair is nice, or that you like her eyes.
She's probably heard those things a million times in her life.
Instead, try to notice something most men don't.
What I started doing was commenting on their style.
"That green shirt looks great on you. The color compliments your skin tone. I can tell you have a good sense of style. Do you own a lot of clothes in that color?"
BOOM!
Now you're 100x more interesting than the guys who say "You're pretty, baby".
At this point you'll have good pictures, an interesting profile, and be sending messages that stand out.
You little seducer you. (Ha-ha)
Congratulations, you're moments away from getting messaged back.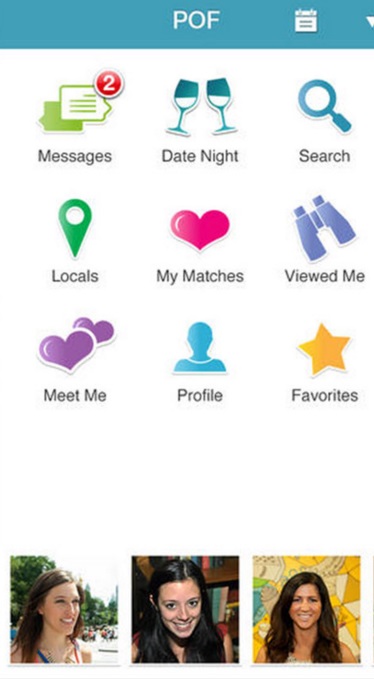 But the game is just getting started.
Let's go over what to do when she replies.
Get her number immediately
Women hate endless messaging on POF.
Messaging back and forth gets boring fast.
This happens because most guys are messaging her saying the same things.
Message #1: Hey, what's up?
Message #2: What are you up to?
Message #3: So what do you like to do?
BORING. BORING. BORING.
Put yourself in a woman's shoes.
Imagine getting 100 messages like that daily.
No good, my friend.
So what do you do to prevent being another boring guy?
After she replies to your first message, ask her for her number.
A lot of women won't give it to you that fast.
…But many will.
Here's what I'd usually say:
"Hey, I like talking on the phone because messaging is a little slow. I'll give you a quick call if you promise not to phone stalk me once you have my number"
She'll most likely laugh and give it to you.
Most guys won't ask for her number.
And if they do, they won't call her!
They'll just text message.
Show some courage and call her!
Call and setup the date quickly
You want the call to last 10-15 minutes maximum.
Don't spend hours on the phone.
Leave all the talking for the actual date.
The only purpose for your phone call is to convince her to go on a date.

Be interesting when you call her.
Here's an example of what I might say:
"Hey, how's it going?"
(Let her respond and ask how I'm doing)
Respond with:
"I'm good. I'm on the way to the gym and then meeting friends later at this new spot downtown. What are you up to? Stalking my profile on POF?"
A lot of things just happened here.
#1 I hinted I take care of myseld physically.
#2 I hinted that I have a social life. 
#3 I teased her in a playful way which makes me appear confident and fun.
…So far so good.
Most women (8 out of 10) will respond positively to teasing.
Those who don't are usually  boring, serious, and lack conversation skills.
Personally, I prefer women with a good sense of humor.
I don't care how attractive she is.
If I can't laugh when were together, I'll find someone just as attractive but with a better personality.
You'll be surprised at the MASSIVE quantities of women on online.
If you have a scarcity mindset, it'll quickly disappear during your plenty of fish search.
While on the phone, tell her a couple of things about you.
Share what you do for a living and ask her the same.
Set up the date after learning a bit about each other.
Continue to be fun and playful.
"Hey, let's get together this Friday at 7:30 for drinks. I'll pick somewhere with a lot of people in case you turn out to be crazy like the last girl I met on here".
I've used that same line MANY times.
It works like a charm.
Women will almost always laugh and agree to the date.
Why does it work?
Because you're being fun, not coming across as a weirdo, and are making her feel safe by making the date in a public place.
Worst case, she can just walk away if she doesn't like you.
Same goes for you.
Some women told me how guys would invite them over to their house or to a weird location.
Don't do that. (Ha-ha)
At this point, you've done everything perfect.
Now that you got her to agree to the date, it's time to tell her where to meet you.
Let's go over picking the place.
Meeting Her
The vibe of the location you choose is important.
It should be a fun atmosphere.

If you're going for coffee, don't go to Starbucks.
Everyone goes to Starbucks and it's boring s hell.

Try to find a coffee shop that has an interesting story behind it.
Learn its history ahead of time.
Go on the company's website and read the "About us" section.
Takes a minute.
Tell her the story as soon as you sit down with your coffee.
That will be five minutes of pure gold and your first date will be off to a wonderful start.

"I like this place because of the story behind it. The owners came here from Cuba and worked hard for many years to save up and open their own coffee shop. They've been married 30 years and gave up everything in order to be together and accomplish their dream of starting their own business. They don't overcharge for coffee like other popular coffee shops. They don't do it for the money. They're all about the service. People like them motivate me to do bigger and better things."
I'll say it again…
PURE GOLD.
How many guys do you think do anything like that when they first meet a woman?
If you're going for drinks, pick a bar with a good atmosphere. 
Try to find one that has a live band or some other form of entertainment.
Don't make a big deal about where the first date takes place.
Just try to make it somewhere unoriginal and fun.
Remember, that once she agrees to go on the date with you, she said "Yes" when she could have said no.
After that, everything else is easy.
So there you have it.
These were my personal tips that helped me succeed with my plenty of fish search.
Use them and be consistent.
Eventually, you'll meet and date a woman you really like.
Talk soon,
-Alex
P.S. – Do you want my personal & private dating advice? I provide one FREE email response to everyone who buys my book. Simply follow the steps below:
1) Click here to buy my book now
2) Email me now at Inertiawillhurtya@gmail.com with your order number and tell me about your situation with women. I'll email you back a detailed response within 24 hours so you can fix your situation immediately!