Sleepytime Extra Tea Review
Between projects, working out, and errands; I was in search of something to help me "unwind" at night.
I had days where I had so much going on that I figured I would fall asleep as soon I'd lied down.
However, that wasn't the case.
The adrenaline from getting so much done, or things I had in mind, kept me up at night.
I didn't want to invest in something that would negatively affect my health.
Sleeping pills or other medications seemed unhealthy.
I wanted something that I could prepare and drink quickly.
Doing research online, I came across Sleepytime Extra Tea.
The first thing I noticed were reviews from people who had tried it and absolutely loved it!
Reviews like:
"Knocks me out", "Relaxation with no hangover", and "It works!"…
Motivated me to learn more about the tea.
After doing my research, I placed my order and haven't looked back since!
Sleepytime Extra Tea is worth its weight in gold!
It gets the job done!
Why Sleepytime Extra Tea Works

Sleepytime Extra Tea includes the ingredient Valerian.
Valerian is a herb that's a remedy for insomnia.
It's been used since the time of ancient Greece and Rome.
…and for good reason because it sure does work!
It's an all-natural tea that contains no calories.

It's extremely quick and easy to prepare.
You simply boil water, throw the tea bag in your favorite mug, and pour the hot water over.
Let sit for five minutes and enjoy.
I suggest you use 8 oz. of water.
More than that can cause you to wake up and go to the bathroom.
How Sleepytime Extra Tea Helped Me
The first night using it, I noticed an overall feeling of relaxation.
I was able to fall asleep within 10 minutes of lying in bed.
I slept relaxed and peaceful all through the night.
No more tossing and turning.
No more waking up in the middle of the night.
Just peaceful and restful sleep.
I drink it every night before bed.

Every morning, I feel well rested and ready for the day.
I don't know about you, but if I don't get a good night's rest, I pay for it the next day.
The pack of 20 is incredibly cheap and it's the only remedy I recommend for trouble sleeping.
It's natural, healthy, effective, and cheap.
You can buy Sleepytime Extra Tea on Amazon.com here.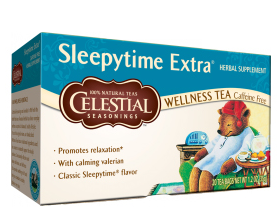 Goodnight!
-Alex