The Real Secret to Success in Anything
I'll never forget that night in my studio apartment. 
I remember lying in bed as my eyes followed the spinning fan above me.
"What is it exactly?" I asked myself.
"What do successful people do that allows them to succeed and others to fail?"
I'd heard MANY different answers from different sources.
Maybe it was due to the fact there are many different ways to achieve success.
…But that wasn't what I was looking for.
I didn't care to know ALL the ways.
I cared about knowing the ONE thing all successful people had in common.
The principle of success that guarantees it.
So I began narrowing down all the commonalities in successful people.
I began asking a series of questions:
Were all successful people over a certain age?
No.
Do they all have successful parents?
No.
Did they all go to college?
No.
Do they all speak English?
No.
This went on for a while…
As I kept narrowing it down, I finally came to a conclusion.
All successful people have ONE thing in common: Consistency.
[bctt tweet="All successful people have ONE thing in common: Consistency."]
"It's not what we do once in a while that shapes our lives, it's what we do consistently"
-Tony Robbins
Successful people are regular people who never quit.
They're consistent until they achieve success, regardless of how many failures they experience.
If it's an athlete who failed to win a championship, he works harder in the gym to win next year.
Michael Jordan failed to reach the NBA finals in 1989 and 1990 due to being defeated by the same team (Detroit Pistons) both years.
After his two failures, he went back into the gym to become an even better player.
He pushed himself to the point where he could guarantee a championship. 
The result?
He carried his team (Chicago Bulls) to win championships in 1991, 1992, and 1993.
Michael won three straight championships and a total of six.
I believe it would've been six straight, or more, but he took time off after his third to go and play baseball.
When he returned to basketball, he won the other three, consecutively.
By the way, I highly recommend you watch a documentary on Michael Jordan.
Hands down, he's one of the most motivational and influential people I've studied.
Look for his high school story where he got cut from the team.
That's right, the world's greatest basketball player once failed to make the basketball team.
"I've failed over and over and over again in my life…And that is why I succeed" – Michael Jordan
I'd watch that video often if I were you.
I've seen it MANY times.
Ever heard of J.K. Rowling?
She's the author of the famous Harry Potter books.
Would you believe her manuscript was rejected 12 times?
That's 12 different publishers who said NO.
It wasn't until her 13th attempt where she finally got a "Yes".
How many people would've quit after being rejected by 3 or 4 publishers?
But she didn't.
She knew consistency was key to success.
She's now a multi-billionaire.
…And I'm sure those 12 publishers are very disappointed in themselves.
Let's take a look at former president, Abraham Lincoln: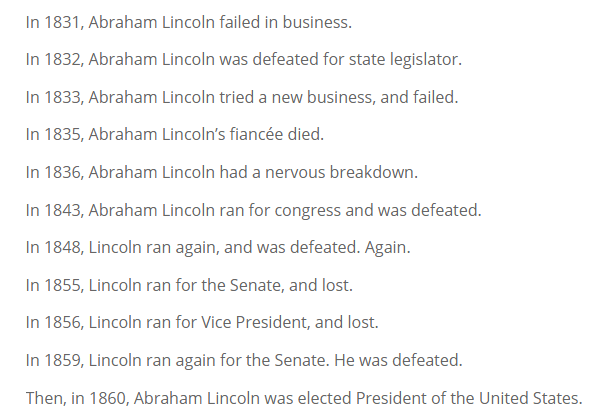 How many would've given up after his defeat in 1843 with all the prior turmoil he experienced?
But he didn't.
Are you beginning to see just how important and powerful "consistency" is?
All three people above had different goals.
…But they all had consistency in common.
It's now also obvious what all people who fail have in common.
…They give up.
When someone tells me they've failed, I respond with, "You mean you gave up."
Try it next time someone tells you the same thing, you'll witness a confused look on their face.
You can't fail unless you give up.
Period.
Since learning this, I've made up my mind to be consistent with any goal I set.
I understand failure is part of the process, and that it's going to happen.
I learned a lot about consistency in the book The Compound Effect.
"What's most interesting about this process to me is that, even though the results are massive, the steps, in the moment, don't feel significant" – pg. 9
Spectacular book!
It explains how all the little things you do today, make a HUGE difference in who you'll be and what you'll have 5 years from now.
And when I say everything, I really mean EVERYTHING.
From the music you listen to, to the books you read, to the people you socialize with, to the small decisions you make which seem irrelevant.
You're slowly but surely molding your future every single day.
Whether you realize it or not, you're already being consistent.
Therefore, you might as well consistently do the things that will bring you what you want.
Does that make sense?
If I can give you ONE piece of advice it'll be to decide what it is exactly you want and then commit to being consistent until you achieve it.
Again, it's absolutely impossible to fail unless you give up.
Nothing worth having will come overnight, it takes consistent effort.
[bctt tweet="Nothing worth having will come overnight, it takes consistent effort."]
"A jug fills drop by drop" – Buddha
We'll talk again soon,
-Alex