Intriguing title, isn't it?
Well let's satisfy your curiosity, shall we?
Grab a coffee and get comfortable, we're about to go deep.
I took a long time writing this article because I set out to make it my BEST one.
I'm very careful with EVERY article I publish.
As you heard me say before – I don't post generic content.
I don't have "filler" in my articles.
Every sentence has a purpose.
Imagine me as a song writer trying to create a "hit" that'll win me a Grammy.
I know how important every single sentence is.
With that said, let's get right into it.
Before anyone listens to what you have to say in your articles…
Before they subscribe to your email list…
Before they buy your E-book (if you have one available)…
They'll have one simple question in mind: Who the hell are you?
And that my friend is a question that can ONLY be answered by hard work and dedication.
What do I mean?
Pay attention as I teach you a thing or two from my own personal experience.
Let's start from the beginning…
Let's say you searched the web for: "How to write articles that resonate with your readers."
I pop up in the search results and you proceed to click on my website link.
Now you're here, inside Inertia Will Hurt Ya….Welcome!
First things first…
Who the hell am I and why should you "trust" what I have to say?
Why should you take me seriously?
What level of validity does the information in my blog have?
Whoa!
Those are some "intense" questions, huh?
How the hell can I answer all of them?
Better yet, how can I answer them FAST so that no level of doubt enters your mind?
Appearance.
You got that, my friend?
The answer is appearance. 
So what the hell is "appearance" anyway?
How your blog looks, what it communicates, and how people feel when they land on it.
This doesn't mean you need to purchase an expensive theme or display "cool" pictures and a ton of different colors all over.
This means your blog goes STRAIGHT to the point.
There's no confusion, no clutter, no mess.
Your blog is FILLED with helpful and useful content.
Let me ask you a question…
Do you trust a doctor because he knows ONE thing in the medical field?
No, you trust him because he is certified and knows a lot. 
You feel safe.
Now…
If I come to YOUR blog and you have 6 articles available, how serious am I supposed to take your advice?
How knowledgeable do you think you come across to me?
Do you think I perceive you as someone smart and trustworthy?
Better yet, do you think I perceive you as an authority in the subject?
NO.
"OK Alex, but what do you want me to do? I have to start somewhere. I don't have over 160 articles like you!"
Relax, my friend…
Breathe…
Feel better?
Let's continue!
The point I'm trying to make is that before anyone takes you seriously, you need to have A LOT of content to offer them.
Not only will you need to have a lot of content, but it will also have to be unique and of quality.
You know what that means, right?
You will have to devote time to your blog.
Let's take a quick look at my blog.
Here's what people see when they land on it.
Let's say someone searched Google for "How to drive traffic to your blog".
Once I pop up and they click on my website, here's what they'll see…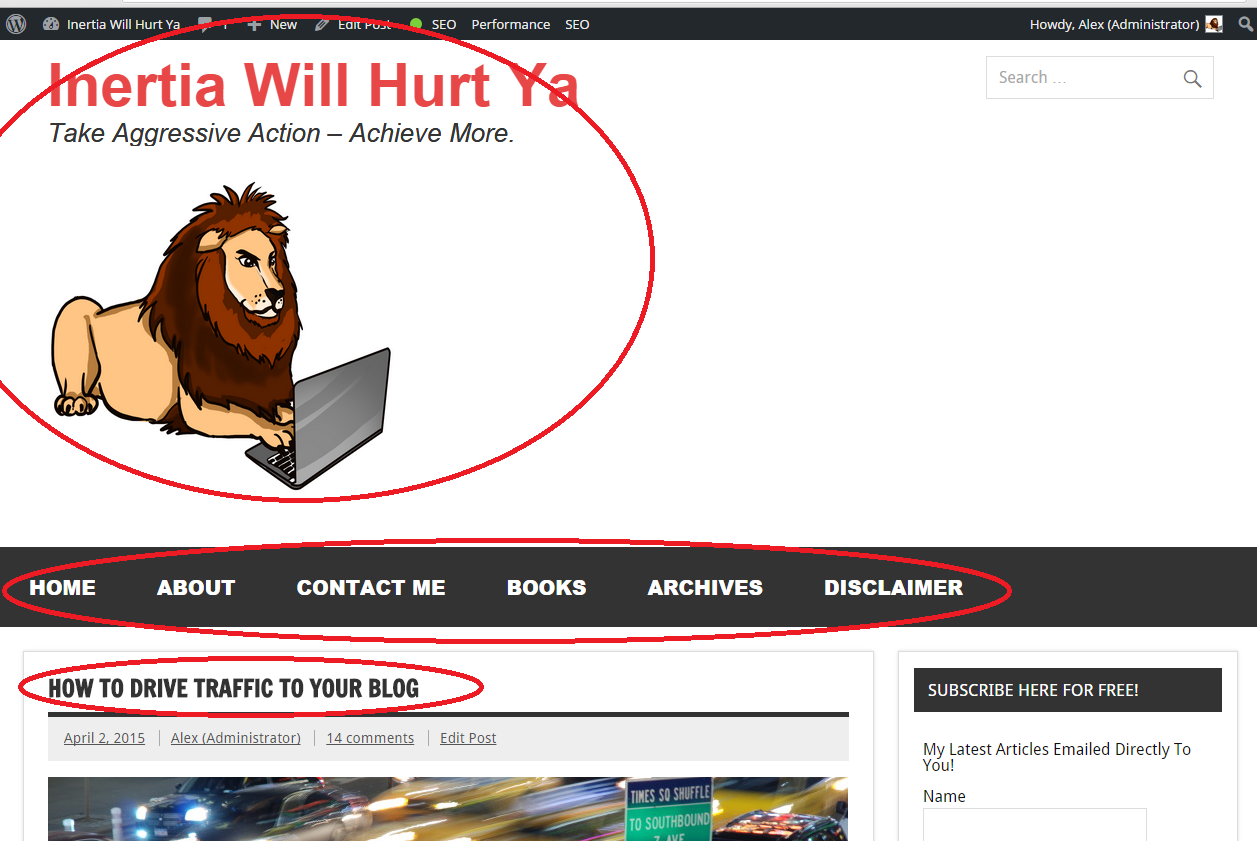 First of all, what the hell is this website?
Well, from the looks of it, it's a motivational site about taking action.
Inertia will hurt ya = not taking action will bring you pain. 
Take aggressive action – achieve more = here's a little motivation to give you a "boost" and actually apply what we're going to learn in the article.
Then we have my website logo which is a lion working on a laptop.
That clearly demonstrates "aggressive action".
We also have a menu bar that offers a home, about, contact, etc. tab.
This clearly communicates:
"Hey, if you want to learn more about who I am or would like to contact me, you're more than welcome to."
And last we have….
How to drive traffic to your blog = now you're about to learn what you came here for.
Not bad, right?
Do you see anything unnecessary here?
Pictures, pop-ups, music playing, etc.?
NO.
Everything is neat, clear, and to the point.
Your eye knows where to go and your brain clearly understands what's going on.
Let's scroll down the page a little…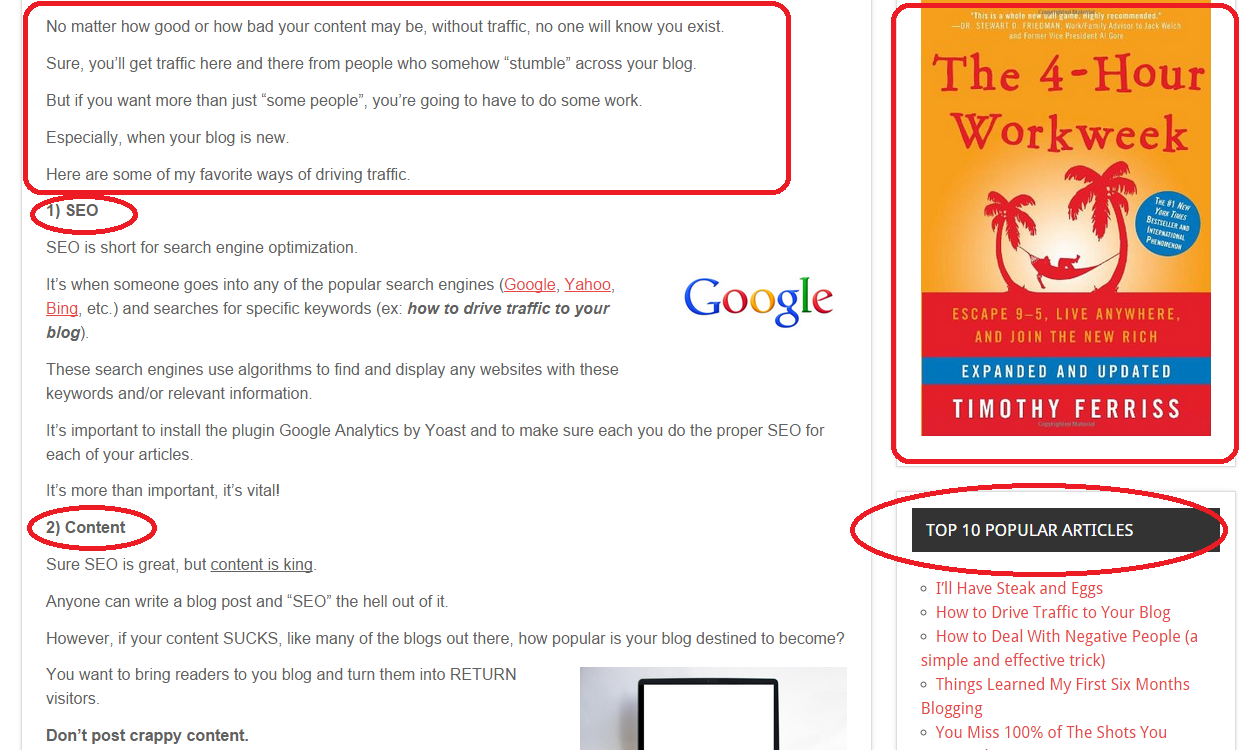 How did I start the article?
Educating a little on the importance of "traffic".
Next, I get straight into the good stuff: SEO, Content, and so on.
So far, I'm doing well and the reader is engaged.
What do we see to the right?
A book I recommend and a "widget" displaying my top 10 articles.
It's clear that this website offers additional content.
Not just for the question of "driving more traffic", but for other topics as well.
Interesting enough, this all happens very quickly.
If you study online marketing, you'll learn how quick people make decisions about your blog.
In the first five seconds, they learn things both consciously and unconsciously.
And guess what, my friend?
Those five seconds are VITAL for your blogs success.
Let's scroll down a little more…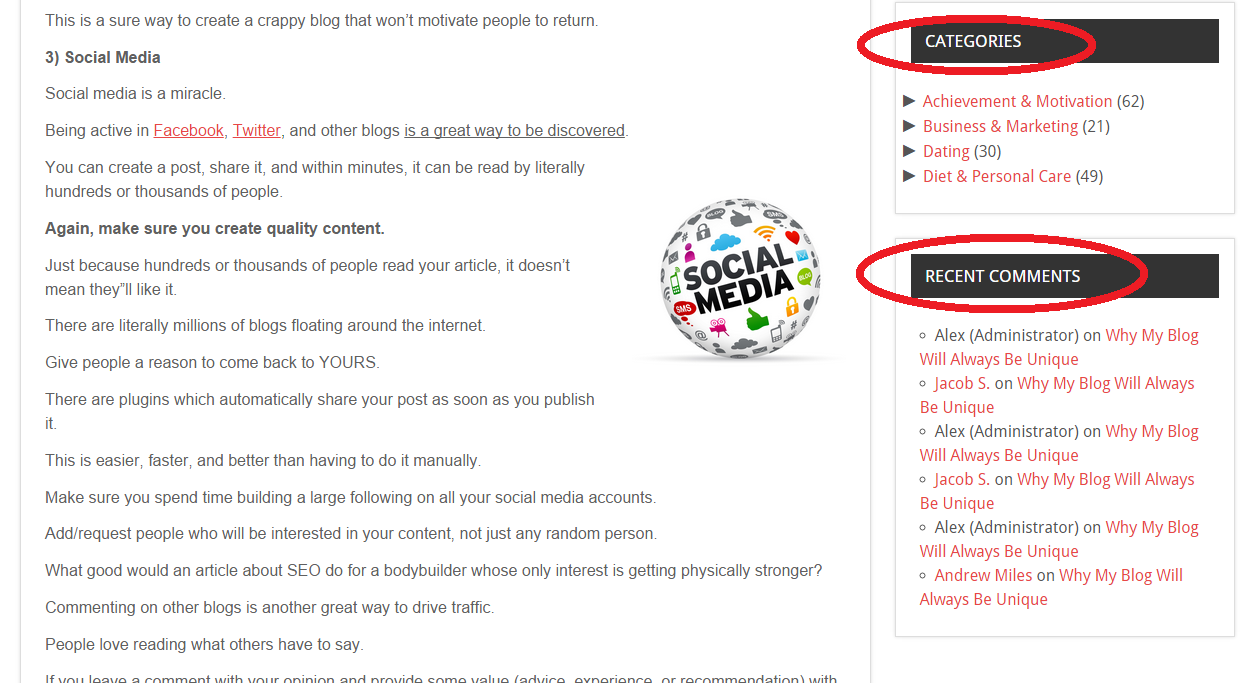 Ahhhh….
Ok, now things are getting a little more interesting.
We see four different categories each containing A LOT of articles.
It's safe to say that this is NOT some random blog with no validity that you just stumbled upon.
This blog has a lot of information and delivers a clear message: "Hey, I'm here to help you!"
This blog has a purpose.
…And what is that purpose? 
To motivate and educate.
What else do we see?
A "recent comments" section.
What does that do?
It clearly communicates that there's "life".
People are here, people are reading, and people are interacting.
NOTE: DON'T CREATE FAKE COMMENTS FOR YOUR BLOG.
I did a call the other day with a couple bloggers and one of them mentioned the whole "fake it until you make it" thing when it comes to comments on your blog.
I HATE HEARING PEOPLE SAY THIS!
What I hear when these words come out of someone's mouth is: "Scam people until you make it".
In a respectful tone of voice, I quickly jumped in and said:
"Fake comments will make Google spam your website. Not only are you not being authentic with your audience, but you're hurting your search rankings."
…he stayed quiet.
Google knows if the traffic or comments on your blog are authentic or spam by their IP address.
Trust me with this so you don't find out the hard way.
I have NEVER posted a fake comment nor have I ever asked anyone to comment on my articles.
Everything about this blog is 100% authentic.
I'll go and comment on other blogs and ultimately they'll come back and comment on mine.
But harass people and beg them to comment on my articles?
No thanks.
How would you know if you're making progress if all your comments are fake?
That you're actually writing quality content that helps people and keeps them coming back?
I get emails DAILY from people offering to send a ton of traffic to my blog.
Spam traffic ultimately results in spam (fake) comments.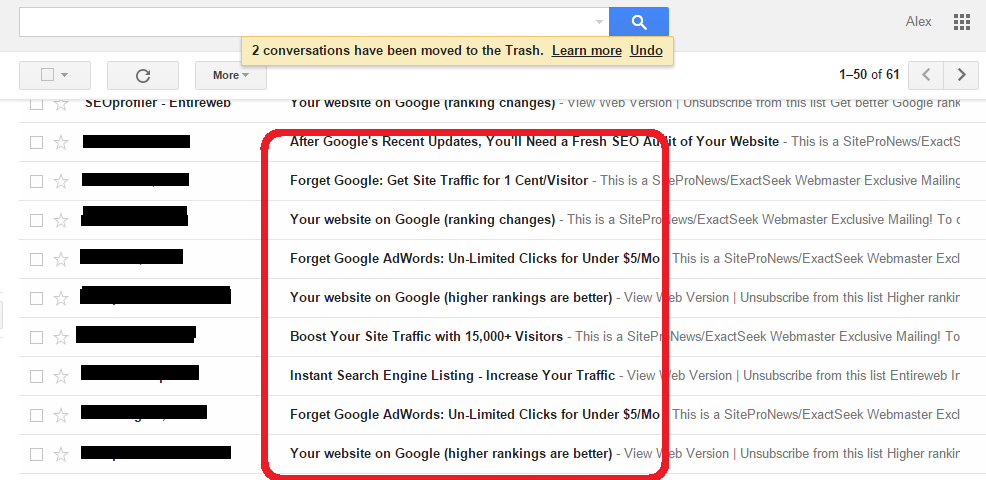 One by one, they get deleted.
Be authentic, learn, improve, apply, make progress.
You want real and honest comments, you have to EARN them.
…And how do you do that?
By writing quality content that actually HELPS people.
Fake it until you make it?
Get the hell out of here.
Back to the article…
Do you see how my blog communicates validity?
There's a purpose, there's a lot of content, and everything on the page is easy to find.
Obviously, this blog has been worked on for a "couple of minutes", it wasn't created yesterday.
The writer (that's me) has spent time making it user friendly, providing quality articles, and motivating you to actually apply what you learn.
So now that we got that out the way, let's go back to YOU.
What's the overall purpose of this article besides answering the question "Who the hell are you"?
What motivated me to sit down and write this 2500 word article?
Can you guess?
The answer is "patience", my friend.
There is no way in hell you're going to create over 160 quality articles in the near future.
It's going to take TIME.
Of course, the amount of time you dedicate daily will determine how quickly you get there.
…But you can't expect your traffic to be HIGH and steady when you barely have any content.
You can't expect readers to return if your content is boring and doesn't offer anything new.
For me or anyone else to take you seriously and trust you, you need to provide A LOT of content that delivers results when followed.
…And you need to provide it often.
Take a look at the website below I stumbled upon.
Tell me honestly, does it motivate you to:
A) Buy their book
B) Return in the future
Note: I don't have intentions on hurting anyone's reputation/success so I blacked out all necessary information that will allow anyone to find or go to this person's website. The intention is to make an example, not harm anyone's success. For all I know, this blog belongs to someone who's just starting out and still learning. However, the reality is that this blog looks like it was made 10 minutes ago.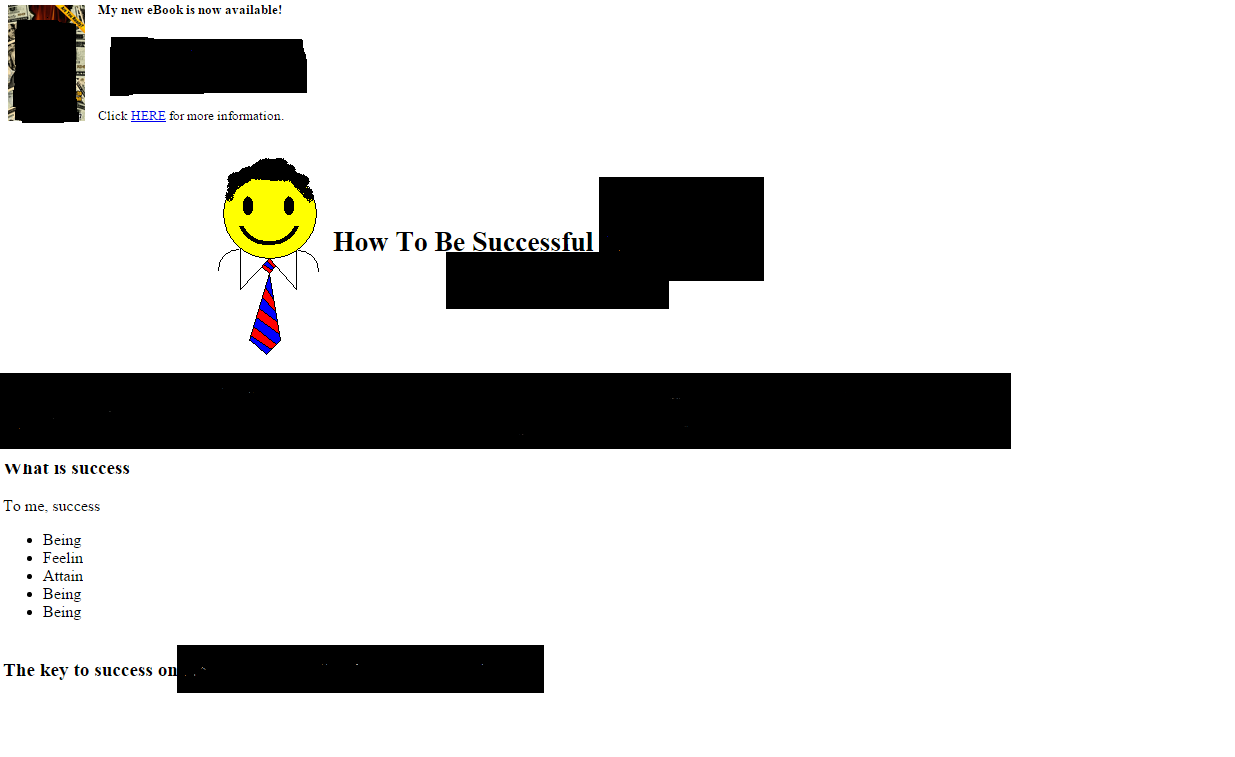 What's wrong with this website?
It offers generic information (I cropped out a lot of the content for the same reasons I mentioned above), a picture that looks like a kid drew in the paint program on the computer, and worse of all, there's no additional value!
There's no collection of articles.
There's no comment section.
There's no "contact" or "about me" tab.
There's basically nothing!
Why in the hell would I buy the book or ever come back to this site?
Better yet, forget coming back, would I even remember this site?
Is anything at all memorable?
NO.
Now, it's not to say that this person doesn't have good intentions.
This person might really be interested in helping other people.
…And the book offered for sale might actually be worth reading.
But that's not what people FEEL when they land on this website.
Are you with me?
Perception is everything!
Now, I don't know how long this website has been around, but I'll tell you one thing, it isn't going anywhere anytime soon.
Does that mean it never will?
Of course not.
A couple modifications and it can be turned around.
Take a look at your blog, and when I say "take a look", I mean REALLY look at it.
What does it say to people who land on it?
What did you offer the new person that came to your website today?
What can you do to make it better (change fonts, add/eliminate pictures, widgets, ads)?
How's your content?
Does it sound authentic, interesting, motivating?
Is there information overload on the page? 
Information overload frustrates the reader which results in them leaving.
What's information overload?
When you have a bunch of unnecessary information, widgets, and selections.
If the eye doesn't know where to go, the reader gets confused.
Answer me this – Who the hell are you?
Want to know who the hell I am?
I'm a personal development blog that motivates, educates, and provides quality articles, regularly.
I work hard to make them as informative and entertaining as possible.
I have four categories offering plenty of articles which are updated regularly. 
I'm here to help as many people as possible in an authentic and ethical way.
That's who I am!
…And that's who I'll always be.
I've studied what keeps people on my website and what makes them leave.
Interesting enough, a lot of the things I learned are counter-intuitive.
I use to think:
"Well I need a kick-ass theme with a bunch of pictures and information posted all over the landing page so my blog looks interesting and informative".
Funny enough, that's the WORSE thing to do.
Again, if your readers eye has too many choices (distractions) and doesn't know where to look or in what order, can you guess what they'll do next?
Here, I'll show you….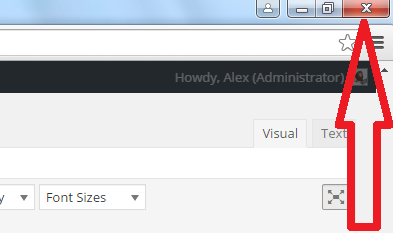 Who are you and what do you want to be?
Write it down.
Not later, not tomorrow, not next week; write it down right now!
Did you do it?
If you did, you're serious about your success.
…But if you didn't, I can't help you.
Research, learn, and apply as much as possible until your website clearly demonstrates what you want it to.
Work on your blog daily like me until it's filled with great content.
You have no right to complain about your blogs "status" until you have at least 100 quality articles.
I didn't know anything about starting a website, I didn't even know what the hell "WordPress" was.
Honestly, it sounded like a damn printing company the first time I heard it.
But I studied.
…And I learned.
…And I applied.
As a result, I continue getting better every single day.
But don't get the wrong idea, it's not because I'm some "blogging genius".
It's simply because I did the work and now reap the rewards.
And guess what?
I'm far from satisfied.
I can almost taste the success level I want to be at.
I'm like a lion with a huge juicy steak (desired success level) dangling by a rope over my head.
I want it!!!!
I'm salivating…
I'm making effort to get stronger DAILY so I can jump higher.
…And every day, I jump a little higher.
I'm almost there!
And when I get there, I'm going to enjoy it more than anything in the world.
Why?
Because I earned it.
I want more, and I'll continue doing what I'm doing so I have more.
My traffic is good but guess what?
I want more.
My website is good but guess what?
I want more.
Do you want more?
Have you researched ways to make your blog more user friendly?
Have you studied how to write better?
Have you forwarded your content to friends and family and asked for honest feedback?
Hell, send it to me, I'll read it, no problem.
If you can log into my website, then you can learn EVERYTHING I did.
But there's no secret shortcut.
I can share my knowledge but only YOU can do the work and achieve the results.
I want this article to motivate you to never give up, especially if you're just starting out.
The internet is lacking good bloggers.
There's millions of bullshit blogs jam-packed with ads and horrible content.
But….
Blogs with stories…
Blogs that educate and inspire…
Blogs that have set out to change lives and help those in need…
That's what we need more of, my friend.
And guess what?
I can't do it alone.
I'd love to but YOU need to help me.
I know a lot of things and I have plenty of information and stories to share with my readers.
However, there are stories and experiences that YOU have which I can't offer others.
…But if you never write and share them, then no one can benefit from them.
Right?
This was a long article, so review it, take notes and strive to become better every single day.
You need help?
You have a question, doubt, or concern?
Then email me.
I'm here!
We'll talk again soon,
-Alex