1) Google Keyword Tool
Yes, the quality of your content is what matters most. However, every single article should have a title containing "keywords" that get searched for in Google. In other words, if you write an article on "building muscle" and choose the title "How to build bigger biceps fast"; you'll want to make sure that people are actually typing in those exact keywords into Google.
Most of the time, changing just one word in your title can result in 1,000s of more searches and visitors. Again, the quality of your content is vital, but do research before choosing a final title. You can learn more about the Google Keyword Tool in my article 3 Secret Steps I Follow to Make Money with Niche Websites.
2) Update Your Blog Regularly
Do you want search engines to rank your blog HIGH in their search results? Then you better give them a reason to! Updating your site on the regular tells search engines that your content is fresh, relevant and worth sharing with people.
Remember, when people search Google for information, Google wants to provide them with the best possible answer. Create good content, update your blog regularly, and you'll be more than fine. This can be as simple as writing one article per week. However, you can probably get away with writing less often and still be seen as relevant in Google's eyes. Just don't get too lazy and start publishing once a month. The only website's that can get away with this behavior are those that have been around for a while.

3) Use "ALT" in Images
This one is obvious but I've shared it with many people and they told me they didn't know about it. You should include 3-4 images (more if possible) in each of your articles. Click on the picture to edit it, and in the "ATL" section, enter the title of your article.
So let's say you have an article "How to lose 20 pounds". If someone searches for those key terms but decides to search by images instead of content, your picture will pop up in the search results. People will click on your picture and be redirected to your website. You can't afford to miss out on "images traffic". Make sure you fill in those "ALT" sections!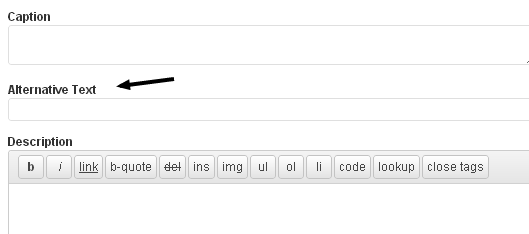 4) Twitter
This one shouldn't be a surprise. However, most people don't spend
enough time on Twitter. Just because you started a profile doesn't mean the work is done. You must log in daily and interact with others. Add new followers, share your content, comment on what other people share, and so on. In other words, let people know you're ALIVE!

The more you interact on Twitter, the more followers you'll get. The more followers you get, the more traffic you'll get. It's that simple.
5) Facebook
Your blog should have its own personal Facebook page. So if your current Facebook shares your blog's new content as well as you and your friends eating ice cream at the park; it's time to make a new one.
The only thing you should be posting on your blog's Facebook page is content from your blog! Make sure you spend time on it as well and add followers. Oh!..and don't just add whoever. Try to find people in forums and groups that would be interested in your blog's content. Adding 5,000 friends is pointless if none of them care what you write about.
…And if you're posting your new content and getting no shares, then it's a good sign you're adding the wrong people.

6) Link Exchange
Link exchange is where you contact another blog who is doing as well or better than your blog. In other words, they receive good traffic and have a decent size audience.
Basically, you ask them to include a link in their website that redirects back to your blog (a backlink). As a thank you, you do the same and post a link back to their blog in one of your articles. When a quality blog includes a link to your website, it tells the search engines your blog is "popular" and worth sharing with people. The result? They rank you better in the search results.
Important: You'll want to tell people who you're exchanging links with that you would like to have your link on an article where no other links are included. Google is getting smarter every day and they've figured out that a bunch of blogs are making a whole page dedicated to link exchanges. When the Google Algorithms scan a page and find your link next to a bunch of other blog links, they'll know what's "going on". 
7) Send Articles to People With Email List
You just wrote great content? Then share it! Share it everywhere! With everyone! You might think that emailing people and asking them to share your content isn't a good strategy. That people don't want to "share" their readers with you…
News flash: Most blogs would love to share quality content with their readers. Why? Because the more great content they provide them, the more they'll stick around and come back to their blog on the regular. It's a win-win situation for both of you. Just leave a link to your website at the bottom of your article and you're good to go. Remember, you have absolutely NOTHING to lose by emailing someone the following:

"Hey, I just wrote this great article and think your audience will enjoy it. Feel free to share it with them. Thanks!
-Alex."
Worst case, they'll delete your email (who cares?). Best case, they'll share it and you'll get traffic and possibly new subscribers. See how easy?
8) Guest Post on Other Blogs
You know someone who gets a lot of traffic and has an audience? Great! Offer to guest post for them. Now, it's important to note that a lot of people don't allow this. Many people like to have that "one on one" conversation feel to their website (like me). However, there are people who do allow guest posting. You write ONE great quality article for them and that will bring you traffic as long as their blog exists.
Here's an example of "guest posting" by my internet buddy, Tara Moore, writer of The Rational Rebel:
How to Tell if a Girl is Into You
9) Use Long Tail Keywords
Long tail keywords usually have less competition. This means that when people search for them, not too many other blogs have written about them. This makes it easier to rank for them in search engines.
So if you're writing an article on "How to date more women"; you might want to do research in the Google Keyword Tool and find a longer keyword that also gets searches for but has less competition. Maybe you'll find that "How to date more women in Miami" might also get a lot of searches but no one has written an article with those keywords. It's A LOT easier to rank for keywords with less competition than short tail keywords with a lot of competition. Go and write an article titled "How to make money online" and chances are you'll win the lottery before ranking on the first page of Google for those keywords. It's too saturated.

10) Podcasts
The reality is that some people simply don't like to read (Shocked? Yeah, me too). Some people claim they just don't have the time. Podcasts are great because people can listen to them in their cars, while working out, or even when sitting through a boring movie (ha-ha!). If you create quality podcasts, regardless of whether people like to read or not, they'll come to your blog to see what else you have to offer. Chances are they'll read an article or two. I will be recording my first one within the next couple of weeks because I've heard over and over how people witnessed their traffic increase when they began releasing podcasts. 
11) Craigslist Ad
This is a simple technique that works well. Basically, all you do is set up a Craigslist ad explaining that you might consider hiring people to guest post (or anything else) on your blog. People visit your blog and then contact you with their offer.
Whether you accept their offer or not, they'll still come and check out your website on the regular if they like what you write about. Just be ethical with this and say what you mean. You can get creative with Craigslist ads and make a ton of different offers for your blog. Make sure to explain in your ad what your website is about. This way people who are actually interested and know about your content will visit your website. The last thing you want is a bunch of people coming to your website is leaving quickly. This results in high bounce rates which will hurt your rankings in search engines.

12) Offline Advertising
What, you're too cool and only do networking online? Well guess what, offline advertising can work extremely well. You can create really attractive flyers or business cards and leave th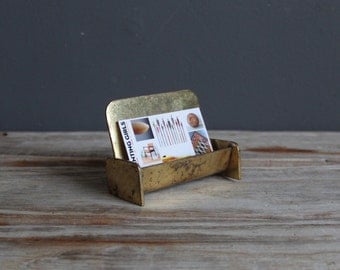 em anywhere a lot of people hang out.
Go to Starbucks and ask if you can leave a few business cards. People will grab them to look at while they wait for their coffee. If you create an enticing card/flyer, people will be intrigued to visit your website and learn more.
You can also post flyers in bulletin boards all over town. The point of this strategy is that you have nothing to lose! If you're going to get coffee, you might as well leave business cards. If you're going to the library, you might as well leave a flyer on the bulletin board. Sounds like an outdated strategy for traffic? Sounds like it won't work? Just try it and see what happens!

13) Tumblr
Tumblr works incredibly well.Tumblr allows you to put your content right in front of the exact audience you want. You're really missing out if you're not using it. You simply create a profile, follow people who are interested in your website's content, and then share all your content with them. Then, they go and re-share it with all their followers.

14) Comment on other blogs
This is a sure fire way to get more traffic. You leave a comment of value that educates or helps the reader. Most blogs allow you to enter your name and website link when leaving a comment. People read your comment, decide they want to learn more of what you're about, and click on your name to visit your website. You should be commenting on a minimum of 30 blogs a day. Sounds like a lot of work? Do it and you'll see why it's important. Most readers will tell you they found your blog from a comment you left in another blog.

15) Comment in Forums
People love to talk (especially online) and forums is one of their favorite places. Look for forums that are relevant to your blog's content and make sure to comment often. Respond to people who express their opinions. Give them feedback on whatever they say. Ask a question of your own. Any of these can work, but just do something! The more comments you leave, the higher the chances of more traffic to your blog.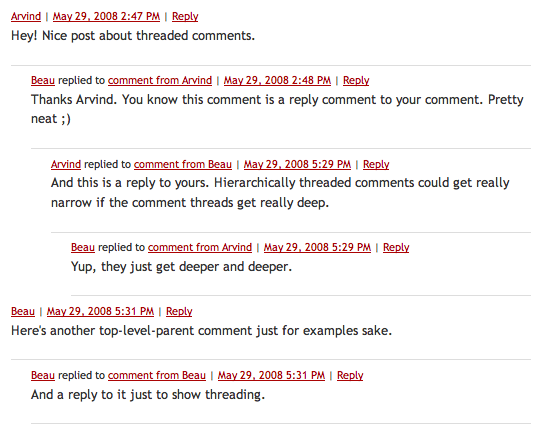 16) Social Share Buttons
At the end of each and every one of your articles, you MUST give people the ability to share it with all their friends with a single click. There are many plugins that allow you to display the social buttons on your website.
Always double check that all of your articles display social buttons after you publish them. If you write good content that inspires, motivates, or helps people; there is a big possibility they'll want to share it with their friends. Clicking a social button makes things a lot easier (and more likely) for people than having to copy and paste the link to your article.
17) Write a lot of Quality Content
And finally, the more quality content you create, the more Google and other search engines will index your website, and the more traffic you'll get. However, unless you're working 24 hours a day, 7 days a week, creating a lot of quality content will take time. You know what that means right? This doesn't happen overnight. Just keep writing!
Remember, the most important thing to achieve success with your blog, to drive a lot of traffic and return visitors, is patience. This (like anything else) takes time. However, if you're patient, persistent, and hardworking; your success will come. And trust me, it's worth waiting for.

We'll talk again soon,
-Alex