My first six months blogging was one of the MOST rewarding experiences in my life.
I learned many things about myself that I would've probably never discovered.
For starters, I learned that I absolutely love writing.
I can sit down for hours and just write, write, and then write a little more.
The words tend to pour out of me.

I also discovered my learning style.
I'm constantly doing research on ways to make my blog better for my readers.
I learned that I acquire the most knowledge from watching information videos.
The result? – I'm a visual learner.
Most importantly, I learned that helping people provides gratification far beyond imagined.
When I receive a comment or email from someone telling me how much my content helped them, it's an unbelievably rewarding and fulfilling experience.
I'm going to go into detail on additional things I learned that you can implement on your blog.
I've received emails from people asking me to look at their blog and advise them on changes they should make and things I feel they are doing both right and wrong.
I'm going to answer the most popular questions as best as possible in this article.
Let's begin…
Patience
Without this one skill, you can forget all about blogging.
It does NOT happen overnight.
No matter how good your content may be, your blog will be as lonely as one of those gas stations in the middle of the desert.
In order for people to FIND YOU and for your blog to become "popular", you have to be patient.
I admit I experienced success fairly quickly.
But I honestly and humbly believe it was because I worked my ass off!
It was two weeks from the day I launched Inertia Will Hurt Ya that I began receiving comments and emails from readers.
Keep in mind, I worked HARD.
I wrote great content, spent MANY hours editing, and then went and posted it on social media (Facebook, Twitter, StumbleUpon, Reddit, Ezinearticles, etc.)
I also commented on other blogs that wrote content similar to mine and networked with other bloggers.
I didn't just write an article, post it, and stare at my traffic status hoping people would "somehow" find it and read it.
I knew I didn't have any readers yet.
I knew NO ONE knew what the hell Inertia Will Hurt Ya was.
So I went and made sure I was discovered.
And guess what, my friend?
I was found.
Little by little, word got around of Inertia Will Hurt Ya, and now I have an audience.
And every day, that audience continues to grow.
But just because it continues to grow, it doesn't mean it's anywhere near where I want it to be.
I'm still very far from my goal.
However, I remain patient.
I continue learning.
I continue writing.
I continue growing.
Don't set yourself up for disappointment.
If you start a blog today, give yourself a minimum of a year before giving up.
Better yet, never give up.
Keep making changes and learning until you find the right formula.
And believe me, you will find it.
Profit
You'll hear the claims all the time that sound like total bullshit.
"I earn $20,000 monthly from my blog".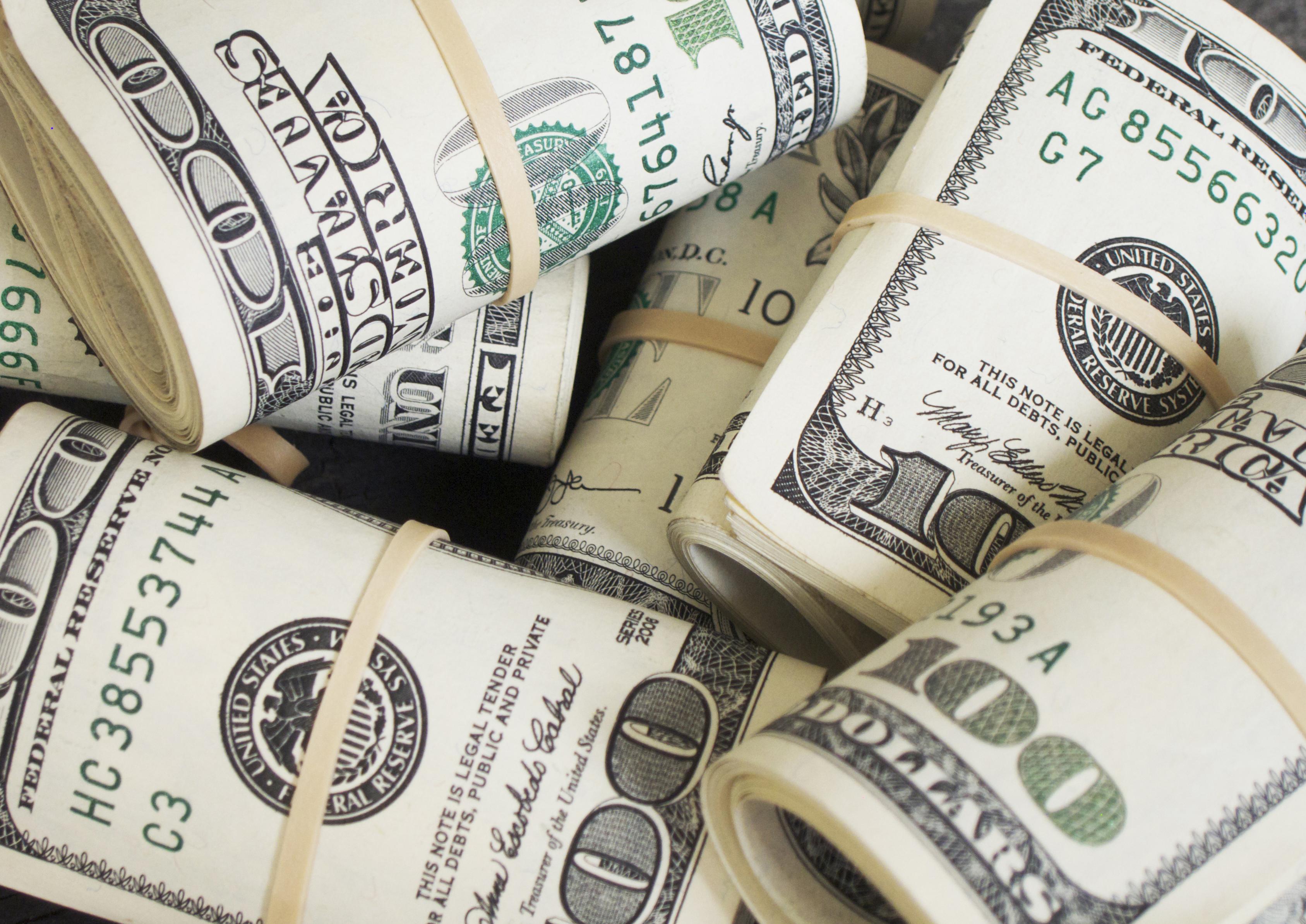 Does it catch your attention?
Of course it does!
Who wouldn't mind earning $20,000 monthly from their laptop working from basically anywhere in world?
Are these claims fake?
Maybe, maybe not.
There are people earning tons of money from their blog but those who are have been working at it a LONG time.
To get to that level, you better prepare yourself to work very hard and make the necessary sacrifices.
Now…
Working hard isn't the problem.
If anyone knew for certain that they would earn $20,000 monthly if they work hard for 3 years, I would guess that 95% of people would do it.
But that's the thing, there is no guarantee.
Well, let me be the one to tell you that it is VERY possible to earn money from a blog.
How do I know?
Because I have earned money my first six months blogging.
I couldn't believe it when it first happen.
I made commission from a sale for a book I recommend to my readers.
I remember telling myself – "Wow, this is real".
Something that I thought only happened to "lucky people" started happening to me.
If you do the work, you WILL earn money from your blog.
All things considered of course.
If you recommend a book or product that has no value, and your readers buy it; you can expect your blog to go NO WHERE!
Being Authentic + Helping People + Patience =  Successful Blog
Commitment
Besides patience, if you want to guarantee success with your blog, commitment will do it.
If you commit to posting a minimum of one article weekly, your blog will grow with time.
Now, this doesn't mean you sit down and write some generic article on "How to change your life".
This means you sit down and write an article that not only provides information on how to solve a problem, but that is also interesting.
Use examples and tell a story in your articles.
Boring articles without a story tend to lack emotion and don't resonate with your readers.
People want to be entertained as they learn.
If you're going to learn ONE thing from this article, make it that last sentence.
If you can write content that is entertaining and informative, my friend, you're heading somewhere.
How do you write content of this nature?
After you have an idea and an outline of the article you want to write, you turn it into a story.
Example:
"I always had trouble taking action. No matter what I did, I would convince myself to do something unproductive instead. How did I fix this problem? I gave my friend a check for $500 and told him to check up on me daily. As soon as he found out that I did not take action on any given day, he could cash the check. You should have seen how EAGER my friend was for me to mess up. He was salivating over that $500 check. However, interestingly enough, his persistence and hope of me failing MOTIVATED me to take action. Not to mention, losing $500 bucks would hurt WAY more than not taking action".
Do you see what I did there?
I created a article/story filled with information on how to make yourself take action.
If you write boring content like: "You must force yourself to do it, just believe in yourself".
How much success do you expect to have?
Does content like that sound like it's going to motivate anyone?
Will people return to your blog for additional motivation, knowledge, and inspiration?
The chances are slim to none.
Traffic
If there's one thing you need to have patience with when it comes to your blog, it's traffic.
I know you want to be like your favorite blog and have over 50,000 visitors daily.
Can you achieve that goal?
Of course you can!
But are you willing to work and be patient until it becomes a reality?
Or are you going to give up because you've been writing for a month and still don't have 50,000 daily visitors?
Again, patience and commitment is vital.
I wrote an article a couple months ago called The Vicious Viking.
In it I mentioned how much my traffic had increased from just 100 monthly visitors to 1605!
How and why did that happen?
Because I kept learning, writing, promoting my blog, and remained patient.
What do I continue doing today?
Learning, writing, promoting my blog, and remain patient.
There is no secret to success, just vital steps to follow.
Interesting enough, by being committed and patient, look at my current monthly traffic: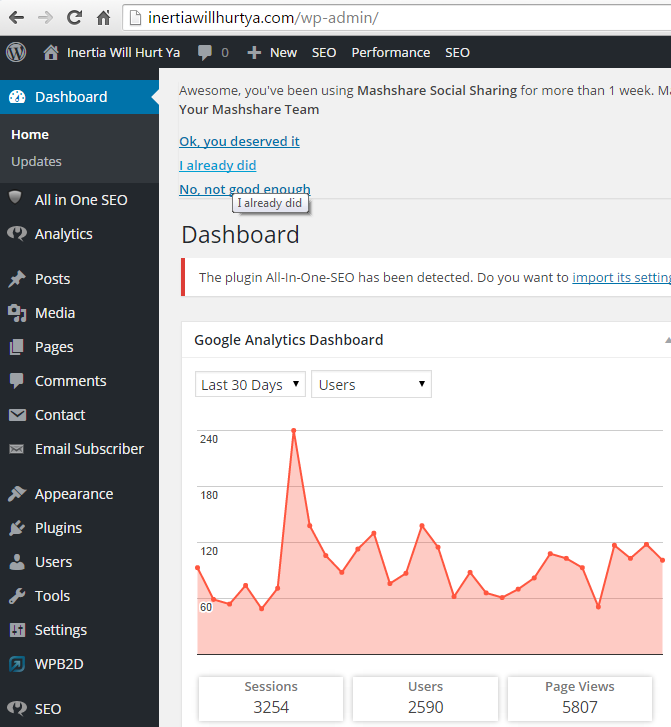 I've gone from 1605 visitors to 2590!
According to Alexa.com, my bounce rate is good and the average time spent by readers on my blog is great!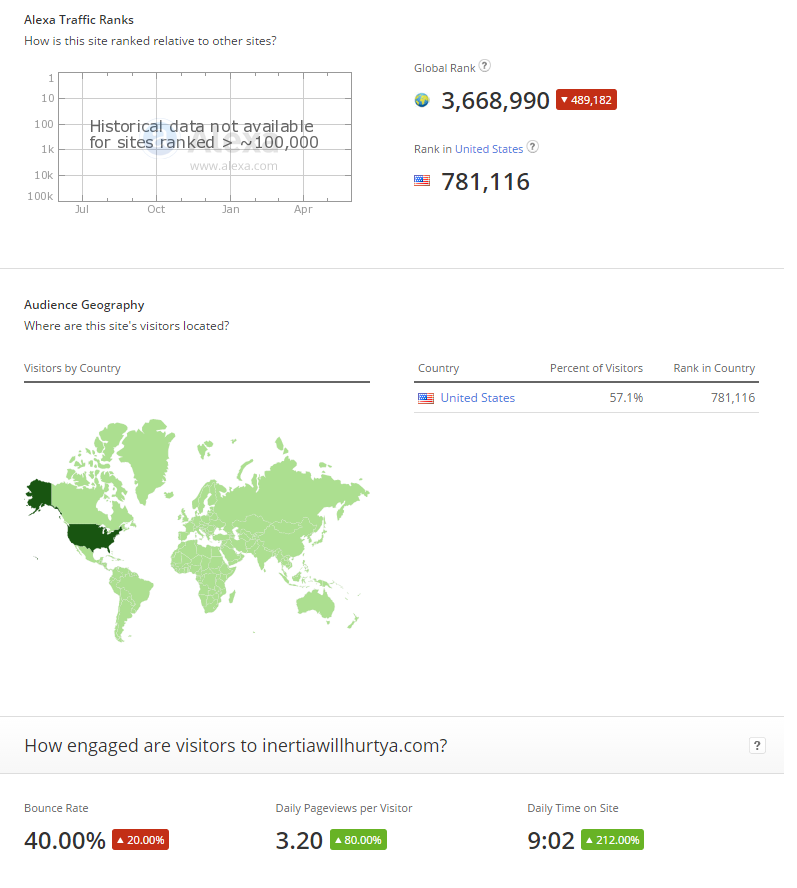 Just over 9 minutes!
That my friend, is progress.
Do you to see just how valuable being committed, working hard, and being patient can be?
Important: Don't pay for traffic!
This is something that I have mentioned before.
Paid traffic is usually spam.
This results in visitors who have NO INTEREST in your content being redirected to your blog.
What happens when someone who's NOT interested in your content gets redirected to your blog?
They leave.
What happens when MANY people (paid traffic) come to your blog and leave quickly?
You get a high bounce rate.
Blogs with high bounce rates are considered spam by Google.
If you're trying to improve your traffic, the LAST thing you want is Google thinking your website is spam.
You want your traffic to come from people who are looking for answers you can provide.
If you're searching the web for ways on "How to build more muscle" but get redirected to a blog on "How to raise kittens", what would you do?
…Exactly.
I'm sure I made my point clear.
If you want your traffic to increase continuously like mine, and you want that traffic to be authentic so your bounce rate remains low, you must do things the right way.
There are no short-cuts for a successful blog.
Those who work hard and do things right, will be successful.
Those who try to cheat the system will inevitably fail.
I can't begin to tell you how shocked and content I am with how much my traffic has increased.
I remember months where I had a total of 20-30 visitors.
That's literally about ONE person daily.
How many people would have quit with those kind of numbers?
But I didn't.
And I don't want you to either!
Go to Hostgator.com, buy your domain name and host it, and begin your blog.
If you already have your blog set up, continue to create AMAZING content and remain committed.
Your success is on its way.
The question is: Will you wait for it?
…And once it arrives, will you release the beast inside and take ALL the success you deserve?
We'll talk again soon,
-Alex