Whether you're in your early or late 20s, there's one thing you can count on.
The big "30" is coming.
Depending on where you are in life and how you feel, that's either good or bad news.
I turn 30 next year in March.
And I couldn't be more excited.
Why?
Because I'm accomplishing all my goals and taking care of myself both physically and mentally.
You see…
Age really is nothing but a number.
It's all in your mind.
How you feel, act, and think.
Turning 30?
No big deal.
Feeling lost?
That's a problem.
But there's a solution.
…If you're willing to find it.
(Read The Alchemist by Paulo Coelho)
I learned a lot in my 20s.
As they come to an end, I'm proud of how things turned out.
Sure, there's a lot of things I'd do differently if I could go back.
But no reason to dwell on that.
Let's focus on the good.
Let's make things better than they are.
After all, the best is yet to come.
Life is just getting started.
Below are the 30 things every man should do before turning 30.
Let's jump right into them!
1) Fight
No, I'm not telling you to shove the next guy you see on the street.
Starting a fight is stupid and could lead to all sorts of problems.
What I'm telling you to do instead is join a boxing gym, MMA, or other form of self-defense class.
The reality is that most guys are scared to fight.
This fear is normal.
Having someone hit you in the face is no day at the park.
However, once you experience it, you learn that it's really no big deal.
In the moment, adrenaline rushes through your body like a cold chill.
You'll be nervous.
Shortly after, you realize you're not going to die.
And it's in that moment where the fear gets eliminated.
If the thought of fighting scares you, it's time to do something about it.
Fear affects you in ways you'd never imagine.
We men are hard-wired to protect women and children.
But if you developed the fear of fighting during your childhood, it's going to bother you.
You're going to feel like less of a man.
And I know you think about it.
Now it's time to do something about it.
Again, don't start a fight on purpose.
Try your best to avoid it at all cost.
Fighting can land you in jail or cause you and the other person serious injury.
But…
You need the peace of mind that in case it were to happen…You'll be ready.
When you're walking down the street and know you can defend yourself, you're a different person.
It makes you a better man.
Trust me.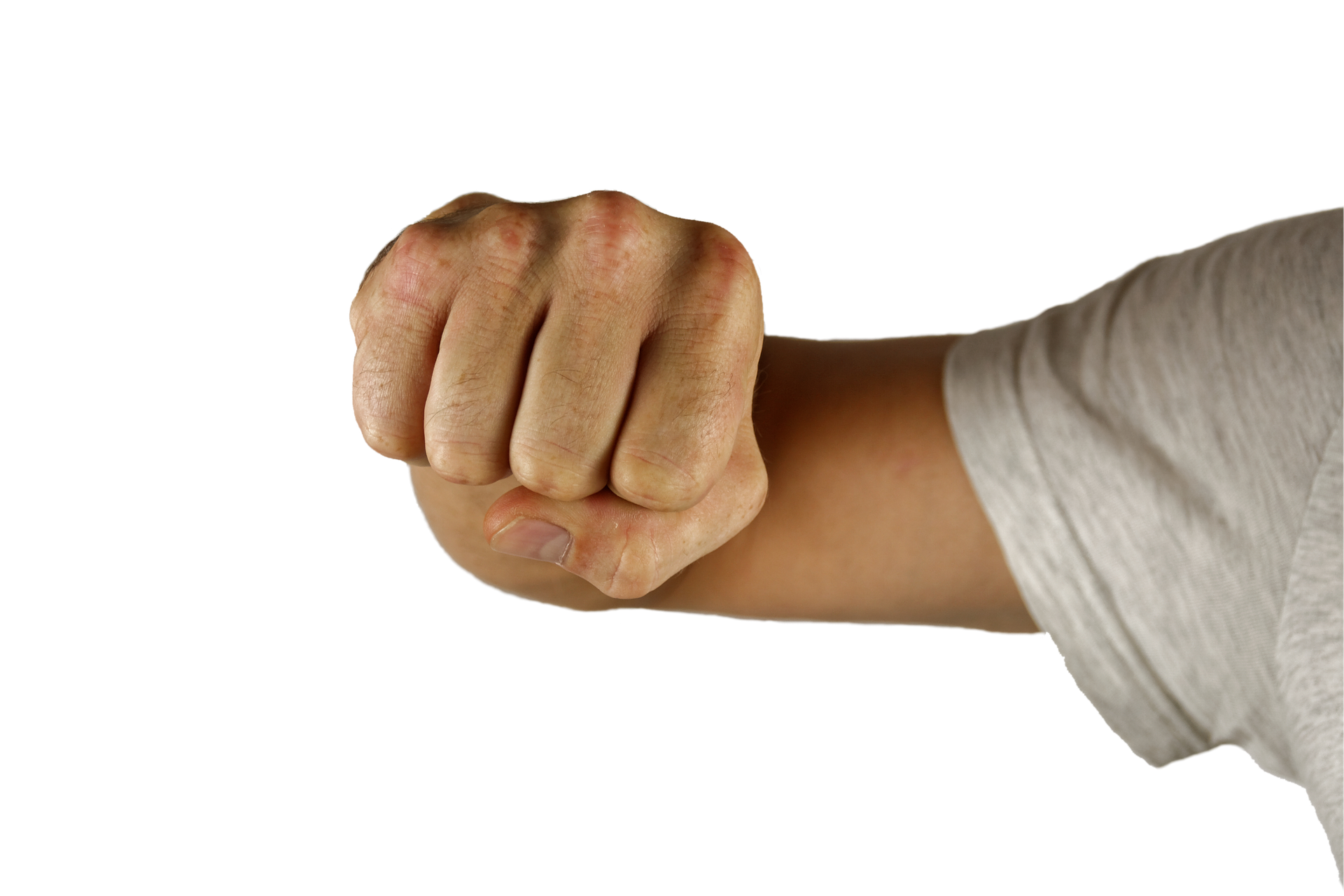 2) Date a lot
I believe every man should eventually settle down with a great woman.
It's important to have experiences and create memories with that special lady.
But it shouldn't be done in your 20s!
Yes, I know that many people won't agree with me.
Fine.
But the reality is that your 20s are to explore, learn, and mature.
It's also the time to date a lot for two reasons:
Get the whole "player and sex" mentality out of your system.

Figure out what you really like, want, and consider important.
I personally dated a lot in my 20s.
I quickly learned that no matter how physically attractive a woman is, you're going to get bored if you're only motivation to be with her is sex.
There's a saying that not politically correct but nonetheless delivers a powerful message:
"Show me a good looking woman and I'll show you a man who's tired of fucking her"
Men in their 20s are strongly motivated by sex.
And no matter how old you get, a good looking woman will always catch your eye.
But if you've dated a lot, you won't go crazy over her the way a man who hasn't will.
You won't date her solely on how she looks.
You'll know better.
If you don't like her as a person, you'll know it's pointless to date her.
That it'll be a matter of time before you get bored of her.
As a result, you won't waste your time.
A guy who hasn't dated a lot will date her no matter what she's like as a person.
His mind is sex, sex, sex!
An experienced man will look for something better.
Believe me that it's vital to date many women.
By doing so before turning 30, there's a good chance you'll end up with the right woman for the right reasons.
Some of my best experiences with woman came from those who weren't as physically attractive as others.
When asked by friends "Why do you like about her so much? So and so was a lot prettier"…
I'd respond "I just like hanging with her. I like when she's around."
My response won't make sense to you unless you date a lot.
So do it.
Getting serious with someone before turning 30 is a mistake. 
Not saying it won't work.
But it's rare in today's day and age.
3) Live alone
I've mentioned this in other articles.
Every man must experience living alone.
Especially before turning 30.
It's the final step in transitioning from boy to men.
There's no reason to wake-up at your parents house on your 30th birthday.
You need to be your own man.
You must get your own place.
Don't tell me you can't afford it.
Seek a higher paying position.
Download my book Mr. $100 and begin earning $100 per day online.
Become a dog walker part-time.
I don't care what it is.
Do whatever necessary.
Whether you move into a house, apartment, or studio.
Do it!
You'll thank me.
4) Get a dog
Owning a dog helps you develop one very important quality.
Responsibility.
You have to walk, feed, and give it attention.
Even if you're the world's laziest person, a dog will get you off the couch.
It comes with many benefits built right in.
Some include exercise, social skills (talking to other dog owners), and happiness.
But responsibility is the main reason I included it in this list.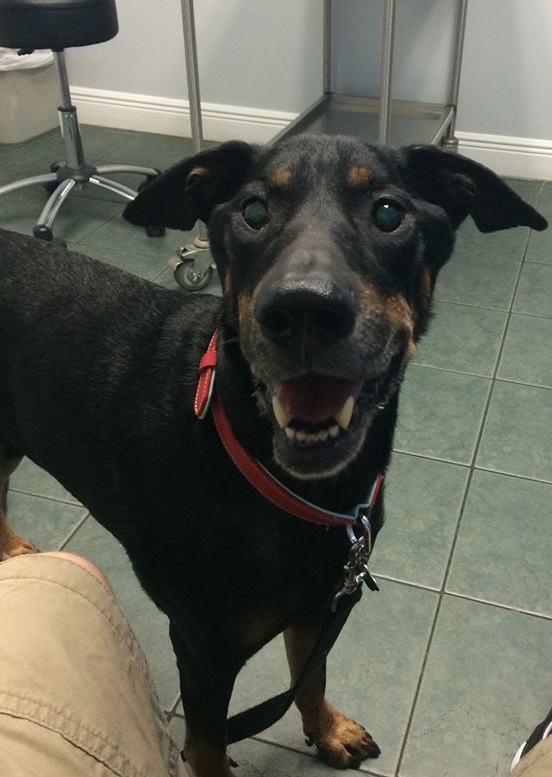 5) Eliminate debt
I know it might be hard to do before turning 30.
The reality is that you should've never gotten into debt in the first place.
But hey, we all make mistakes.
I got into debt with my college degree.
I also ran up a few credit cards when I was jobless around age 24.
But I paid back every red cent.
Debt will haunt you until you eliminate it.
When it comes your finances, debt is poison.
Evil.
Just like getting your own place, do whatever necessary to take care of it.
You might even want to consider doing something drastic like going to live in Thailand for a year and teaching English.
The average person teaching English in Thailand saves $1,500 per month due to the low cost of living.
Not only will you travel and live in an amazing place, but you'll be able to pay off debt while teaching kids English.
It's a win-win situation.
Check out some videos on YouTube to get more information.
Saving $1,500 per month amounts to $18,000 in only a year!
How much would that amount of money help you?
Just something to think about…
6) Develop an interesting hobby 
Every man should have at least one hobby.
And I don't mean something stagnant like playing video games or "catching up on Netflix".
I mean a hobby where you move.
It can be a sport, dance class, or charity event.
You should be doing it a minimum of once per week.
It should bring you joy and make you a better and more interesting person.
I have a ton of hobbies.
Some of my favorite hobbies include boxing, fishing, and playing basketball.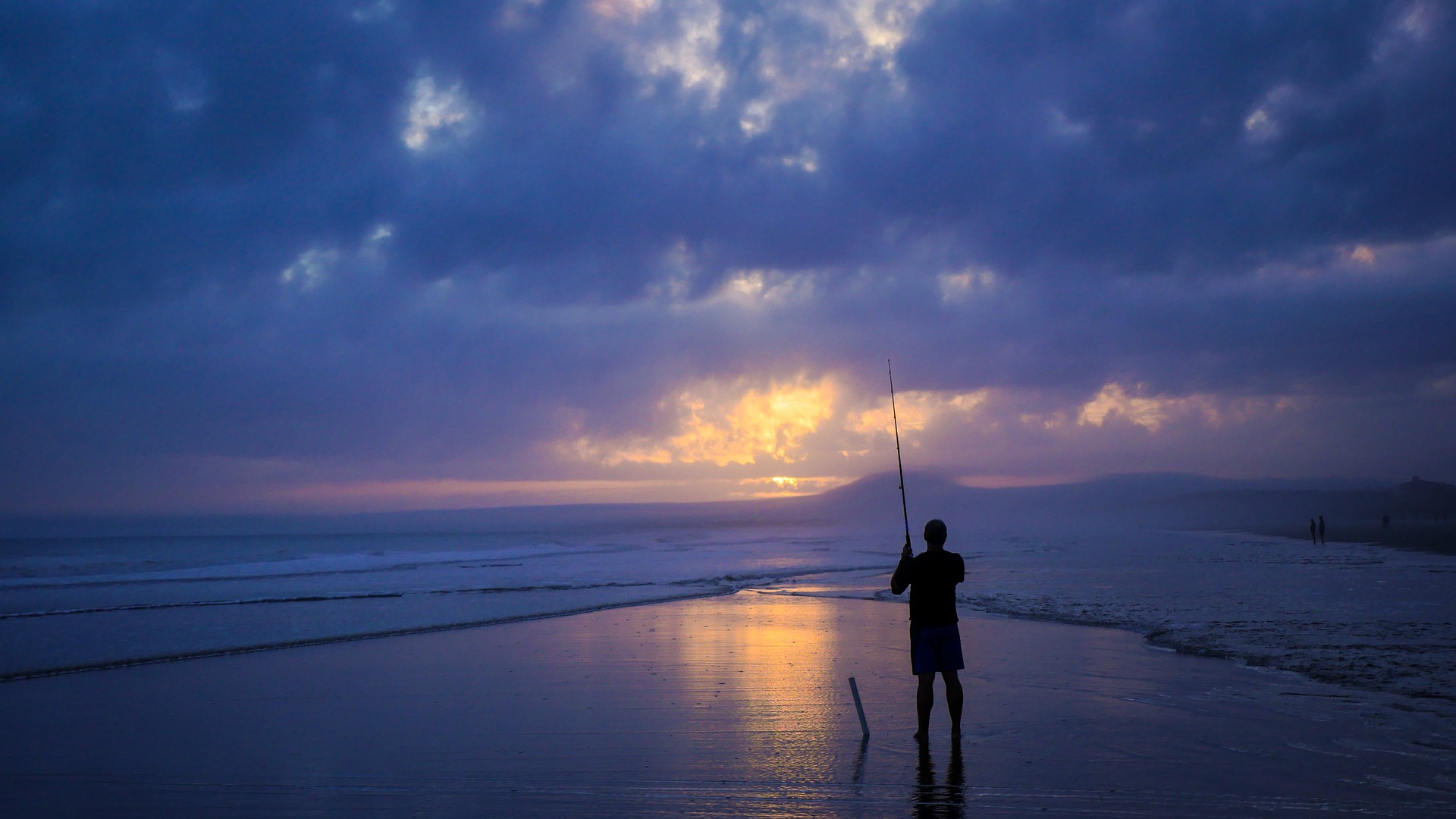 7) Do things you fear
Just like we discussed in # 1, a fear controls you.
Whenever face to face with it, you become paralyzed.
Facing your fears will go on to positively affect your life in ways you couldn't imagine.
Most people who don't achieve anything great is a result of fear.
Fear of failure.
Fear of success.
Fear of what people may think.
Fear of what might happen.
Whatever your fear, face it today!
Don't listen to your mind.
It's going to do everything possible to convince you not to do it.
Push through anyways.
At the end of the day, your not fighting a fear.
You're fighting your mind.
[bctt tweet="At the end of the day, you're not fighting a fear. You're fighting your mind. " username=""]
8) Take unplanned road trips
While routine and planning is important in life, so is spontaneity.
I live in Miami, Fl.
Not too long ago, I woke up on a Saturday morning and said "I'm going to Orlando today."
It was random, spontaneous, and maybe even a little crazy.
But I got in my car and drove 4 hours straight.
A road trip, even if it's a small one like my example above, helps you disconnect from reality.
It also pushes you out of your comfort zone.
Planning provides a feeling of safety. (Which is important)
But a little uncertainty and spontaneity is good for you once in a while.
You don't have to drive across the country.
Just get in your car and go!
You'll feel great.
Trust me.
Blast the music on your radio, put the windows down, and scream if you want.
You're alive, man.
Act like it.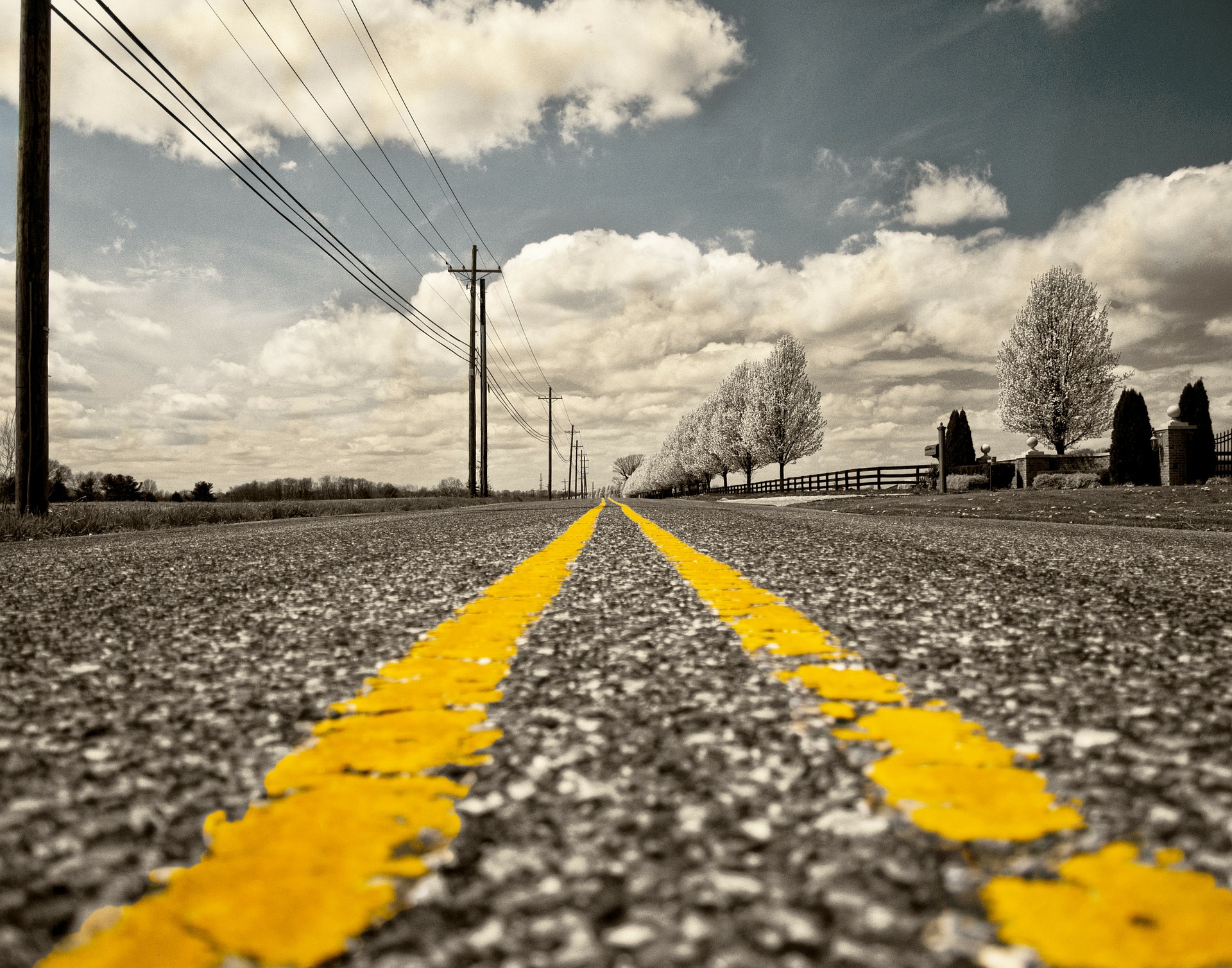 9) Get into shape
Whether you want to be "big and strong" or "slim and ripped", it doesn't matter.
Just make sure you get down to a healthy body fat percentage.
Being overweight not only affects how you look and feel, but it destroys your motivation.
Depending on how much extra weight you're carrying around, you might not even be motivated to go to the supermarket.
No good.
Getting fit doesn't require you to do crazy and drastic things.
For some people, just drinking more water and eating a dinner with no carbs will strip all the fat off their body.
Small and consistent changes add up quick.
Get that weight off ASAP!
Make it a priority.
Read my article 30 ways to lose 30 pounds in 30 days.
10) Read these books
I've read a lot books.
Maybe too many.
Reading daily is a priority of mine.
Out of all the books I've read, these have had the GREATEST impact on my life.
Every man needs to read these a minimum of once a year.
All 5 books will DRASTICALLY improve your life financially, physically, and mentality.
I'll even go as far as saying that you should lock yourself in your room all weekend and read them.
Start with the bible of success below.
11) Learn how to put on spare tire, change a car battery, and use jumper cables.
I had to include this on the list.
No man turning 30 should be clueless on how to do any of the three.
Believe me that there will come a time where you'll need to know how to do all of the above.
It'll either be to help yourself or someone else.
Here's a story I'll never forget. 
When I was 23 years old, I worked for Sears as a telemarketer selling insurance to customer's who'd recently purchased an appliance.
One of my co-workers got to work late one day and appeared frustrated.
Turns out his car battery died and he was charged $200 for a new one.
Seeing that he drove a Corolla, I had to ask him what the hell was the reason he paid so much!
He explained that the battery was $110 (reasonable) and that the rest was for service and labor.
My jaw almost hit the floor.
"Why didn't you do it yourself, it's only two screws?" I asked him.
Turns out he didn't know how.
Changing a car battery takes less than three minutes.
But if you don't learn how, it'll cost you.
Mechanics typically overcharge for the smallest and silliest things.
Same thing goes for putting on a spare tire.
It's easy and takes five minutes.
But if you don't learn how, you'll have to call for roadside assistance. 
Besides money, you'll waste a lot of time.
Last is using jumper cables.
Jumper cables recharge a drained battery.
Maybe you or someone you know will leave their lights on one day by mistake.
As a result, the car battery will die. (Drain)
Jumper cables will bring the battery back to life in just five minutes.
Everyone should have them in their car.
You can get these off Amazon if you don't have your own pair.
Jumper cables are the easiest thing in the world to use.
You simply connect negative to negative and positive to positive.
You then turn the car on while leaving the car with the drained battery off.
After about 5 minutes, you turn on the other car.
The battery will be revived.
I highly suggest you watch videos on YouTube on how to do all three things.
And oh yeah, literally practice how to do them.
Sure, it's probably silly to put on a spare tire when it isn't necessary.
Doesn't matter!
Put it on, drive around the block, and then put your regular tire back on.
You need to know how to do these things.
Period.
12) Get all of your teeth fixed
This is probably one of the ONLY things worth getting into debt for.
The reason is that if you don't address bad teeth, they will get worse!
And as they get worse, the cost of fixing them INCREASES.
I made the horrible mistake of not getting a cavity filled.
A "filling" takes 15 minutes and would have cost me about $100.
Since I was young and dumb, the cavity got worse!
A filling was no longer an option.
I now needed a root canal.
Not only was it more painful and long (about 1 1/2 hours), but I spend a total of $1,600!
See what could've been avoided?
Take care of your teeth, man.
Brush, floss, and get a tongue scraper to remove all the junk that sticks on your tongue.
Go to the dentist regularly to get cleanings X-rays.
If you have a cavity, get it filled.
If you need a root canal, get it done.
A tooth at the root canal stage that's left untreated will inevitably get worse.
It'll need to be extracted and replaced with a denture.
I'm not even going to begin telling you how expensive that will be.
13) Grooming routine
Developing a grooming routine is vital.
Everything from your haircut, to keeping your nails trimmed, to having your feet smelling fresh all day.
Shave daily unless you prefer a beard.
Keep it short and trimmed, not all scruffy and uneven like a bum.
Your fingernails and toenails should be kept short and clean.
Put baby powder in your shoes and in your manhood before putting underwear on.
This will soak up sweat and keep you fresh all day.
Clean your ears with q-tips daily.
Use exfoliating gloves when showering to remove dead skin and dirt effectively.
Take a hot shower to open up your pores but finish with cold water to close them and prevent dirt from getting in.
Always iron your clothes.
Whether it's a t-shirt, dress shirt, jeans, or cargo shorts.
No man in his 30s should be walking around in wrinkled clothes.
Please, please, please make sure your belt and shoes ALWAYS match.
14) Watch these movies
I didn't even have to think about this one.
All three movies came right to mind.
Hands down, these are the best movies I've ever seen.
They will teach you a lot about life, how to think, how to react to tough situations, and how to be a man.
Watch them TODAY if you haven't yet.
The Shawshank Redemption is very long.
It's close to three hours if I remember correctly.
But if you're going to watch one movie in this lifetime, make it that one.
There's a reason I made it's my first choice.
You'll see why.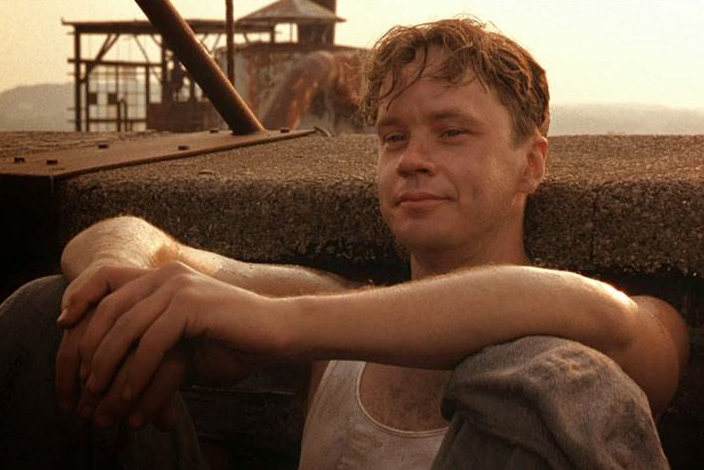 15) Create a life plan
You don't have to plan out every single detail of your life.
That's just ridiculous.
But you do need to have goals and a plan of how to achieve them.
What do you want?
Seriously.
What do you really want?
Don't tell me you want to be rich.
I have no idea what that means to YOU.
To me, being rich means earning enough money online so that I never have to work a job again.
To you it might mean earning a million dollars a year.
Be specific.
Write down exactly what it is you want, begin working towards it, and never look back.
Whatever you do, don't stop or quit until you get it.
Promise me.
16) Get rid of everything
I absolutely guarantee that you have more than 10 things you don't really need.
It can be 10 t-shirts, 10 gadgets, or 10 household appliances.
If you don't use it, get rid of it.
Living a minimalist lifestyle has to be one of the best decisions I ever made.
Getting rid of all the "clutter" will do nothing but great things for you.
It shouldn't be sitting there if it's just "sitting there".
Make sense?
17) Do things that get you out of your comfort zone
Does talking to women make you nervous?
Good. 
Do it 5 times daily until it feels natural.
Does going to the gym hurt or feel uncomfortable?
Good. 
Continue going until you begin to enjoy it.
Getting out of your comfort zone is a surefire way to make massive and continuous progress in life.
No matter who you are, there's something you can start doing today that will put you outside of your comfort zone.
Even the world's richest person can be put outside their comfort zone.
18) Write your goals daily
What's the FASTEST way to achieve your goals?
Write them down daily.
Doing this ingrains them deep into your subconscious-mind.
This ultimately leads you to them without you even realizing it.
Read that last sentence again and think about it for a moment…
Check out my eBook Mr. Goal Setting Expert for fail-proof ways to achieve any goal you want.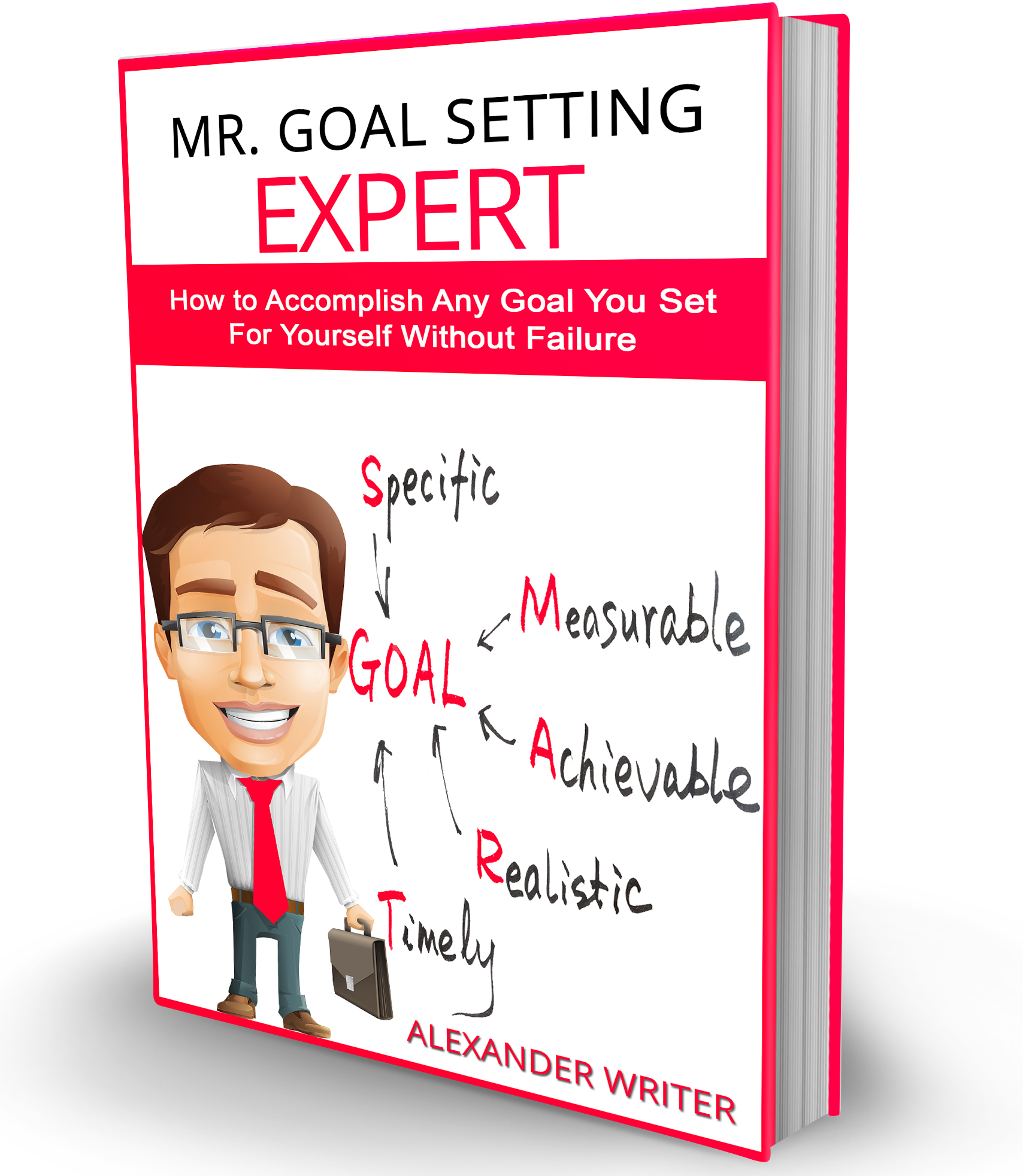 19) Eliminate self-limiting beliefs
During my college years, I read this book called Mind Lines.
It aims at helping people eliminate self-limiting beliefs.
A limiting belief is something you've accepted as true due to past experiences.
Ex:
"I can't attract women because I'm bald"
"I can't lose weight because obesity runs in my family"
"I can't earn money online because anyone who does is a scammer".
And here's how you'll address each example above.
Have you ever seen a bald man with an attractive woman?
Of course you have!
Is there anyone in the world who has a fit and healthy body but has obese parents?
Of course there is!
Has there ever been an authentic person online who ONLY sells people things of value?
I'm right here, bud!
Self-limiting beliefs hold you back in ways you'd never imagine.
I recommend reading Mind lines for more information on how to get rid of them.
For now, asking yourself questions similar to the ones above is a good place to start.
20) Start waking up earlier
Probably one of the best choices I ever made was disciplining myself to wake-up earlier.
There's something powerful about being up before everyone else in your part of the world.
It feels like an advantage.
Getting up earlier allows you to do so many things.
You can complete pending projects, go to the gym, or address any errands or priorities necessary.
You'll find yourself saying "Wow, it's only 10am. I've gotten so much done today".
Most successful people share the habit of getting up earlier.
Start by getting up 15 minutes earlier each week.
Your goal should be to wake-up no later than 5am or 6am every day.
21) Develop Patience
Things take time.
Well, things worth having that is.
Lack of patience will do harm to a man.
You'll develop a quitter mindset, get frustrated, and never be truly satisfied with your results.
Worst of all, you won't achieve anything great.
Learn to wait.
Anything will come to a man if he just waits.
Anything.
22) Develop Persistence
If you come to me and ask "Hey, what do you think are my chances of achieving this?"
The ONLY thing I'm going to ask you is if you're going to be persistent.
Why?
Because those who don't quit always get what they want.
You can't fail if you don't quit.
Likewise, you can't succeed if you don't persist.
See how it works?
Everything I've achieved in life was a result of persistence.
When it comes to your goals, you're going to fail, make mistakes, and get frustrated.
Doesn't matter, keep going.
Don't ever quit.
Period.
23) Smile and nod at people
Don't just walk past people like they don't matter or exist.
A simple smile and nod can lead you to great places in life.
Don't believe me?
Sometimes, just the act of smiling and nodding at someone will motivate them to start a conversation with you.
You never know who you're going to pass on the street.
It might just be someone who has a lot to offer you.
Perhaps a business opportunity.
You never know.
Learn to notice, smile, and nod at people.
It will only do good things for you in your 30s.
24) Help people who can't do anything for you in return
One of my favorite audio books is The Strangest Secret.
The author (Earl Nightingale) explains why it's so easy to get what you want in life and why it's considered a "strange secret".
In order to get what you want, simply think about it more.
One of my favorite sections is where he talks about rewards coming to you for your good deeds.
In other words, getting repaid for the good things you've done for others.
Earl explains how sometimes your rewards won't come from those you serve.
Instead, they might come from a totally different person or place.
But that it MUST come to you because it is a law.
Why do you think I'm having success with this blog?
Because I've written close to 300 articles that help people.
Every day, people go into Google and search for an answer that my website provides them for FREE.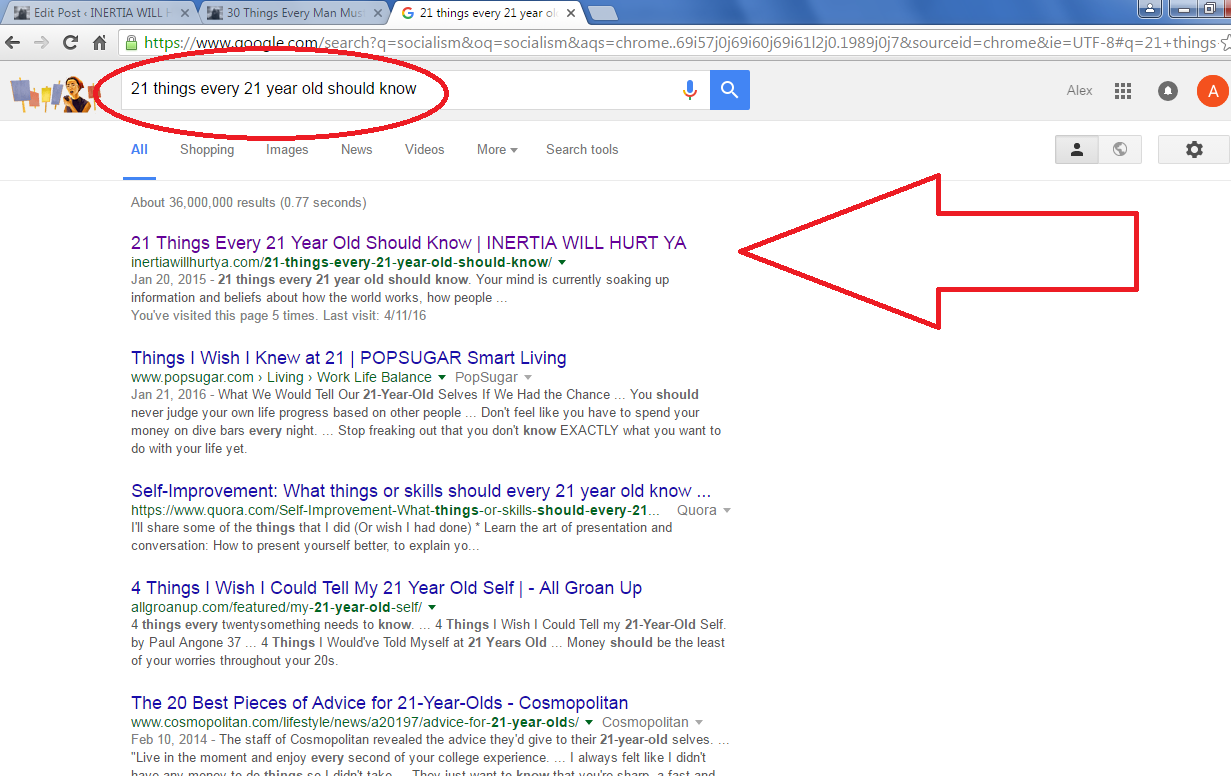 I've been helping people all over the world since I started writing in 2014.
Besides that, I respond to all emails my readers send me when asking for help.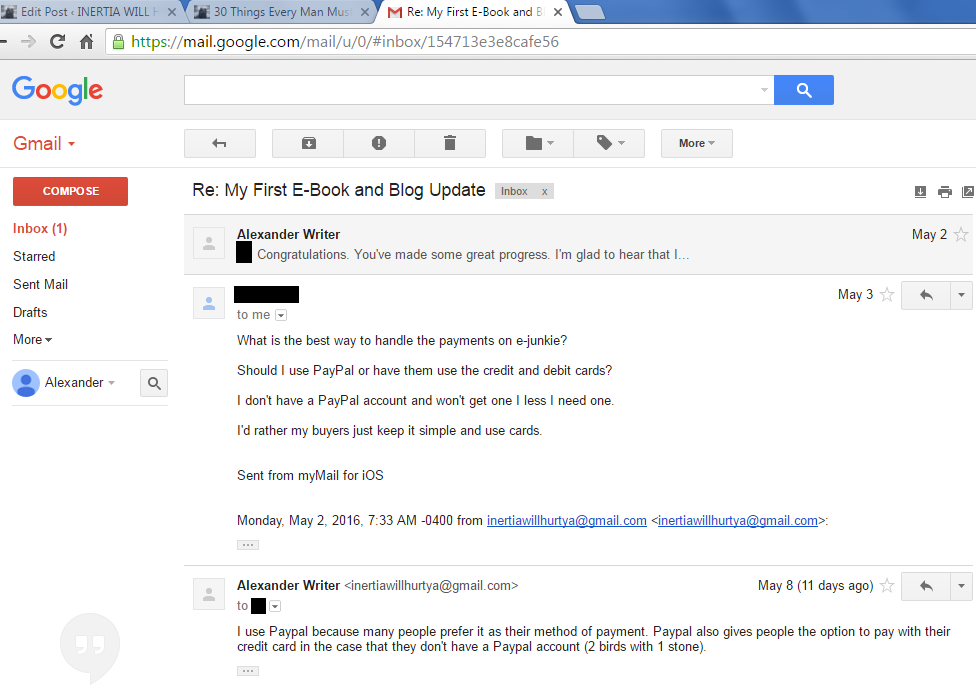 All those good deeds are or will be coming back to me.
If you help people for free, you'll be rewarded in massive quantities.
The rewards might not come to you immediately.
By believe me, my friend.
They will.
Help anyone at every chance you get.
Doesn't matter how big or small it is.
It can be helping someone carry something into their car.
Or someone you see stranded on the street.
This is when #11 above becomes useful.
25) Start a blog and write what you know
I can probably come up with a 100 reasons why you to start a blog.
But I'll give you the top three:
1) Help people for free
2) Productive 
3) Make money
Don't ask me what you should write about.
I don't know your life story.
Just write about personal experiences and what they thought you.
The goal is to teach and help people with your words.
The more articles you write, the more people will find you. (Blogging success secret)
It's so easy.
Too easy.
Just write, write, and write.
26) Begin earning at least $100 per day online
It's become such an easy goal today that I wrote an entire book about it.
There's no reason for you not to be earning at least $100 per day.
Whether you absolutely love or hate your job, you should be making side money online.
An extra $3,000 per month can do wonders for just about anyone.
What would it do for you?
You can download my book here for only $10.
27) Walk one hour per day while listening to an audio-book
This is one of my most productive habits.
You simply go on an hour walk while listening to audio books on your phone.
I recommend personal development and inspirational books.
Not only will you be exercising, but you'll also be getting smarter with each step you take.
Start doing this immediately.
The benefits are amazing.
Walking daily for a year while listening to an audio book will greatly improve your life.
I guarantee it.
28) Go cliff diving
I highly recommend cliff diving.
While each jump only last a few seconds, the thrill you experience is AMAZING.
Nothing goes through your mind expect….Aaaaahhhhh!!!!
Pure freedom.
One of the best places to cliff dive is in Havasu Falls.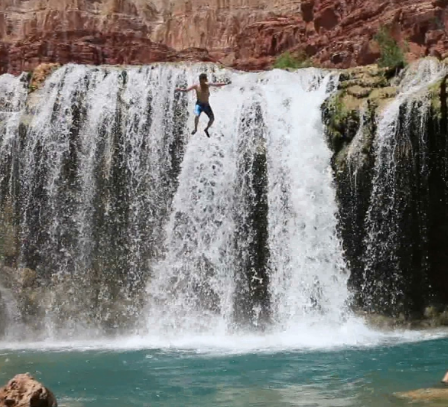 Besides the beautiful scenery, the cliffs are a good height making the jump more exciting.
Don't worry, it's perfectly safe.
People cliff dive all the time.
And unless you attempt something crazy like doing back flips or spinning in the air like an Olympian, you'll be perfectly find when you land in the water.
Cliff diving can be done in many places all over the world.
Find the closest location to you and do it immediately.
29) Read this list again 
This is a very long and in-depth article. (4,600 words)
I suggest reading it often.
No less than once per week.
You should print out a copy and check off items as you go completing them.
For now, save it to your favorites on your internet browser so you don't lose the page.
Reading this article constantly will do nothing but great things for you.
Make sure to share it so it helps others as well.
30) Go somewhere you've never been for your 30th birthday
To wrap things up, I recommend going somewhere you've never been for your 30th birthday.
This is a new stage in your life.
You want to say bye to your 20s in a positive and enjoyable environment.
Most importantly, you want to come back and start your 30s with a clear mind.
A fresh start.
I suggest going out of the country if possible.
Thailand is a good choice.
Besides the low cost of living, it's a beautiful place to visit.
Americans get treated with kindness and respect.
It's was voted #5 as the world's friendliest country by Rough Guides.
The beaches are incredible.
The massages are the best in the world.
You feel absolutely free in Thailand.
The word "Thailand" actually means land of the free.
You can survive in Thailand for months with savings or you can teach English to earn a living.
As I mentioned in #5, Americans who teach in Thailand save about $1,500 per month.
You can find you an apartment for $200 per month.
The price of food is incredibly cheap and the quality is great.
If not Thailand, then go to a relaxing island like the Bahamas, Hawaii, or St. Kitts.
You can bet every dollar in your bank account that I won't be turning 30 in Miami.
No way.
There's a 100% chance that I'll be flying overseas to an island before my 30th birthday.
Once you arrive at your island of choice, reflect on your 20s.
Think about everything you learned and all the good experiences.
Most importantly, think about how amazing your 30s are going to be.
Let go off all regrets and bad experiences.
Those things have no place in your 30s.
Wishing you a happy birthday when the time comes, my friend.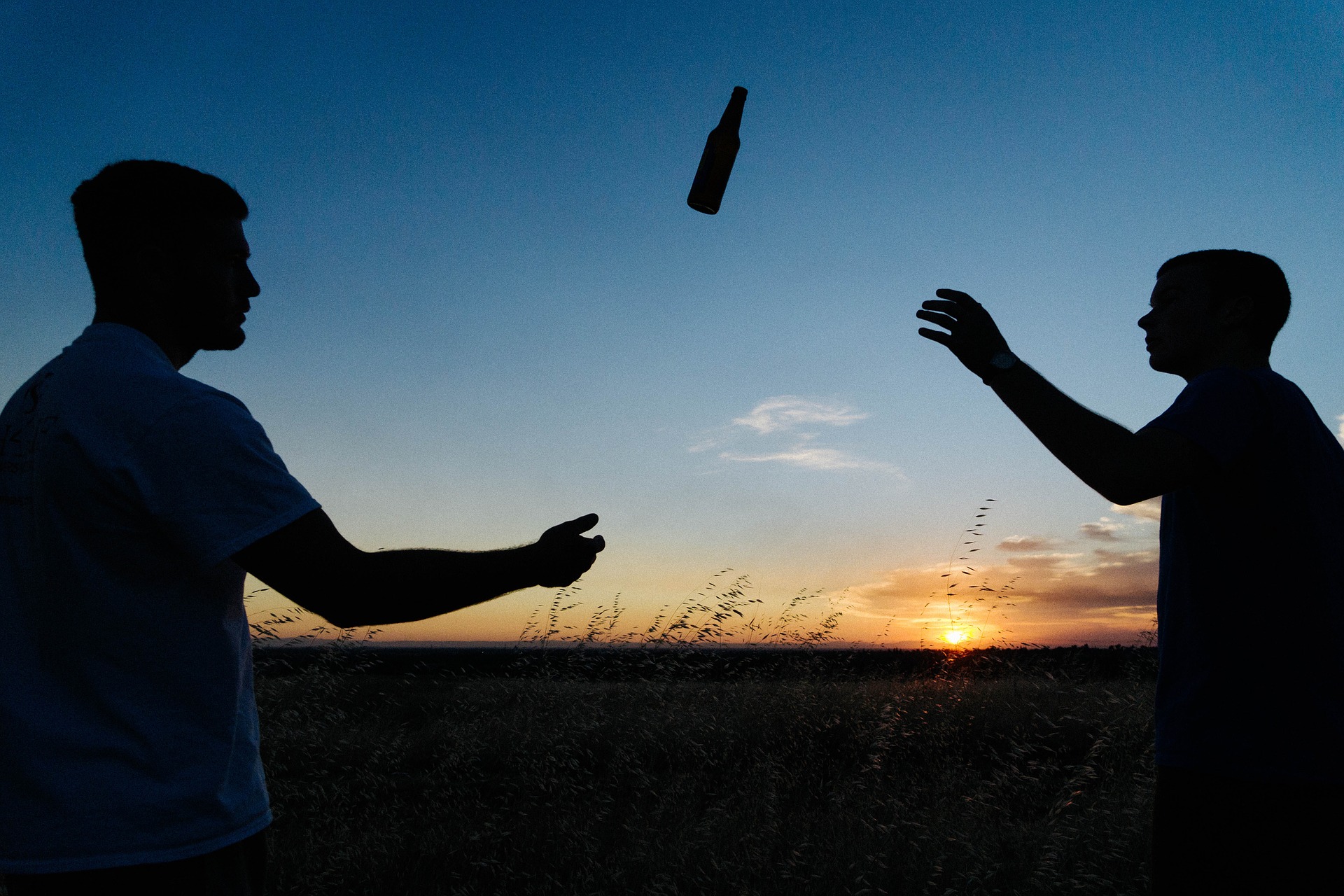 Talk soon,
-Alex