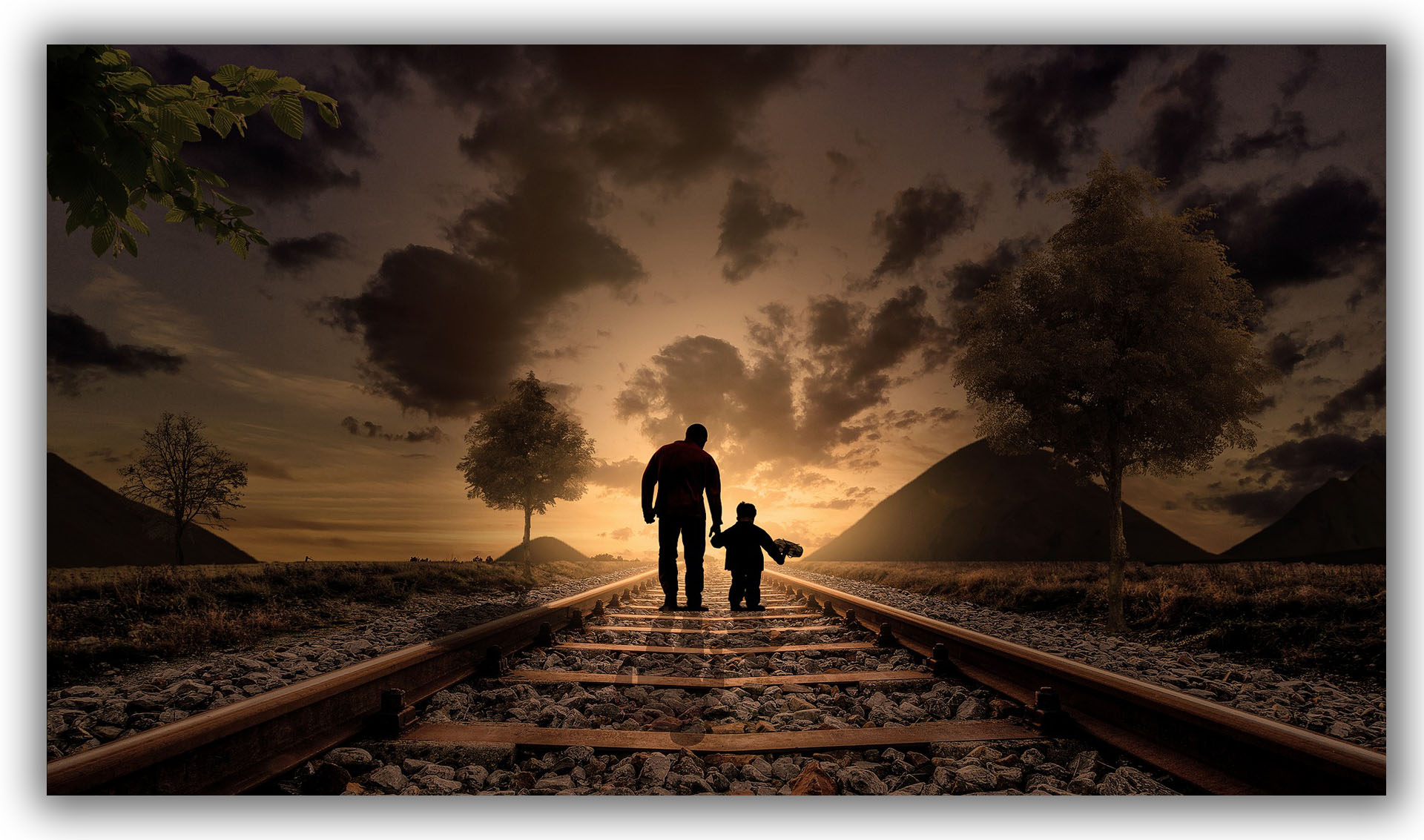 I don't have kids yet, but I sure plan to one day.
If I have a boy, below are 100 things I'll teach him.
I'll probably teach him a lot more than what's on this list, but these are things I want to make sure he knows.
The goal of this article is to serve as a checklist for me and other fathers.
Let's begin.
1) Always keep your word
A man's word is one of his most powerful character traits.
You should only give your word is you're 100% sure you can keep it.
Break your word just once and people will lose all respect and trust for you.
2) Patience
You can have anything you want in life if you're willing to wait for it.
We live in world where instant gratification is expected.
Sure, you might get access to food fast, or stream a movie instantly, but when it comes to greater things in life, you're going to have to wait a little longer.
 3) Discipline
No man has every achieved anything great without discipline.
Discipline means doing what needs to be done, when it needs to be done, whether you feel like it not.
The true power comes when you do things at times when you least feel like doing them.
4) Self-defense
Don't ever look for trouble, but if trouble finds you, it's important that you're ready.
Learn how to throw and land punches, how to dodge them, and most importantly, when to stop throwing punches.
Self-defense is meant to defend yourself until you're no longer in danger, not until you abuse a helpless person who can no longer harm you.
5) Talk to people
It's important to develop the confidence to speak to others.
Little things like "Hello", "Thank you", and "Do you need a hand?" are all things you should be saying on a daily basis.
Most people are reluctant to speak to those that they don't know.
Don't be most people.
6) Treat the ladies right
Not every woman is right for you, but when you find the right one, it's important you treat her right.
Learn how to make her feel safe, sexy, desired and valued.
Most importantly, make her laugh, every day, as much as possible.
7) Keep in touch with family
Don't ever take your family for granted.
Time goes by VERY fast, and it's important to stay in contact with them.
If you don't keep in contact with your family on the regular, you're going to regret it one day.
8) The power of reading daily
Develops the habit of reading every day for at least an hour.
Knowledge is power, and power can get you many places in life.
You goal is to learn a little bit about everything.
9) The truth about friends
Unfortunately, friends come and go.
If you're lucky, you will never lose your best friend like I did.
But if you do, don't dwell on it.
A true friend will stay in your life no matter what circumstance.
10) Sports
Sports are a great way to have fun and entertain yourself.
They're also a great way to develop discipline and stay in great physical shape.
Every man should partake in a sport at least once per week.
11) How to wash a car
Like my grandfather always said, "If you're going to do something, make sure you do it right".
There's a right and a wrong way to wash a car.
One way leaves it with soap spots, the other way leaves it showroom ready.
Guess which one I'll teach my son how to do?
12) How to wash clothes
Washing clothes isn't rocket science. 
But, if you don't learn how to do it correctly, you could end up with a big mess.
13) How to BBQ
Cooking meat on a BBQ is delicious and relaxing.
There's something special about the sizzling sounds, smell of charcoal and being outdoors enjoying the fresh air.
Every man must have this experience, and I'll make sure my son does.
14) How to drive
I believe that learning how to drive at a young age helps instill confidence.
For this reason, I'll be teaching my son to drive at a younger age than usual.
Of course, he won't be allowed to drive on his own until he gets his license.
However, when the time comes, he'll be more than ready.
15) Mow the lawn
Every child should be thought how to mow the lawn.
Not only does it teach them responsibility, but it's a great way to stay active and even earn a couple extra bucks if they mow the neighbors lawn also.
It's important to learn the difference between a weed whacker and mower.
Also, how to cut the grass evenly so it looks great, not like someone ran over it with a monster truck.
16) How to use tools
A man must know how to do basic things around the house that require a screwdriver, drill or hammer.
There's no reason to pay a handyman $50 to hang a frame on the wall.
17) How to paint
There's two types of painting jobs: Those that are great, and those that look like a toddler did it.
A good painting job requires patience, the correct brush or roller, and quality paint.
18) How to make money on the internet
The internet is the future.
If you're not at least making $3,000 per month online, you're way behind.
I'll teach my son how making money on the internet is really done so he can have all the free time in the world when he gets older.
19) How to make money in real life
The internet is powerful, but just in case it crashes one day, my son will know how to make money in real life.
I'll teach him negotiation skills, how to interact with people, and how to do quality work no matter what line of work it is.
Whether he's painting house or flipping them, he'll know what it takes to learn how to do it right.
20) How to change a flat tire
There's absolutely no reason why a man shouldn't know how to change a flat tire.
Not only is it easy, it comes in handy and avoids having to wait and paying someone else to do it.
21) How to shave
Shaving is an art.
Without the right skills, you're bound to end up with an uneven shave, cuts and irritations all over your face and neck
22) Proper hygiene
You should shower, floss, brush teeth, use a tongue scraper twice per day minimum.
Always wear clean clothes, especially underwear and socks.
23) How to be aware of surroundings
Learn to pay attention to what's going on around you.
This makes you aware of bad situations before they get worse so you can always be ready and prepared.
24) How to do 100 push-ups
Every man must maintain a foundation of physical strength.
There's a reason why the army, navy and countless boot camps all over the world enforce push-ups.
Not only to do help a man develop discipline, they also make him physically strong.
Every man should reach the point where he can perform 100 push-ups every morning.
25) Cooking
It's important to learn how to cook basic things.
When I moved out alone for the first time, I was glad I knew how to cook things like eggs, steak, pasta, etc.
If I didn't know how, I would have probably lived off takeout and fast food.
Not only would it have been expensive, but it would've been detrimental to my health.
There are basic survival things a man must know, and "cooking" is one of them.
26) How to be a leader
A leader isn't someone who tells others what to do.
Instead, he's someone who motivates and brings out the best in people so that they perform at their best.
27) How to set goals
I've spent COUNTLESS hours researching how to set goals effectively.
There's infinite information available, and a lot of it contradicts itself.
Here's what got me the best results out of everything I applied:
Focus on ONE goal at a time, write it down 10x when you wake-up and 10x before bed, talk about it often, and take action as soon as you get an idea.
Do that long enough and I GUARANTEE that, inevitably, your goal will become a reality.
28) How to swim
Knowing how to swim is right up there next to cooking.
You should always prepare for the worst, and you never know when knowing how to swim will come in handy.
Aside from keeping you from drowning, it can also save someone else's life who you see drowning.
29) How to find a street address without 

GPS
The internet is both a blessing and a curse.
A GPS is a blessing but can also be a curse because people become accustom to seeking help.
You should know how to find an address ON YOUR OWN just in case you need to one day.
30) How to change your car's oil
You lift the car, remove the oil cap, drain the oil, change the oil filter, and put new oil in.
Not only is it incredibly EASY to do, but it also saves plenty of time and money.
31) How to save money
At minimum, you should save 10% of what you earn.
That's mean that for every $10 you make, $1 automatically goes into a savings account that you DO NOT TOUCH!
Once you get use to saving 10%, challenge yourself and begin saving 11%.
Continue increasing the percentage until it's no longer possible.
32) Always contribute
Give back and help those in need.
There's PLENTY of contribution opportunities.
And, here's the most important part: Help people who can't offer you anything in return
Seeking a reward for helping someone in need doesn't equal contribution…It equals an exchange.
The two are very different.
33) The power of focus
You need to be 100% focus on what you're doing.
If you're driving, drive.
If you're eating, eat.
The more you practice focusing on ONE thing at a time, the stronger your concentration becomes.
34) How to build furniture
Not only is building furniture a fun challenge, it provides you the peace of mind that it's built correctly.
Grab your tools and the instructions and begin building!
35) How to fish
Fishing is one of my favorite hobbies.
It all started when I was a kid and my grandfather use to bring me along for fishing trips.
It's a great way to relax, bond and catch some great dinner.
Learn how to prepare a rod, cast it and reel it correctly.
Learn what bait works best for fresh water and saltwater.
Most importantly, have a great time!
36) How to throw and catch a football
There's a right way to hold and throw a football.
You must lay your hands over the laces, spread your feet, hold the football behind the side of your head and launch it forward.
Don't worry, you're first couple of throws will suck.
Practice makes perfect.
37) How to play pool
Pool is a great game for socializing.
You must know the difference between strikes and solids, and what to do when it's time to make the 8-ball (black ball).
38) How to deal with losing
I hate losing, but I'm OK with it.
No matter what game you lose in life, you need to learn how to deal with it and focus on winning the next time.
39) Always be on time
You must make the effort to get everywhere at least 10-15 minutes early.
Show respect for people's times and they'll do the same in return.
40) Hold the door for the ladies
Always allow a lady to go in before you by holding the door for her.
This applies to all doors: stores, elevators and cars.
41) Match your clothes, shoes and belt
Certain colors look great together, and others look like a mess.
You need to learn what colors go best with each other.
When it comes to your shoes, ALWAYS make sure they are the same color as your belt.
42) Face fears
If you're scared of something, face it!
Look it dead in the eye and let it know that it will NOT control you.
Acknowledge it, face it, and move on.
43) Dog
It teaches you responsibility and provides countless amounts of joy.
Don't pay thousands of dollars for a dog…rescue one from the pound instead.
44) How to hike
Hiking is a challenging and fun activity.
It's also a great way to get off the couch, exercise and get some fresh air.
45) Time waits for no man
A man should never take time for granted.
While it might feel like you have all the time in the world…you really don't.
46) Good music vs. bad music
There's music that tells a story and teaches you about life, love and personal growth.
Then there's music that negatively affects your mood and can be detrimental to your psychological health.
It's important to learn the difference between the two and always listen to good music.
47) How to play a guitar
Playing a guitar has countless benefits.
You can raise the mood in a room filled with people by playing some nice tunes.
Studies have shown that playing guitar improves your focus and concentration.
It's a win-win!
48) CPR
I've never had to perform CPR on anyone, but in case I ever do, I'll be ready.
Teaching someone CPR takes 5 minutes, and can save someone's life.
49) Grow crop
Growing crop allows you to eat and enjoy natural, organic food for FREE.
Not only does it save you money, it also saves you a trip to the market.
50) Jump start a car
Everyone is bound to encounter a situation where they'll need to jump start a car.
It's an easy task, but surprisingly, many don't know how to do it.
Learn how and make sure you always have a pair of jumper cables in your trunk.
51) Time management
Like I said, time waits for no man.
It's important to be aware and organized with your time.
Don't plan out your entire life, but make sure you're organized with your priorities.
52) Talk to new people
Talking to new people not only improves your social skills, but can lead you to meet someone important who can help you in some area of life.
There's nothing to fear, just say "Hi".
53) How to treat a cut
Treating a cut isn't just putting a band-aid on it.
You must clean the area first, put ointment on it and cover it up…especially if it's a big cut.
54) The art of negotiating
The base price isn't always the final price, it's usually the starting point where the seller is open to negotiating.
Learning how to properly negotiate can you save you a TON of money, especially when making a big purchase like a car or home.
55) Minimalist mindset
Clutter is distracting and makes a man anxious.
Only buy things that you need and will actually use.
If you find that you're running out of space to store things, you have way more than you need.
Begin getting rid of things like I did here.
56) Different language
You'll want to know at least two languages.
Ideally, you'll want these to be English and Spanish as they are two of the most spoken languages in the world.
57) Importance of privacy
There are certain things a man must always keep private.
58) Importance of keeping secrets
When someone shares a secret, they're putting all their trust in you.
Whatever you do, do NOT share that secret with anyone.
59) How to apologize like a man
You're bound to make mistakes in life, even if you don't meant to.
I sure have.
Look whoever you disappointed in the eye and sincerely apologize for your mistake.
60) Never whine
Whining is for babies.
If something bothers you, or if things aren't going the way you'd like, do something about it.
61) Never steal
You want it, you work for it.
Period.
Stealing is 100% unacceptable.
62) Remain calm, control temper
There will come times when you're frustrated, annoyed, tired or upset.
During these times, additional things can begin to go wrong.
Always remain calm and don't lose your temper.
Breathe, relax and focus on handling all the things life throws your way.
Everyone is bound to have bad days, it's inevitable.
63) Parallel park
This skill can make finding parking 10x easier.
Since most people are too lazy to parallel park, or don't know how – you can take advantage and always find parking.
64) Criticism
Whether you do bad or great things in life, people will criticize you.
Don't take it personal.
People criticize others because it makes them feel better about themselves.
Don't retaliate.
Stay quiet, smile and go on about your day.
65) Turn negatives into positives
Always strive to turn negatives in positive.
No matter how hopeless a situation appears, you'll find a way to turn it around if you commit to doing so.
66) Never give up
You might work for things in life that take a lot longer to achieve than you'd hope.
Regardless of how long it takes, don't quit.
It took me 3 years to see this blog really take off and almost triple my profits and daily visitors.
Why did this happen?
Because I didn't give up.
67) Respect isn't given, it's earned
If you want people to respect you, give them a reason to.
You do this by giving respect first.
No matter who they are, show respect.
68) Treat everyone equally
Whether it's someone you know or a complete stranger, treat them equally.
Be polite, offer help if needed, and never believe that you're better than anyone.
No matter who you are or what you have, the way you treat people is what really determines your worth.
69) Remember people's names
In the all-time best personal development book, How to Win Friends and Influence People, you learn how important a persons name is to them.
A lot of power comes from remembering someone's name and saying it when speaking to them.
It's like music to their ears.
70) Don't let others influence you
If you know or feel that something isn't right, don't let others try to convince you to change your mind.
Be your own man, do what you know is right, and never seek approval from anyone by allowing them to influence you to act, think or be different.
71) Priorities come first
Don't ever postponed your priorities by falling into the habit of "I'll do it later".
Most times, later becomes too late or never.
72) Don't forget to have fun
Don't ever fall into the trap of working all the time and never enjoying yourself.
Having fun, responsibly, is also a priority.
73) Real friends vs. fake friends
A real friend will be there whenever you need them.
They'll put themselves in uncomfortable situations just to help you.
Fake friends will mysteriously disappear or be too busy when you need help.
As soon as you encounter fake friends, distance yourself from them.
74) How to tie a tie
A tie is what stands out the most when you wear a suit.
It's extremely important to do it correctly so you look your best.
75) How to iron
Whether it's a t-shirt, dress shirt, jeans, slacks, or cargo shorts…if it's wrinkled, you must iron it.
Nothing looks worse than wrinkled clothes.
76) Dress for the occasion
Plan ahead and dress appropriate for occasions.
If you're not sure what you should wear, ask someone.
77) Be organized
Always keep your personal space neat and organized.
Whether it's your home, car, gym locker or office at work…keep it organized.
78) How to put out a fire
The best thing to reach for when a fire occurs is a fire extinguisher.
If that's not an option, you can use baking soda, sand, dirt, or water.
A fire cannot survive without oxygen, so if it's a kitchen pan that catches fire, cover it quickly.
79) How to unclog a toilet
There's no reason to wait and pay for a plumber.
Unclogging a toilet isn't rocket science…Simply grab the plunger and begin plunging.
If that doesn't work, boil some water and dish-washing soap, pour it into the toilet, and stick a metal hanger in to help unclog anything down the pipes.
80) How to hang a frame correctly
It looks simple, but it requires some skill.
Hanging a frame requires proper measuring to ensure the picture sits evenly on the wall.
Unless you plan to fill your place with posters and scotch tape, you need to learn how to properly hang a frame.
81) How to patch a hole on the wall
This is another skill that can save you time and money.
All you need is some compound, a drywall repair screen, and a putty knife.
82) How to change a door knob
There may come a time where you're door knob goes bad or you need to replace it for security purposes.
This takes about 5 minutes, and all you need is a screwdriver.
83) The benefits of eating right
Learn to choose fruits over cookies, water over soda, and home cooked foods over fast food.
It's OK to eat the unhealthy options every so often, but stick to healthy options for the most part.
84) Always have a project
A man should always have a project he's working on.
Each time a project is completed, you experience a sense of achievement and satisfaction.
85) Safe sex
There's absolutely nothing to discuss, you must ALWAYS practice safe sex.
End of story.
86) Self-belief
You can do and achieve anything you want…all is takes is patience and a strong work ethic.
If you think you can achieve it, you will.
If you think you can't, you won't.
It's literally that simple.
87) No porn
Porn is detrimental to your psychological well-being.
The best time to stop watching it was yesterday.
Read 17 Reasons Why Porn is Ruining Your Life.
88) Hard work first, money second
There's no such thing as money first, work second.
Anything labeled "fast money" is either a scam or illegal.
Slow money is better than no money.
Give it time and you'll see how slow money becomes fast money.
Don't worry if that doesn't make sense now…trust me that, eventually, it will.
89) Limit social media
It's great to keep up with friends and see what they're up to, but make sure you limit the time you spend on social media.
Don't worry, whatever someone shares today will still be there tomorrow.
90) Master one skill
In the classic book, Outliers, the author explains how it takes 10,000 hours of practice to become great at anything.
That means that to master a skill, you have to put in the time.
The benefit here is that when you become great at anything, you can charge BIG MONEY to teach others.
I knew a woman who taught piano lessons.
She started playing piano when she was just 5 years old.
Since she had put in so much time (over 20 years), she mastered the skill and began teaching others.
91) Fight temptation
Everyone alive will face temptation countless times in their life.
It can be difficult, but you must develop the strength and character to say "NO!".
92) How to change a car battery
It take just 5 minutes to do and saves you from paying those bogus mechanic fees for something so simple.
You remove the screws, remove the cables attached to the battery, take the battery out, and repeat the process in reverse.
…And oh yeah, there are about a thousand videos and articles on the internet on how to do it.
93) How to ride a bike
I absolutely love riding bike.
It's a great workout, relaxing, and a lot of fun.
94) How to invest in stocks the right way
Learning how stocks work is incredibly easy.
What's hard is knowing which stocks to buy, how much, and when to sell.
The idea is to start young by investing small amounts so that the risks is low.
As you go gaining experience, invest more.
95) Talk to me daily for 15 minutes minimum
No matter what, talk to your father every day for at least 15 minutes.
This isn't possible for every man, including myself since my dad wasn't around.
If that's the case, do what I did which was to talk to someone who you see as a father figure.
In my case, it was my uncle.
Speaking to your actual dad or father figure every day is a great way to get advice, guidance and support.
Even if you don't need any of those 3 on a particular day, proceed to make the call anyways.
Trust me.
96) Walk one hour daily while listening to an audio-book
By far, this is one of the MOST productive habits any man can develop.
All you do is walk 1 hour every day while listening to a personal development book.
I guarantee that if you do that for a year, your life will change in a positive way.
97) Start saving to buy a home
If there's one thing I would've done differently when I was younger it's to begin saving money to buy a home.
Forget 18, I would have started saving when I was 10 years old if only I had known the value of owning your own home.
98) Face problems instead of running from them
Don't ever run away from your problems because this will lead to two things:
1) The problem will gain strength
2) Your fear of the problem will get bigger
99) It's OK to be scared
I've been scared many times in my life.
There's nothing wrong with being scared, it doesn't make you less of a man.
The only thing that makes you less of a man is not addressing what scares you.
100) Be better than me
Dear son,
If you're reading this I want you to promise me that you'll be a better man than I was.
When I was a young man like yourself, I was impatient, stubborn and lazy at times.
It took me a long time to get my act together, and guess what? I never got back all the time I lost.
Learn from my mistakes so you don't waste precious time.
Start young, do things right, and live the best life you possibly can.
Take a look at this incredible blog I've built, even after all the time I lost.
Just imagine how much you can achieve if you start building something great sooner than later.
Whether I'm still here when you're reading this, or in heaven, know this…I'm by your side always.
Make me proud my boy.
-Alexander Writer